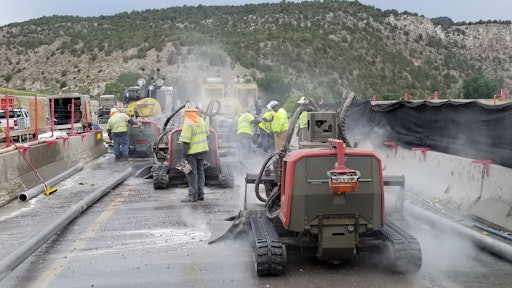 Redi Services
By Patrik Andersson, sales director, Aquajet Systems AB
As concrete structures age, contractors must have the tools to remove the deteriorated material quickly and efficiently. Hydrodemolition robots offer an innovative solution, precisely removing the concrete without damaging the underlying rebar. The machine's success in traditional, flat areas has led to demand for more challenging applications. To meet that demand, hydrodemolition robot manufacturers developed a variety of add-ons and accessories to allow the robots to reach new heights and contractors to complete more specialty applications than before. 
Here's how hydrodemolition robot accessories can help:
1. Get a Spine: Contractors can take on concrete at any angle by bolting steel frames or spines to the demolition surface and attaching a hydrodemolition robot cutting head. The head moves across the spine to remove material in the desired area to a preset depth. These mechanical steel structures expand a machine's capabilities far beyond the original design, allowing contractors to quickly and easily remove concrete in large or difficult-to-reach sections. 
2. Rock Around the Concrete: Circular supports allow hydrodemolition robots to remove concrete from pillars or piles, including those underwater. The cutting head moves at a preset distance around the pillar, moving up or down until it reaches the required depth. 
3. Blast Off Light Material: Some hydrodemolition manufacturers offer cutting heads specifically for removing light surface materials, including paint, rust or rubber. That same "light touch" also works well for scarifying surfaces to allow for better concrete bonding. While hand lances have traditionally handled these tasks, robotic hydrodemolition tools offer increased operator safety while maintaining a consistent distance and quality—something difficult to achieve with hand lances. 
4. Get Indoors: Hydrodemolition jobs aren't exclusively outdoors. For projects in enclosed areas, conversion kits allow diesel-powered robots to operate on electricity, eliminating the risk of fumes.
5. Reach Out for Success: Accessories that extend a hydrodemolition robot's reach make fast work of bridge and pier work. An extension accessory can reach wherever concrete needs to be removed, such as over a railing to concrete on the edge of a bridge without having to dismantle the railing. 
6. Get Tunnel Vision: Tunnel kits for hydrodemolition robots clean or remove material from tunnel walls in less time than hand lances because the equipment can handle larger volumes of water. The operator programs a set distance from the tunnel wall, and the robot's cutting head moves along the surface, using its computerized control system to maintain a consistent distance. 
With attachments, hydrodemolition machines become an entirely new tool that can remove concrete formerly out of reach. They offer a versatile way to expand the capabilities of a business. And since accessories and add-ons are often a fraction of the cost of the whole good, contractors typically find them a very profitable investment. They open doors to new types of work, allowing contractors to maximize the value of their existing equipment.