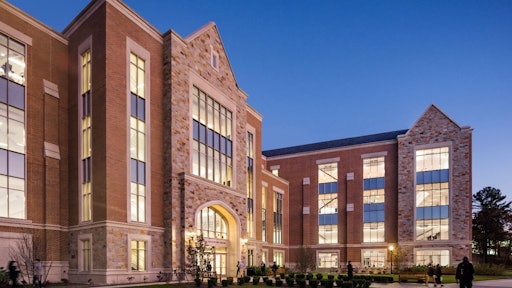 Photo by Anton Grassl Photography | Provided by the Precast/Prestressed Concrete Institute
Hear that? Pencils are sharpening. Teachers are decorating classrooms. Back to school is underway. With the attention to these facilities, take a moment to acknowledge the thought that went into the building's design of your local school or recreational hall; the 2021 Precast/Prestressed Concrete Institute Design Awards did.
In total, judges awarded 26 projects along with 12 honorable mentions for design excellence in building and transportation categories - two of which were educational facilities. This is their story.
Now in its 59th year, submission to the 2022 PCI Design Awards closes on August 20. Winners will be showcased at the PCI 2022 Convention (March 1 to 5, Kansas City, Mo.) and published in the PCI Journal, Ascent, and Aspire magazines.
Boston College
Boston College's new precast concrete recreation center is helping to redefine the academic institution's culture of fitness and recreation. The 245,000-ft.2 facility houses a fitness center, rock-climbing wall, jogging track, aquatics center, sport courts, yoga studios, and more. It will provide students with a one-stop destination for all of their fitness needs.
To create the space, designers needed a material that could support vast, open recreation areas on multiple floors and withstand the constant drum of running feet, dribbling balls, and other high-intensity sports.
Project Facts

Owner: Boston College, Chestnut Hill, Mass.

PCI-Certified Precast Concrete Producer: Unistress Corporation, Pittsfield, Mass.

Precast Concrete Specialty Engineer: Blue Ridge Design, Winchester, Va.

Architect and Engineer of Record: CannonDesign, Boston, Mass.

General Contractor: Skanska USA Building, Boston, Mass.

PCI-Certified Erector: Prime Steel Erecting, Inc., North Billerica, Mass.

Project Cost: $127.4 million

Project Size: 245,000 ft.2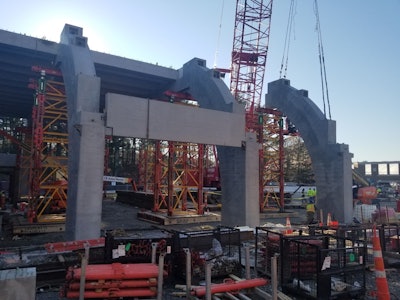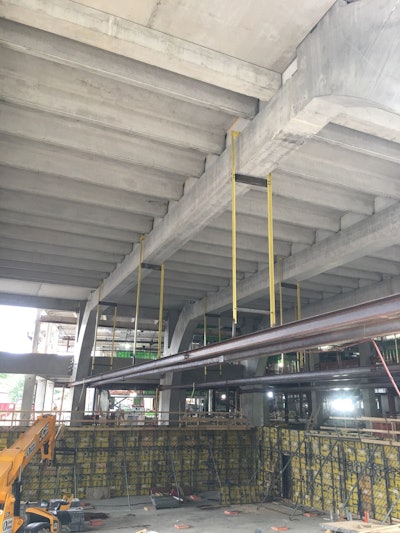 "The structure had to span long distances over a swimming pool and basketball court while still providing adequate support to control the vibration from human foot traffic and activities within the building," explains Todd Haley, associate project manager for Unistress Corporation. "The additional benefit of precast concrete on this project was the ability to satisfy all of the structural requirements for the recreation center while still providing a product that allowed us to achieve the aesthetic needs of such a high-profile complex."
The structure includes two long-span precast concrete frame types that deliver a unique combination of pretensioning, hard-bar post-tensioning, and unbonded strand post-tensioning. It is supplemented by conventional mild-steel reinforcement to deliver a column-free space. In addition to gravity loads, the frames pro-vide lateral force-resisting systems to satisfy seismic performance criteria.
The large-span frames each feature five precast concrete components to meet the functional and aesthetic requirements. To ensure the highest level of control, the project was accomplished with a staged construction analysis, where each stage required consideration of prestressing and shoring to avoid cracks in the concrete and to support subsequent construction stages.
Restrictions on structural depth with long clear spans were constrained by the need to design for stiffness "tuned" the structure's vibration response. To maintain a comfortable environment for all, the precast concrete framing could not be allowed to crack, and the joints had to be designed to remain in compression under all potential loading. At any stage, if compression limit criteria could not be met the design required adjustment of member dimensions or anchorage configurations, and the analysis was repeated.
"This unique situation resulted in pre-and post-tensioning not typically seen in a precast product and a complex reinforcement design that had to fit in a relatively small footprint of the precast columns and bents," Haley says.
The decision to use precast concrete also aided in construction through the winter months explains Scott Long of Prime Steel Erection. "Forming, pouring, and winter-heating for cast-in-place construction versus precast erection would have had negative impacts on schedule and appearance."
To ensure successful erection, designers worked with the erection crew to review plans for bracing and stability, as well as the sequencing of all grouted and welded connections. Large shoring towers were put in place to support bents and the double-tee roof while welding and post-tensioning of members were completed. The towers were not removed until the concrete topping slab was installed on top of the double-tee framing.
"It was a very challenging project where we had to think outside the box," Long says. "But the final product came out great, which is very rewarding."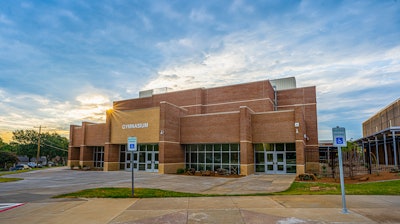 Smithfield Middle School (K-12)
In Texas, hurricanes and dangerous storms are a constant threat. To mitigate these risks and keep the community's most vulnerable citizens safe, Smithfield Middle School in North Richland Hills wanted to build a larger storm shelter that would provide a safe space for students, faculty, and the community.
Thanks to a bond package passed in 2018, all independent school district campuses in the area received funding to build shelters, and the designers of this shelter decided early on precast concrete.
Project Facts

Owner: Birdville Independent School District, Haltom City, Tex.

PCI-Certified Precast Concrete Producer and Precast Concrete Specialty Engineer: Coreslab Structures, Oklahoma City, Okla.

Architect: VLK Architects, Fort Worth, Tex.

Engineer of Record: Dunaway Associates, Fort Worth, Tex.

General Contractor: Key Construction Texas, Fort Worth, Tex.

Project Cost: $8.78 million

Project Size: 23,000 ft2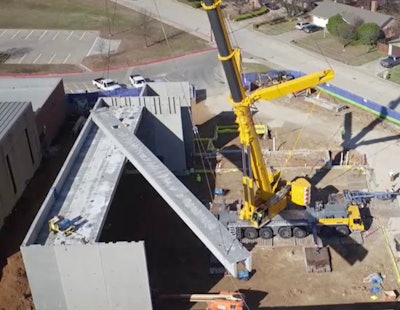 "Immense wind and debris loads associated with storm shelters create unique structural design challenges," notes Nick Heinlen, project engineer for Dunaway Associates. "Selecting a structural system requires a balance of many factors, especially for a gymnasium where uninterrupted clear space is critical." Precast concrete would give them the highly resilient structure they needed within the prescribed budget, and it would create minimal site disruption while the school was occupied.
The close collaboration between the precast concrete producer and engineer and thoughtful commitment to the short schedule enabled this 70-piece precast concrete structure to be erected in just five days.
To meet wind and debris load requirements, the designers used long-span (103-ft. 9-in.) roof double tees to support superimposed live loads of 100 lb./ft2 for debris loading. They also added a 260 lb./ft. live load for a roll-up dividing curtain located at midspan of the double tee. Dead and collateral loads consisting of 4-in. topping at 150 lb./ft3 were spread throughout the roof.
The combination of 12-in.-thick wall panels and 48-in.-deep double tees makes this storm shelter capable of withstanding an EF5 tornado (the highest rating on the Enhanced Fujita scale of tornado intensity). "Lightweight precast concrete double tees provided a solution that allowed for greater than 100-ft. roof spans, minimized structure depth, and provided space for the installation of mechanical equipment," Heinlen says.
To reduce disruption on the active school campus, the panels and double tees were erected over a single weekend, which allowed the waterproofing, masonry, and roofing work to commence much faster than standard storm shelter construction. The close collaboration between the precast concrete producer and engineer and thoughtful commitment to the short schedule enabled this 70-piece precast concrete structure to be erected in just five days.
It is now one of North Texas's largest storm shelters, says Robert Cortez, superintendent of Key Construction. "Our team is extremely proud of the end result and having been a part of such an important component to the safety of future generations and the city of North Richland Hills."
The
PCI

Design Awards

The PCI Design Awards have showcased and recognized the creative and innovative use of precast concrete for the past 58 years. A panel of industry experts that includes engineers, architects, and precast concrete producers judges all nominees. The buildings and transportation categories are judged on aesthetic, structural, and use versatility; site, energy and operational efficiency, and risk reduction; and resiliency, such as structure durability, multi-hazard protection, and life safety and health.