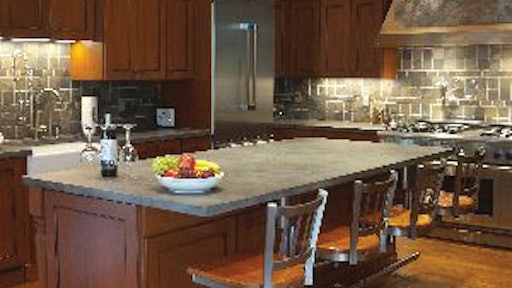 M.A. Del Col Color Impression's concrete countertops have started to take off, and the company recently completed one for a homeowner who wanted a countertop with as few seams as possible, says Michael Del Col. The project consisted of a 9-foot countertop with a bar sink that Del Col was able to create as one piece. Del Col also created a 4-foot by 8 ½-foot center island countertop.
The first step of Del Col's process is to meet with the customer and create a mock sample. He then goes to the jobsite and creates a template for the countertop. Most of Del Col's countertops, including this one, are precast.
"We take the template back and cast the countertop in the shop. We weld the rebar and mesh together, and then cast the product upside down," Del Col says. "Then we let it cure under heating blankets for two to three days."
Once cured, the countertop is placed upright on a rolling metal table for grinding, polishing and sealing. This entire process takes approximately nine days for Del Col.
At this point, the countertop is stained. This customer wanted his countertop to look similar to raw, gray concrete so Del Col used Brickform acid stains in gray tones. A green stain was also used to give the concrete a bit of a green tone to match the countertop's backsplash.
Del Col used handheld sprayers to apply the stain and a chip brush to work it into the concrete. The countertop was then neutralized with baking soda. Del Col also used Dye and Seal to touch up areas that needed more color.
Finally, Del Col applied Arizona Polymer Polyurethane 250 acrylic urethane sealer to finish the countertop. "The acrylic urethane enhances the color, and we use it every time we use an acid stain," Del Col adds.
To read more about concrete countertops and the decorative concrete market see our recent article "Going Decorative" in our February/March 2009 issue.