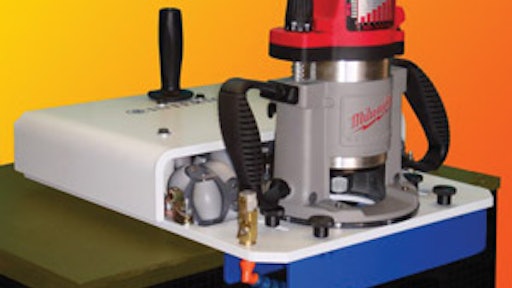 Edge Pro Countertop Edging Machine
Portable edging system that produces perfectly straight or curved edges
Powered by a standard variable speed router requiring 110 volt electricity
10,000 rpm
Uses industry standard diamond router bits
Diamond Products
5-in. Rat Tail Grinder
Two new models of small angle grinders: basic 1812 and advanced 1824E
Both offer optimal balance and control, durability, and vibration-dampening technology
1824E offers Bosch Electronic Kickback Protection that monitors tool for rapid slow down in rpm then shuts tool off; mechanical clutches; Restart Protection, which prevents unexpected grinder activation and prevents grinders from skating across the floor
1812 features 9.5 amp AC/DC compatible motor and weighs 5.2 lbs.; 1824E features 12-amp motor and weighs 5.3 lbs.
Bosch Power Tools
HT-S4C Power Trowel
4-cycle power trowel designed for decorative concrete overlays
Quiet, low-emissions 31cc Honda engine
Weighs 45 lbs.
Fingertip pitch and speed controls
Telescoping handle
HoverTrowel Inc.
Rock 'N' Roller
Roller, weight and spray release system for stamped concrete
Seven patterns available
24-in., 36-in. and border rollers available
Lightweight
Up to five times faster than traditional
methods
Cleform Tool Company
7-in. Grinder-Vac
Shrouded concrete grinder system designed to control dust, reduce clean-up time, provide better visibility and increase productivity
Connects to a variety of Blastrac dust collection units
Utilizes a heavy-duty, high rpm grinder motor with a tough yet flexible polyurethane dust shroud
Blastrac
USA Pro Grade Power Mixers
For use in paint, coatings, tile, masonry, concrete and related applications
For batches up to 25 gal. and 400-plus lbs.
Seven models, including heavy-duty single- and double-paddle mixers
Perles USA
Super Sprayer
2-gal.-capacity compression sprayer
Ideal for spraying concrete stains, form release agents and degreasers
Metal-free
Features a comfort-grip shutoff, poly pump, chemical-resistant hose, angled wand, and lightweight, translucent tank
H. D. Hudson Mfg. Co.
Mongoose Pro Pack
Includes Mongoose 411 concrete engraver, blades, training materials, layout kit, storage case and more
Cuts, scores and saws straight lines for tile patterns and other long-line designs
Center pivot allows for cutting circles
Vacuum point allows for dust-free cutting
Engrave-A-Crete
Vibra-Beam Countertop System
Can be attached to any standard saw horse creating a high quality vibration table
Achieve a tight, dense and void-free finish in the shop or on the job
Portable, lightweight and small
Available in either 115-volt power or pneumatic air
Vibco, Inc.
18Volt LXT Lithium-ion Impact Driver
Lithium-ion cordless impact driver kit, model BTD142HW
Weighs 2.8 lbs.
Four-pole motor design
3,200 impacts per minute
Fully recharges in 15 minutes
Makita USA, Inc.
TEQ-Grind Hand Grinders
Designed to run cool and hold up under extended use in high-productivity environments
Variable speed control enables operators to cut or grind a wide range of materials from hard to soft
TG5V features 750-watt, variable-speed motor and is ideal for a wide array of applications and accessories
TG6V features professional-grade 1,200-watt, 12-amp, variable-speed motor; pistol grip; and 6 in. capacity with a 5-in. DXT turbo diamond blade
Diteq Corp.
AWP-158 Polishing Tool
Designed for polishing, shaping, core drilling and light grinding
7.8 amp, 800-watt
3,000 rpm
Side handle and "C" handle included
Flat polishing caster for improved stability
Center water-feed and water supply with garden hose attachment
Alpha Professional Tools
5-in. Angle Grinder
Model WE14-125 VS 5-in. angle grinder works for grinding, cutting and polishing
Powered by a 12-amp motor
Disc speed variable from 3,000 to 10,500 rpm
Quick wheel change system enables rapid toolless changes
Metabo Corporation
END 712 P "Mini" Diamond Drill
Ideal for drilling dowel, anchor and thru holes in concrete, tile and natural stone
0 to 8000 rpm variable speed
Water-cooled diamond bits drill 5/32-in.- to 3/4-in.-diameter holes
6.3-amp motor
Weighs 5 lbs.
Features include a built-in water swivel with hose connection and valve, a keyless chuck and depth gauge
Use for gravestones, countertops, plumbing and other masonry needs
CS Unitec, Inc.