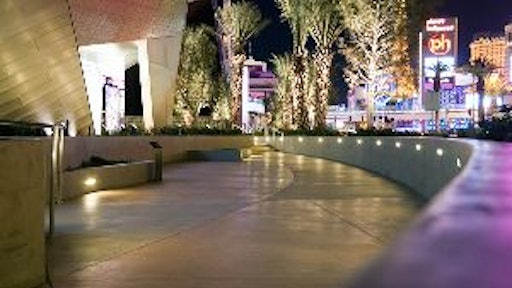 T.B. Penick & Sons, Inc. joined Las Vegas civic leaders, contractors, architects, residents and visitors recently in celebrating the grand opening of the first phase of MGM Mirage's CityCenter, a gargantuan 9+ billion, 68-acre project, on the Las Vegas Strip between Bellagio and Monte Carlo.
Penick's team of decorative concrete artisans collaborated with the project's owner, landscape architects and contractor to create the decorative concrete walls of Casino Circle and the adjoining water displays as well as the majority of the project's exterior flatwork. The company completed most of its work on the MGM CityCenter project within six months.
The MGM CityCenter is currently the largest and most innovative privately financed construction project in the western hemisphere. In phase I of the project, Penick installed over 10,000 yards of concrete and 10,000 Lf of pour-in-place walls, which included Lithocrete, Bomanite Imprint and Broom finish, color concrete and unique wall finishes.
CityCenter officials were impressed with Penick's work. Jen Miller, Project Manager for Tishman Construction Corp. of NV, the owner's representative, expressed appreciation "for the time, effort, and quality you put into your work here at CityCenter." She remarked that "the quality of the work is something I don't believe Vegas has seen before, especially in public traffic areas."
Biff Sturgess, Senior Associate with the Office of James Burnett, the Executive Landscape Architect on the project, concurred, stating that "Penick's work is above and beyond the other concrete work on CityCenter, and that has been noticed by all."
Mark Casper, president of Perini West, added his own words: "T.B. Penick's work is damn good, and I would personally recommend them."
"Our craft and trades people really came through despite facing difficult working conditions due to the crowded work areas and the tight schedule," noted Andrew Weber, Penick's General Manager in Nevada. "Our pour crews started work at 2:30 in the morning throughout the summer due to extreme weather conditions. In addition, the schedule and magnitude of the project required us to have crews working in various areas and across contracts," he said.
When it is completed, MGM CityCenter will be a mini-city and will include a 4,004-room, 61-story ARIA Resort & Casino; a 400-room, 227 condo Mandarin Oriental Hotel; a 400-room, 207 condo Harmon Hotel/Residences; a 1543-unit Vdara Condo/Hotel tower; Twin 337-unit Veer luxury condo towers; the Crystals Mall, a 500,000-square-foot retail and entertainment space; $40 million worth of modern sculptures and installations by world famous artists; 225,000 square feet of convention and meeting space; 900,000 square feet for back-of-house operations; a 70,000-square-foot spa; a 7,500-car parking garage; an on-site power plant, people movers and a fire station, as well as spacious pedestrian areas.
CityCenter has earned six LEED Gold ratings from the U.S. Green Building Council with the certification of Mandarin Oriental, Las Vegas and Veer Towers. The accomplishment completes the certification process for all CityCenter components opening this December, and marks the highest LEED achievement by any hotel, retail district or residential development in Las Vegas. The 18-million-square-foot metropolis is one of the world's largest sustainable communities.