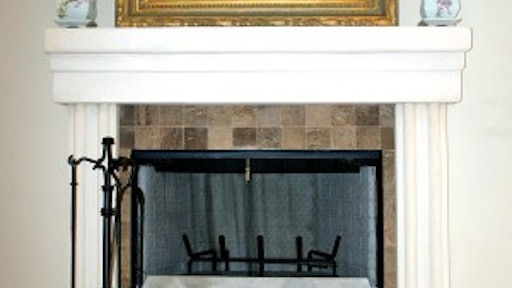 By Jeff Elliot
For contractors, installing a cast stone fireplace in a residence, condo or apartment building can present so many labor and material costs - not to mention installation issues - that it can scuttle a job completely before it even begins.
In one way or another, the difficulties behind cast stone surrounds stem from its sheer weight. A cast stone mantel and surround can weigh up to one ton. Shipping alone for a surround of this size can cost $800 or more, in addition to the cost of the product itself. Also, given the product's weight, floors and walls often require additional structural support driving up installation time and costs. In fact, structural issues can effectively eliminate cast stone surrounds as an option for any floor higher than the first and for most apartment or condo units.
Mission Stone introduces a new option on the market that takes a lot of the cost, weight, and installation time out of such a project. Installing a stone surround with Mission Stone's new product can take as little as one hour, with a single helper, no structural reinforcements, using only a level, caulking gun, a sponge and perhaps some shims.
The solution is an innovative new lightweight product that has the look and feel of real stone - but isn't as heavy as solid cast stone. The product involves a layer of cast limestone cement over a lightweight Styrofoam core, giving the look and feel of solid cast stone without the weight, the price or installation requirements.
Mission Stone duplicates the appearance of various stone surfaces by using actual stone but just on the surface of the product. Perhaps most importantly, the fireplace surround with its foam core greatly reduces the weight from approximately 2,000 pounds for cast stone to only 200 pounds for the average mantel and two legs.
The legs and mantel are first "dry-fit" to the wall, and their positions are marked in pencil. The pieces are then removed so that the adhesive can be applied, after which they are pressed firmly back into place. Once the adhesive is dry, a ?-inch bead of caulk is applied where the mantel and legs meet the wall. Everything is then wiped down with a clean damp sponge.
A ½-inch thick layer of limestone cement is hand cast around the foam core and subsequently hand polished with a grinder to give it the look and feel of real cast stone. At that point the surface presents a white color, but various water-based stains can be applied to provide different color variations, including custom finishes.
Derek Reinig, general contractor and part owner of Ravco Construction, a Tustin, California-based firm that specializes in apartment renovation and reconstruction, was looking for a fireplace surround that could match an existing example for installation in a 104 unit project in San Rafael, California.
"I sent the dimensions and a photograph to Mission Stone, and they got back to me right away with pricing," explains Reinig. "They really helped by working with us to get the product here quickly, as we were taking over for another contractor and needed it right away."
Although most of the 104 fireplaces had standard dimensions, Reinig also had to order two custom-shaped pieces to fit in a corner. Because the process is done by hand, the product can be made to custom sizes of just about any dimension.
"The installation is what separates the foam-core surrounds from a lot of other products," explains Reinig. "You don't have to deal with fasteners and clips and that sort of thing. We only need a construction adhesive to secure it."
Jeff Elliott is a Torrance, Calif.-based technical writer. He has researched and written about industrial technologies and issues for the past 15 years.