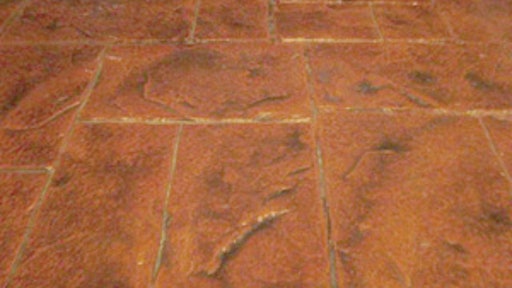 Pro-Crete Overlay System
The Pro-Crete Overlay System employs an engineered cementitious topping to give ordinary concrete the three-dimensional look of brick or stone.
For interior or exterior concrete
Produces a hard, durable, low-maintenance surface
Super-Krete Stamp-Kote
Super-Krete Stamp-Kote is a ready mixed co-polymer overlay — just add water.
Applied at 1/4-in. thickness
Can be used to achieve the look of brick, wood, tile, stone or any design available with Super-Krete's specifically designed tools.
For interior or exterior use
FossilCrete Log Cabin
FossilCrete's Log Cabin vertical overlay and stamp set replicates the authentic log cabin look without the worries of rotting wood, insect infestation or poor insulation.
Based on 12-in. diameter logs, saddle notched, with chinking
Designed to be applied over EPS foam panels
Flex-C-Ment overlay system
Flex-C-Ment utilizes a revolutionary system for putting concrete overlays directly over ceramic tile, sealed concrete, painted surfaces, linoleum or even wooden flooring.
Reduces labor costs
Eliminates the need to acid-etch or mechanically prepare surfaces prior to application
Butterfield Color T-1000
T-1000 Fine Sprayable is a polymer-modified cementitious overlay for resurfacing and texturing concrete floors, walls and hardscapes.
Available in both Cement Grey and White
24 standard color packs available
Sprayable in depths of 1/16 to 3/16 in.
Can be applied vertically and horizontally
Sprays smoothly over stencils
Sundek SunStamp
SunStamp by Sundek is a stamped overlay product that offers durability, design capabilities and curb appeal.
Combines an "Old World" look with today's technology to give concrete a makeover
Kover Krete stamped overlay
Kover Krete's stamped overlay system is suitable for commercial or residential jobs, interior or exterior surfaces, pool decks, driveways and walkways.
A proprietary blend of polymer modified cement
Can be stamped, textured, stenciled, integrally colored and stained
Available in a variety of patterns
Bob Harris Guide
Bob Harris' Guide to Concrete Overlays & Toppings, the third book in the best-selling series, is now available.
Provides detailed application techniques for a variety of different systems and stampable and self-leveling overlays
Also covers the creative aspects of installing decorative toppings, including coloring options and finishes such as stenciling, saw cutting, acid etching and polishing
Spread-Tex Resurfacer
Spread-Tex Resurfacer from the Bon Tool Company is a high-strength concrete overlay that quickly restores and improves the look of existing concrete.
Self-binding and can be applied from 1/16 to 1/2 in. thick
Works well with stencils
Available in five colors
Increte Texture-Crete
Texture-Crete from Increte is a durable skid-resistant overlay designed for plain or unsightly concrete surfaces.
Available in a wide selection of textures, patterns and colors
Impervious to mildew, algae, pool chemicals, acid and rust
Elite Crete Micro-Finish
Elite Crete's Micro-Finish is a "just add water" overlay system for consistent quality, performance and workability.
Cementitious flooring system
Wide array of finishes, color and design capabilities