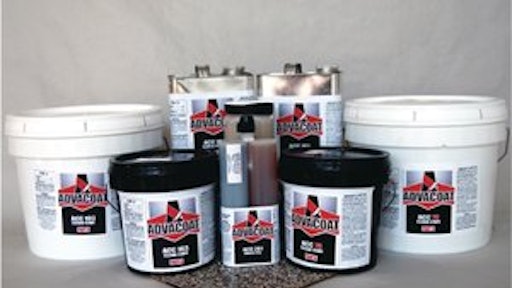 Advacoat ACC 75 Aliphatic Clear Coat
Polyaspartic polyurea concrete floor coating
One-day application - same day return to sevice
75% solids
High-gloss, smooth finish
Abrasion-resistant
Can act as a topcoat for epoxy floors or a stand-alone floor coating
UV and weather resistant
Ideal for residential and light commercial applications
Advantage Chemical Coatings
Concrete Resurrection Stains and Sealers
Engrave-A-Crete now carries a complete line of decorative concrete stains and sealers from Concrete Resurrection. The line includes 34 colors of water-based pigmented stains and eight colors of reactive acid chemical (RAC) stains. The Concrete Resurrection line of interior and exterior sealers includes acrylics, epoxies and urethanes.
Engrave A Crete
Consolideck LS
Consolideck® LS (lithium silicate) from PROSOCO is a premium sealer, hardener and densifier for concrete floors. It applies in one coat without scrubbing or flushing, and treated floors are ready for grinding, polishing and traffic in about an hour. Floors resist damage from water, chemical attack and surface abrasion while Consolideck® LS reduces dusting, improves appearance and simplifies maintenance. Complies with all known national, state and district AIM VOC regulations and tested and certified to meet the nations highest indoor air quality standards.
PROSOCO, Inc.
Decra-Seal
Decra-seal is a non-yellowing, acrylic-based, high solids, liquid curing and sealing compound for the residential decorative concrete market. The clear, transparent sealer offers resistance to water, alkalis, mild acids and petroleum spirits. Decra-Seal is available in 1-gal. cans and 5-gal. pails. Decra-Seal W/B, a water-based version of the sealer, is also available.
W.R. Meadows Inc.
Lithium Densifier
 

Penetrating, colorless and transparent protective treatment

hardens the surface, yet it produces a breathable finish


Developed for use with colored ground and polished concrete and is also suitable for use on uncolored ground and polished concrete

 

 

Produces a concrete surface that

is nontoxic, easy to maintain and environmentally friendly after installation
L.M. Scofield
Multipurpose Sealer
Low-gloss protection on colored concrete, acid-stained floors and concrete overlays
Non-yellowing
Provides resistance to all stains, acids and efflorescence on indoor and outdoor surfaces
Protects against scuffing, heel marks and even tire marks
Glaze N Seal
Nox-Carb
Nox-Carb
Water-repellent, stain and sealer in one product
Beautifies and protects exterior vertical concrete and masonry surfaces
Silane chemistry penetrates into concretes micro-pores
Chemical bond defies dissolution
Nox-Crete
Nox-Crete Product Group
PowerCoat One Complete Kit
The PowerCoat One Epoxy from Vexcon Chemicals is a single component epoxy available in a convenient decorative floor kit. Choose from four unique color combination kits, each containing a gallon of color base coat epoxy, Vexcon blended DecoChips and a gallon of high-gloss, clear top coat epoxy, to seal and finish 250 sq. ft. PowerCoat One is resistant to staining, gasoline and hot-tire marking in addition to being a low odor, low VOC product.
Vexcon Chemicals Inc.
SB-7000 Concrete Sealer
The SB-7000 Concrete Sealer from Surebone protects colored, stained and exposed aggregate concrete from staining and resists acid, salt, other corrosives and weather while protecing against discoloration from damaging UV light. SB-7000 is water-based, single component and epoxy-modified. It can be used both indoor and outdoor on either new or existing concrete and on vertical and horizontal surfaces.
Surebond
Sta-Natural Sealer
Sta-Natural Sealer
Kemiko Concrete Products Sta-Natural Sealer is an alternative to solvent-based sealers for stained, stamped, or bare concrete and other cement and mortar surfaces.
Eco-friendly emulsion uses no solvents, emits little odor and cleans up with soap and water
Provides maximum protection against UV, alkaline and other types of damage
Ideal for driveways, walkways, facades, pool decks and cast or poured concrete
Repels water while allowing the substrate to breathe
Kemiko Concrete Stains
Super Poly
Two-component high-build, high gloss sealer for concrete floors
Can be coated to any thickness in a single application
Elongation of 300% which minimizes cracking due to cold joint and expansion contraction cycles
Can be applied in hot and cold weather conditions
100% solids Aliphatic Poly-Urea system
Availabe in clear, gray and tan one- or five-gal. units
Clemons Concrete Coatings
ULTRA-GLOSS CRU
VSCs ULTRA-GLOSS CRU provides a high gloss, scratch resistance topcoat for many applications. The two-component aliphatic urethane is resistant to UV light exposure and wear and provides protection against stains and chemicals. ULTRA-GLOSS CRU can be used as a clear topcoat over existing coatings and stains or as a stand-alone coating over a VSC primer.
Vanberg Specialized Coatings
UltraCrete
Sherwin-Williams UltraCrete Coatings provide a textured, uniform finish to tilt-up construction, pre-cast panels or concrete block surfaces.
Formulated for spray application
Can be applied to damp concrete and in temperatures as low as 20 F
Delivers long-term resistance to UV damage and efflorescence
Sherwin-Williams Company
VOC 93 Clear Sealer
VOC 93 Clear Sealer from Super-Krete is a high gloss pure acrylic-epoxy sealer formulated to create an impervious protective shield over overlayments.
Resistant to tire marks, petroleum and most chemicals
Provides a tenacious, non-yellowing bond to virtually all types of surfaces
Safe alternative to high-level VOC solvent-based coatings
Super-Krete International
Xylexin
Concrete sealer coating
Available in matte or gloss finish
Stain resistant
Expressions LTD