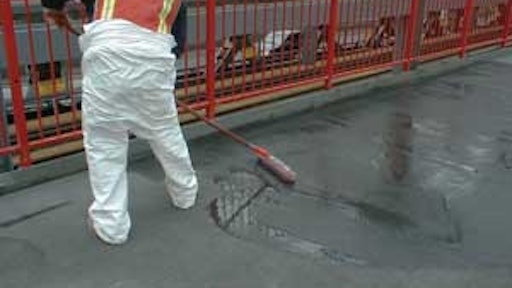 Properly protecting a concrete surface can make the difference between a successful or a failed project.
Transpo T-48
T-48 is a premium quality, two-component, polysulfide epoxy-based blended sealer and broadcast aggregate system.
Waterproof and skid resistant
Impervious to salts and chemicals
Forms a strong bond to concrete, steel and wood
Adds less than 1/2 lb. of dead load per square foot
Nox-Crete Duro-Nox
Nox-Crete's Duro-Nox is a liquid hardener/sealer/dustproofer for new and existing concrete floors.
Liquid silicate formula penetrates and chemically bonds to concrete
20-year performance warranty
Quikrete Epoxy Industrial Floor Coating
Quikrete Epoxy Industrial Floor Coating protects against damage from hot tires, gasoline, oil and scuffs.
Durable, two-part oil-based epoxy formula
Light gray, semigloss finish
Available in an all-in-one kit that includes epoxy, hardener, degreaser, cleaner and etcher
Mapei Mapefinish Fusion
Mapei's Mapefinish Fusion is a multipurpose sealer designed for interior and exterior concrete.
One-component, water-based aliphatic polyurethane sealer
Offers slip and abrasion resistance for high-traffic areas
Odor-free
Low in VOCs
Glaze 'N Seal
Glaze 'N Seal Multi-Purpose Sealer offers low-gloss protection on colored concrete, acid-stained floors and concrete overlays.
Nonyellowing
Provides resistance to all stains, acids and efflorescence on indoor and outdoor surfaces
Protects against scuffing, heel marks and even tire marks
Durall No-Wait
Durall Industrial Floor introduces the No-Wait epoxy seal for fresh concrete.
Special technology produces a finished covering without waiting 28 days for the concrete to fully cure
Colored and decorative topcoats can go on without danger of lifting soon after No-Wait is applied
No-Wait is water-based, so no drying time is required between cleaning and application
Xcel Surfaces EFF Factor
EFF Factor is a film-forming, waterborne specialty hybrid emulsion incorporating proprietary performance enhancing chemistries with superior penetration properties.
Low VOC
Hydrostatic pressure resistance exceeds 8 psi
Resistant to abrasion, solvent, chemical, water and impact
Sherwin-Williams UltraCrete
Sherwin-Williams UltraCrete Coatings provide a textured, uniform finish to tilt-up construction, precast panels or concrete block surfaces.
Formulated for spray application
Can be applied to damp concrete and in temperatures as low as 20 degrees F
Delivers long-term resistance to UV damage and efflorescence
Vexcon StarSeal PS
Vexcon StarSeal PS is a system of products that functions by penetrating and binding to the concrete in a calcium silicate matrix for extreme durability.
Wear-resistant, dust-free and water-repellent
Applied by spray, roller or applicator without any scrubbing in
Can be burnished and polished immediately after application
Can be applied to green concrete with supplemental curing