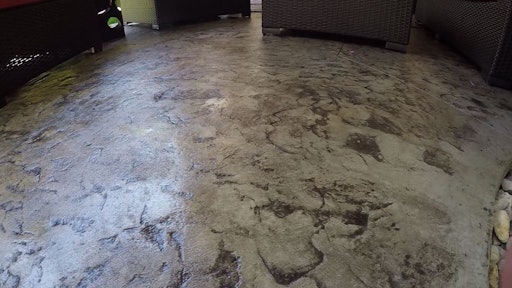 Nox-Crete
Decorative driveways, pretty pool decks and patios and wow-worthy walkways … sometimes hardscapes are so much more than a slab of grey concrete. Hardscapes can include stamped concrete, acid stained concrete, integrally colored concrete, exposed aggregate and cementitious overlays; all designed to bring color and texture to your outdoor spaces. When hardscapes are meant to be just as visually appealing as they are functional, it makes sense to take steps toward preserving those surfaces to keep them looking good for as long as they're usable.

There are many benefits to using a sealer on vertical and horizontal hardscape surfaces. Not only can a sealer enhance the beauty of colored, stamped or exposed-aggregate concrete, but it also provides many practical advantages. A sealer will protect against water and chloride intrusion to minimize freeze thaw damage and it will block the penetration of chemicals, food spills, dirt, oil and grease to prevent stains. This is especially beneficial to decorative driveways. Sealers can also inhibit dusting and protect against abrasion and general wear and tear from things like patio furniture and foot traffic.
All About Acrylics
For price and effectiveness, an acrylic sealer makes a great choice for use on hardscapes. A good acrylic sealer is economical, easy to apply, and is UV-resistant to chalking and yellowing. Acrylic sealers create a thin protective film that is breathable to allow moisture vapor to escape. You can find acrylic sealers in water- or solvent-based formulations, each of which offers different qualities and sheens that can help you achieve the look you're going for. In general, here's what you can expect from each (note that there are exceptions and every product varies):
Solvent-based Acrylic Sealers
Enhances color and creates a high gloss "wet look"
Longer lasting than water-based; reapply every 3-5 years
Typically has higher VOCs
Strong solvent odor
Can make surfaces slippery (non-slip additives can reduce this)
Flattening agents can be added to control the gloss level
Can be difficult to apply depending upon solvent composition and weather conditions
Water-based Acrylic Sealers
Less enhancement of concrete aggregate and paste color
Offers a softer matte or satin sheen (lower gloss)
Typically not as long-lasting as solvent-based; reapply every 1-3 years
Usually meets all VOC regulations and can be an environmentally friendly option
No solvent odor
Easier to apply
Allows for quick and easy clean up
Both options contain polymers which, though one is dispersed and the other is in a solution, form a membrane on the concrete surface to increase the gloss and enhance the surface color. Both are tough and durable and offer stain protection on concrete against food spills, chemicals and automotive fluids. Both are relatively easy to apply and are generally supplied ready-to-use. All in all, once applied and given time to cure, both solvent- and water-based sealers function in very similar ways. The key differences are the resulting appearance, odor, VOC content and longevity.
What to Look for in an Acrylic Sealer
With so many options in acrylic sealers, it can be hard to know which one to choose. Acrylic sealers range in price and effectiveness. They're not all created equal and it's really important to consider the job specifics when making a selection. Take into consideration the elements and traffic to which your concrete surface will be exposed. For a stamped concrete driveway, you'll want to find something that protects against oil and grease but this may not be a concern for your integrally colored concrete pool deck. To make choosing the right one easier, here are a few things to look for in a high-quality acrylic sealer:
Proven history of good resistance to ultraviolet degradation
Good moisture vapor transmission properties to minimize the likelihood of blistering
Available in high gloss or more natural looking finishes
Available with flattening agent
Available with anti-skid additive
Good working time
Additionally, although counter intuitive, there are advantages to using a lower solids sealer on decorative concrete surfaces. This is especially true for areas that receive a lot of moisture from rain or sprinklers. Lower solids sealers generally allow for better moisture vapor transmission. Higher solids sealers can restrict moisture vapor transmission which can lead to coating delamination or blistering resulting in a whitish, cloudy appearance. A lower solids, premium acrylic sealer with good moisture vapor transmission properties is generally easier to apply and will last longer compared to a higher solids version applied heavily.
Applying an Acrylic Sealer
Once you've chosen the best acrylic sealer for the job, you'll need to consider the best way to apply it. After curing is complete, acrylic sealers can usually be applied by a pump sprayer or a roller. But keep this mantra in mind: Thin to Win. Total thickness should only be about 1-3 dry film mils, and this will help to avoid blistering. Two thin coats of acrylic sealer are better than one thick coat, and a pump sprayer followed by back-rolling usually achieves a thin coat better than a roller and pan. Remember that while acrylic sealers are easy to apply, they also dry quickly. Most acrylic sealers will feel dry to the touch in an hour or less and can handle light traffic in as little as 12 hours. Air temperatures and humidity will have an effect on dry times. Finally, always follow the manufacturer's direction for applying their product.
Removing Acrylic Sealers
When it's time for a fresh coat of sealer on your decorative hardscape, you'll get the best results from removing what's left of the previous coat. So, what goes on must also come off. There are a few methods that will work, each with their own pros and cons.
Petroleum-based solvents, such as xylene or toluene, dissolve the acrylic for removal. Most have harsh odors, are flammable, dangerous to your skin, and shouldn't be used around children, pets or vegetation. Also, using solvents such as these in this way may not comply with local or state environmental or health regulations and at the very least will result in the accumulation of hazardous waste materials that must be disposed through a licensed hazardous waste handler.
Biodegradable stripper and pressure washer can be combined to effectively blast away old acrylic. Surrounded areas should be protected against the stripper. This method does have the benefit of producing no hazardous waste. It should be noted that pressure washing alone is typically not very effective.
Sandblasting or grinding are aggressive techniques that can get the job done and pose no environmental risks but may do so at the cost of compromising the original surface. It's also very laborious and can make quite a mess. Consider, also, OSHA's Respirable Crystalline Silica Dust Standards which set very strict rules regarding exposure to silica dust.
Biodegradable stripper with blanket methods are easy, safe, and very effective. A fiber-containing blanket saturated in a biodegradable stripper makes for an eco-friendly, fast and mess-free option for removing old acrylic sealer.
There are few surfaces that are subjected to harsher environmental extremes than hardscapes. From the sun's UV rays to heavy rainfalls to stressful freeze thaw cycles, outdoor concrete surfaces are put through a lot. And that's just the weather. There is also heavy foot traffic, vehicular traffic, food stains, dirt, deicing salts, grease, oil, and more that can damage and blemish decorative hardscape surfaces. Considering all this, the cost and time of applying a quality acrylic sealer is a small price to pay to protect hardscapes for which you've put so much effort into making beautiful.
Ed. Note: Marty O'Mara is the Decorative Market Segment Manager with Nox-Crete. He can be reached at momara@nox-crete.com.