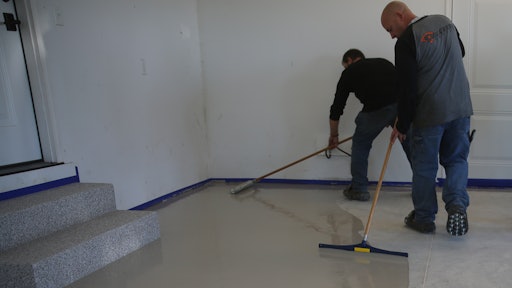 Deco-Crete Supply
One of the challenges for a concrete coating contractor is the wide variety of situations that you might find yourself in from day to day. Metallic epoxy, broadcast floors, high-build flooring, one-day garage floors, or a grind-dye-coat system could all require different coatings to get the job done. Some jobs might even require multiple types of coatings on the same floor. This may seem overwhelming at first, but as you start to understand the characteristics of each coating things will make more sense. This article will scratch the surface on a few of the scenarios you might encounter and what type of coating could help solve the problem.   
Why do we need so many options? Why can't we just have one coating to serve all our needs? Unfortunately, things are not quite that easy.
The popularity of concrete coatings has been on the rise for the last decade or so, and the industry has responded by continuously developing new technologies to meet the requests of installers. With all the options available, things can get a bit confusing, and keeping track of coatings like epoxy, polyaspartic, polyurethane or polyurea can be hard enough on its own. Then, you have all the different variants of each specific coating—most manufactures will offer three or four formulations of just polyaspartic alone.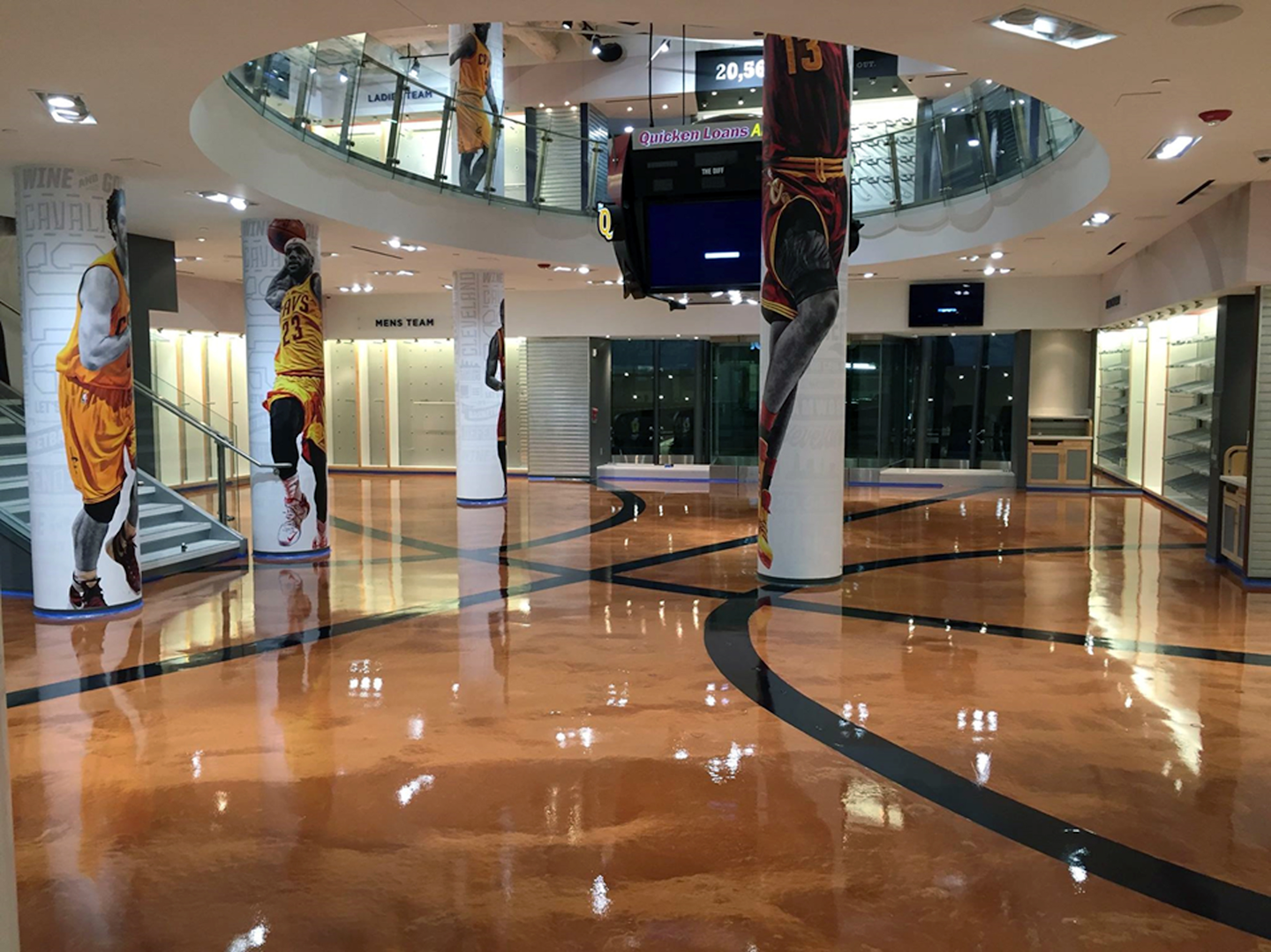 Metallic epoxy on the floor Cavs team shop. For this type of coating, the smoother the surface is, the harder it will be to hide flaws in the topcoat.Deco-Crete Supply

High-Build Flooring Systems
Thickness is the star of the show for high-build flooring systems. Whether the floor needs some additional leveling, or if the situation calls for an extreme wear layer to handle heavy industrial use. First off, it's important to understand the scope of the term "high-build" in the world of concrete coatings. My first five years of involvement in the decorative concrete industry were pretty exclusive to stamped concrete. We measured things with a tape measure and "1/4 in." was a really small measurement.
A polyaspartic coating should never exceed 8 mils per coat.
After getting into concrete coatings, however, I started to realize that things are measured in Mils not inches and that 1/4 in. would equal 250 mils (an incredibly thick coating). Most of the coatings systems that I have dealt with are applied anywhere between 6-30mils. We would consider anything over 15 mils a high-build coating. Not all concrete coatings will be suitable to build up that thick in one coat. Polyaspartic, for example, should never exceed 8 mils per coat.
The coating of choice in most high-build situations will be 100% solids epoxy. This stuff has been around for a long time and is still one of the most used concrete coatings on the market. You will definitely find a wide range of formulations that will affect flowability, pot life, UV stability, and cure time. 100% solid epoxies are the go-to for creating metallic floors. Work with your supplier to ensure you are using the right epoxy.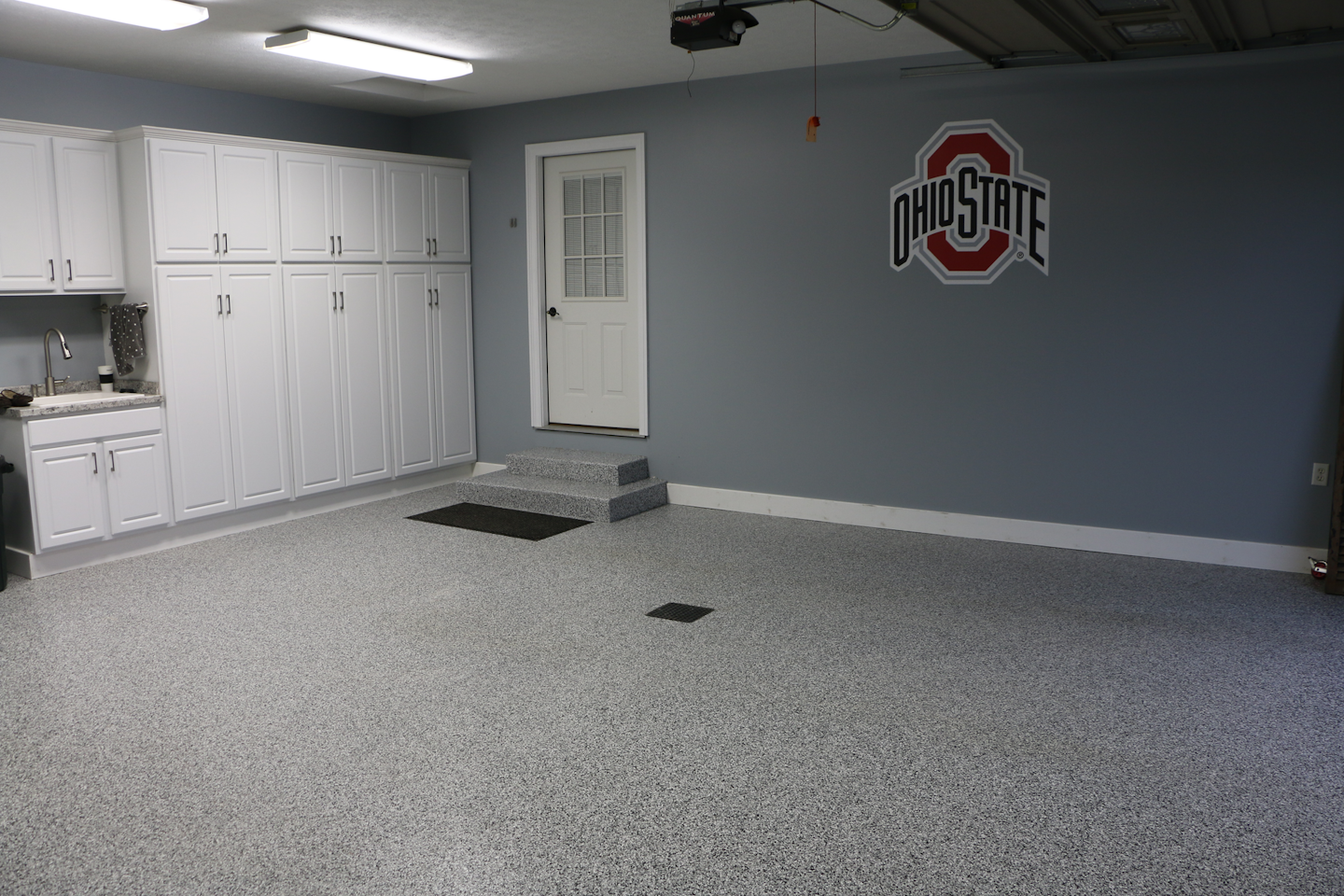 Deco-Crete Supply

Fast Setting Systems
Speed is everything with fast setting types of coatings. This will allow the installer to complete jobs in a single day, saving on labor and transportation costs. The go-to coating for one-day jobs is polyaspartic. This type of coating will be tack-free and ready to recoat in 1-4 hours depending on the formulation and temperature.
The biggest challenge with a fast-moving coating like this will be usability. As the cure time of a coating speeds up, the installers will also have to work faster. We would consider a fast cure polyaspartic (1-hour dry time) to be an advanced system and recommend a slower formula (3-4 hour dry time), at least for the first few jobs. Garage floors in the 500- to 1,000-sq ft. are perfect for fast setting coatings. Smaller jobs can be completed all in one day. Bigger jobs may require a day of prep work, and one day to apply the coating. In our experience, broadcasting some sort of media into the coating will yield the best results. Vinyl paint chips are most common, but there are a wide variety of other options available. This would consist of a two to three coat system depending on the solids content of the polyaspartic.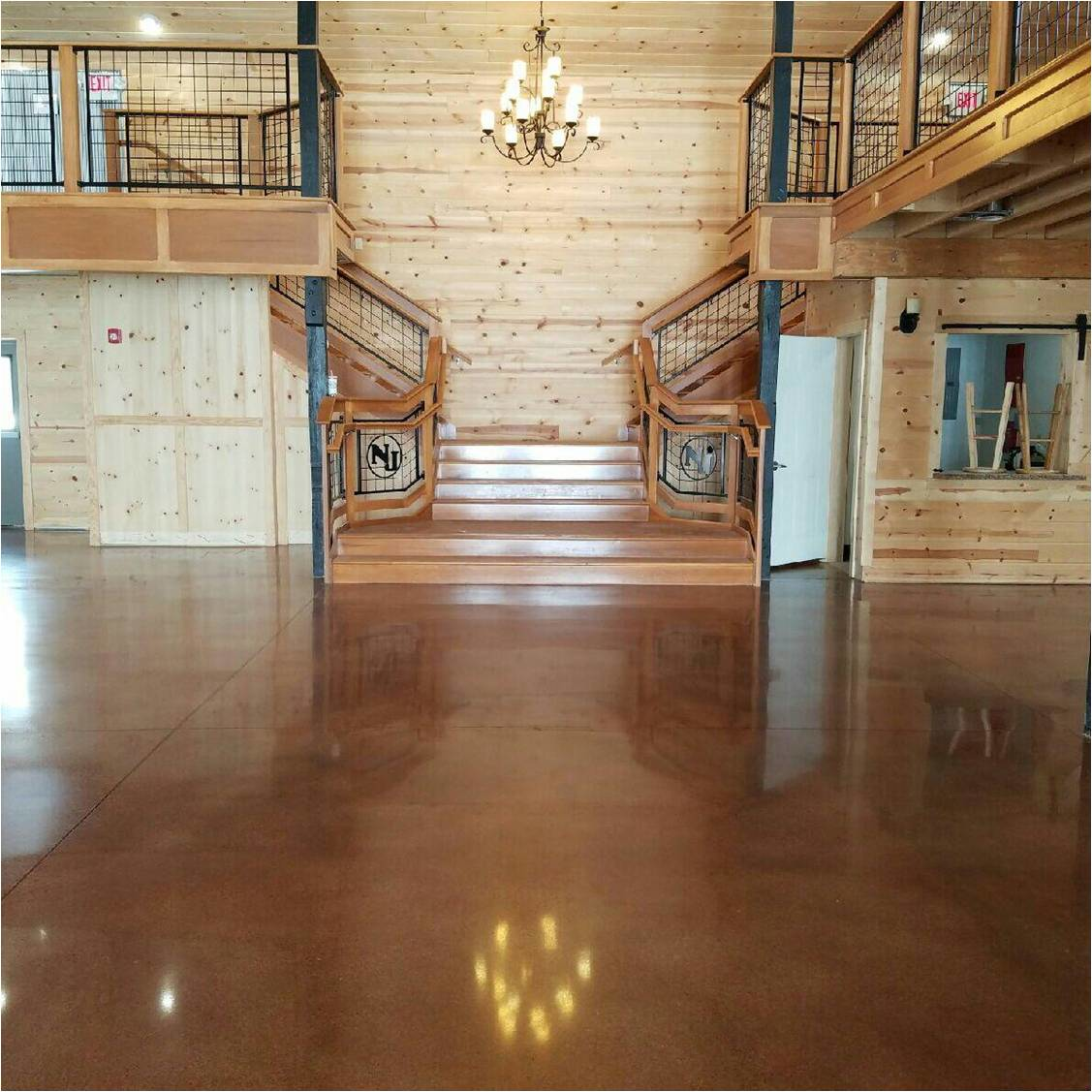 This contractor was able to get a beautiful result with a topcoat placed over dyed concrete.Deco-Crete Supply

Topcoats
100% solid epoxies give you a ton of freedom...what they are not that great at, however, is abrasion and chemical resistance.
This coat will be the final product. Some might refer to this as the "money coat." It's the coat that makes the job look like a million bucks, but this also means the job is done and it's time to get paid. There are two main things to consider here, aesthetics and durability. No matter what coating you may have used to create a high-build, broadcast into, or even that one of kind metallic epoxy floor, they will all need some sort of topcoat. The durability of the topcoat is important for the obvious reason of this being the final wear layer. 100% solid epoxies give you a ton of freedom when it comes to things like high-builds, flowability, and extended working time on the floor. What they are not that great at, however, is abrasion and chemical resistance. Generally, polyurethanes and polyaspartics are the best choices for this coat. Most of them are incredibly resistant to chemicals, abrasion, and UV rays. Make sure to check the specs on whatever urethane you might be considering, but there are some great options out there that will be comparable to or possibly even more durable than polyaspartic.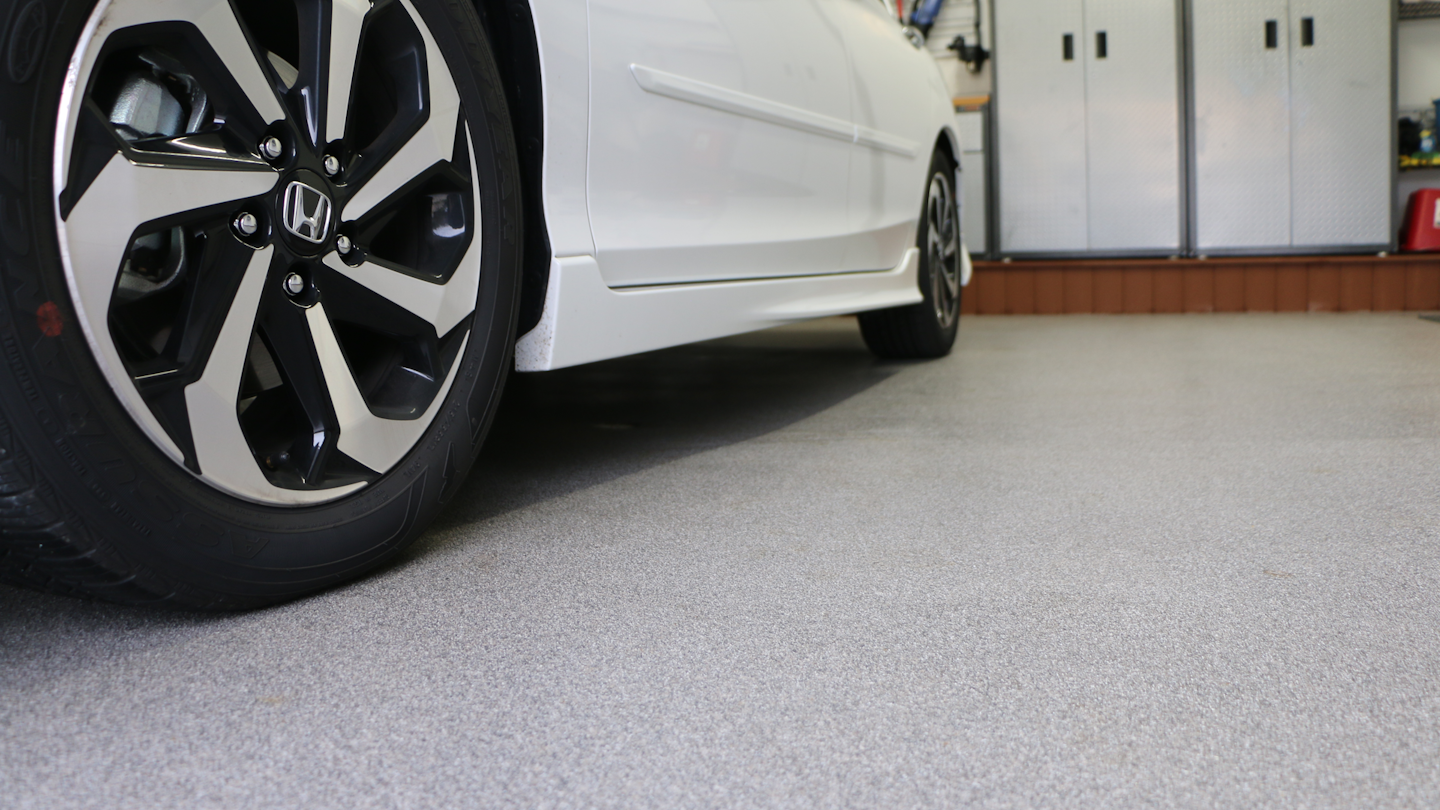 The other thing that polyaspartic coatings, as well as some urethanes, will do is resist hot tire lift. This can be a big selling point for garage floors.Deco-Crete Supply

Which one you should use will depend on a few things. First: speed. If you need this topcoat to be ready for use the next day, polyaspartic is really the only option. Most urethanes will require a least 48 hours of cure time before full use. The next thing would be ease of application. If you are top coating that one-day broadcast floor, things will be pretty easy to manage due to all the texture that will deflect light and help hide roller marks or other imperfections. Metallic floors or any other glassy surface will be a different story. The smoother the surface is, the harder it will be to hide flaws in the topcoat. Urethanes by nature will have more flow and working time than polyaspartics. This gives the installer more time to back roll as well as providing some self-leveling properties on its own. Moisture cure urethanes can also be a great option for topcoats. These urethanes are single-component and do not require mixing.
Low Odor Systems
In the past, low odor meant water-based (WB). While there are some great uses for WB coatings, you will lose a lot of freedom if you have to use WB products exclusively. Fortunately, things have come a long way in the past few years. There are now a variety of solvent-based options that will still give the look and performance you are used to, without all the harsh odors. This can be crucial for jobs that have low odor requirements. Beyond that, low odor products are a great way to make your job sites more friendly to employees and the end-user. I am truly amazed by the performance of some of the low odor polyaspartics and urethanes that have been developed in the last three or four years.
The end is near. Some refer to the topcoat as the "money coat." It's the coat that makes the job look like a million bucks, but this also means the job is done and it's time to get paid.Deco-Crete Supply

Hopefully, this was helpful in your quest to create the highest-end decorative concrete possible. There is certainly a lot more to this and to say that we are just scratching the surface here would be an understatement. The best advice we can give is to never stop learning. As technology continues to progress in the concrete coatings industry, it's important that installers keep up with the changes. Just because something wasn't possible five years ago, doesn't mean it can't be done today.  
About the author
Jeff Hershberger is the training lead for Deco-Crete Supply. Please don't hesitate to reach out if you have any questions on concrete coatings or anything else that might pertain to decorative concrete.