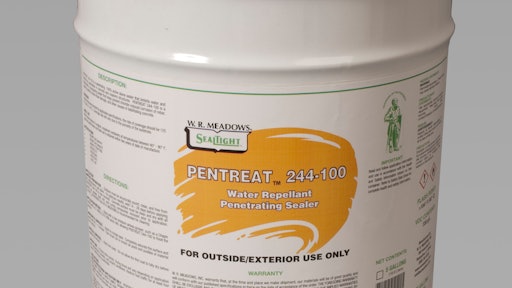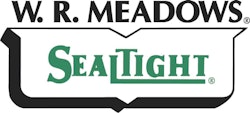 W. R. MEADOWS will introduce PENTREAT 244-100, a new hydrophobic impregnating sealer used on all types of concrete, at the 2017 World of Concrete show. Designed for residential, commercial, industrial and municipal projects.
Cann be used on horizontal and vertical, new and existing concrete, and masonry above-grade surfaces. It helps prevent chloride-induced corrosion of rebar, scaling, spalling, freeze-thaw damage and other causes of debilitating concrete.
Developed for use on nearly every type of concrete, including structures such as parking garages, bridge decks and piers, marine buildings, loading docks, vehicle repair and wash down facilities.
Ideal for driveways, walkways, plazas and patios, in addition to median barriers and traffic barring concrete.
When applied, this 100% active silane sealer penetrates deeply for maximum protection.
PENTREAT seals the pores and capillaries of substrates, preventing liquid absorption while allowing for excellent vapor transmission. It won't leave residue so it does not require any cleaning once applied.
Request More Information
Fill out the form below to request more information about
W. R. MEADOWS Introduces PENTREAT