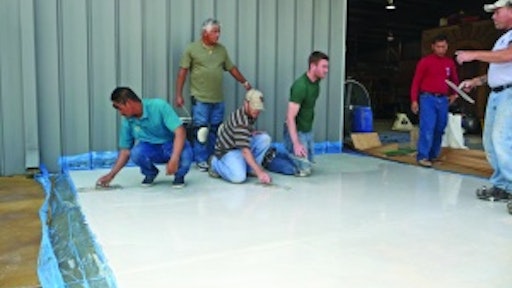 Teaching for a living can be tremendously rewarding, especially when you hear about your students' success stories and learn about the ways they use the skills you taught them. We have a very diverse group of students attending our courses from virtually every walk of life. It is great to interact with our students, and on occasion it's especially nice to draw attention to the people who attend our classes. This is the case with Michael Emma and Kurt Ziegler of Safari Decorative Concrete in Miami who recently attended a course on skim coating.
The first day of class we have opening introductions. This is when Mike and Kurt informed the group that just four days prior they had returned home from serving our country in Iraq. I made it a point to shake their hands and say "thank you" and the class gave a very deserving applause for Mike and Kurt. (On a side note, you should do the same when you see our military service men and women in a public setting. A simple hand shake and "thank you" really does make a difference.)
I was so intrigued with Mike and Kurt's story, I want to share it with you. Here are some questions I asked them:
Bob Harris: What were you doing before you enlisted in the Army?
Michael Emma: Kurt Ziegler and I are currently both Officers in the Florida National Guard. I am a Captain, the Company Commander of a Quartermaster Company, and Kurt is one of my Lieutenants. Kurt ran a warehouse in Iraq that saw $1 billion worth of material come and go over a one-year span. I had four of these warehouses that my company was responsible for.
Before we were deployed Kurt was a student at Florida International University in Miami and I was a Firefighter/EMT for Brevard County Fire Rescue in Florida.
BH: How and why did you get into decorative concrete?
ME: My background is in landscaping and landscape construction. I have been involved with landscaping since 2000. I saw a brochure at a nursery in 2003 on courses for synthetic rock construction for water features. As fate would have it, I was deployed to Iraq for the first time shortly thereafter.
When I returned from Iraq in 2005 my father and I attended the synthetic rock school. We began to introduce these water features into our landscapes. As time progressed and through trying to better our business, we began to explore other decorative concrete applications (my father has worked in the concrete industry for many years). The business slowly made a transition from landscaping to decorative concrete with landscaping as a secondary market.
In 2008 I was again deployed to Iraq. During this year-long deployment I had the opportunity to introduce Kurt to the exciting world of decorative concrete. I believe he knew at that point what he wanted to do.
Kurt Ziegler: Getting involved in the business of decorative concrete had never really crossed my mind. It wasn't until my recent deployment to Iraq in 2008 that Mike had initially introduced the whole concept to me. He showed me some of his prior work that he did, and I really grew interested and wanted to learn more about this kind of work. To me, decorative concrete displayed endless possibilities of design and art that I wanted to be a part of.
BH: How did you hear about the Decorative Concrete Institute?
ME: Through years of researching decorative concrete and training opportunities I always saw articles about Bob Harris. I bought a few books and was impressed with the content. I thought that one of his seminars must be great. It was definitely on my "to do" list.
One of the things we really liked with Bob Harris and crew was that they did not sell a product. He has many years of experience with invaluable information. We are knowledge seekers and that is exactly what we found with Bob.
BH: Rumor has it that you actually signed up for the course from Iraq?
ME: We did. About three months from coming home we began to restructure the business and advertise. My father would take calls from potential clients and go on estimates. Kurt signed us up for the overlay course about two months before we demobilized.
BH: Four days after you returned home from Iraq you actually attended a course. What made you choose this particular course?
ME: Four days after our demobilization process we were in the skim coat course. We chose this course because we saw this as our most probable type of job to begin with. We are looking to expand our decorative concrete abilities to polished concrete floors, remodels and that sort of thing.
BH: Have you been able to apply any of the techniques or skills learned during your course in the real world on a project?
ME: We have. Attending the course has helped us avoid a few pitfalls. What we have learned has definitely propelled us ahead of our competition. Most of the decorative concrete contractors in my area are generic and are looking for the fastest way to finish a job or use cookie cutter stencils only. We have capitalized on their lack of training. They should have attended the Decorative Concrete Institute's seminar!
BH: Is your business progressing the way you want it to and do you have plans to return to Iraq?
ME: The business is doing well. We are working the commercial market pretty hard. We will be opening a 2,000-square-foot showroom in three weeks. As far as Iraq is concerned I have no desire to ever go back. I have been to the Middle East three times, twice to Iraq. Kurt is still a patriot. He would like to go back or maybe go to Afghanistan. He is a young officer with a lot of experience to pass on. I will stay back and run the business.
KZ: I will of course pursue our business into decorative concrete as well as continue my service in the Florida Army National Guard. As Mike put it, I am still young in both my careers that I have chosen. I'm really looking forward to expanding and learning more in the field of decorative concrete, but I also wish to continue my experience in the Army as well. And if it means serving again overseas I will do so gladly.
Both Michael and Kurt were a joy to have in our class. Our hats go off to you guys, not only for your service to our country but for your respectful and positive attitudes. I salute the two of you!
Bob Harris is the founder and president of the Decorative Concrete Institute, Temple, Ga., which provides hands-on training in architectural concrete. He has personally placed or supervised the placement of more than 3 million square feet of decorative concrete and is the author of a best-selling series of decorative concrete books and DVDs. For more information, call (877) DCI-8080 or visit decorativeconcreteinstitute.com.
Companies in this article