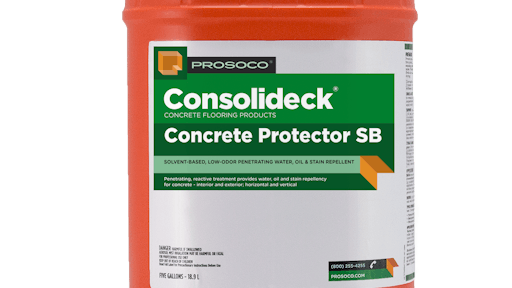 Consolideck Concrete Protector SB is a penetrating, reactive treatment that provides water, oil and stain repellency for every kind of finished concrete floor. Treated surfaces retain their natural texture and breathability. Concrete Protector SB improves stain resistance and simplifies maintenance cleaning of interior and exterior, horizontal and vertical concrete surfaces. Solvent-based and low-odor, this VOC compliant protective treatment is easily applied with pump-up sprayers.
Resists oil and food stains, and repels water and water-related stains.
Works on floors previously treated with Consolideck LS, LS/CS or Blended Densifier.
May be applied to surfaces previously treated with Consolideck LSGuard or PolishGuard.
Appropriate for application to any cured concrete, from steel troweled to highly polished.
Low-odor suitable for interior application to occupied buildings.
Fast drying – reduces down time.
Treated surfaces "breathe" – does not trap moisture.
Can be burnished.
Coverage rate higher than typical water repellents or other stain-resistant impregnators.
Re-coatable; penetrates and bonds to concrete previously treated with Concrete Protector SB – no stripping required.
Request More Information
Fill out the form below to request more information about
Consolideck Concrete Protector SB from Prosoco