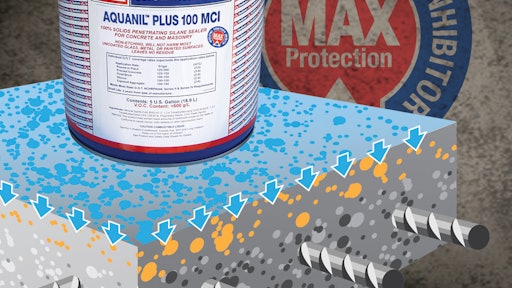 ChemMasters

ChemMasters, Inc. has announced the addition of three new versions to its popular Aquanil Plus line of deep penetrating, chemically reactive silane sealers. The new Aquanil Plus MCI series silane sealers feature the addition of a migrating corrosion inhibitor (MCI) for superior corrosion protection of structural steel and rebar in concrete in a single application.
Aquanil Plus 40 MCI (40% solids silane, <600 g/L VOC), Aquanil Plus 40-A MCI (40% solids silane, <250 g/L VOC) and Aquanil Plus 100 MCI (100% solids silane, <250 g/L VOC) are formulated to offer a V.O.C. compliant option for all regions within the US and Canada.  They are non-etching, will not harm most uncoated glass or metal frames and leave no residue to clean, making application quick and easy.
Silanes provide superior protection to concrete from damage caused by exposure to freeze/thaw cycles and deicing chemicals at the substrate surface. 
Adding migrating corrosion inhibitor delivers fortified protection from tensile stresses on concrete because underlying structural steel and rebar corrode from water exposure and chloride intrusion from above, as well as from water vapor originating beneath the slab.
The enhanced protection of Aquanil Plus 40 MCI, Aquanil Plus 40-A MCI and Aquanil Plus 100 MCI delivers "MAX Protection" for exterior cast in place concrete, bridge and parking decks, columns, beams, and roadways. 
Wherever long term protection of concrete surfaces and structural steel or rebar is critical to long-term performance, these products are an outstanding choice.
Request More Information
Fill out the form below to request more information about
Aquanil Plus Penetrating Silane Sealers Now Available with Migrating Corrosion Inhibitor Protection