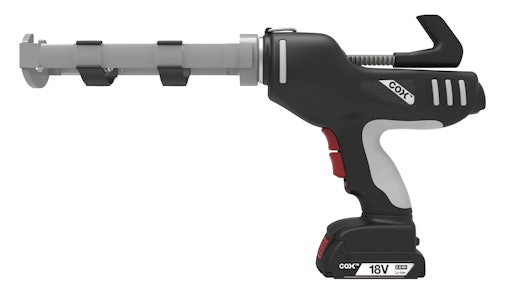 Sulzer will be releasing new COX branded dispensers with Bosch Professional 18V battery-power at World of Concrete (WOC) 2020, as the market demand for dispensing systems for adhesives and sealants continues to grow.
The two new members of the COX ElectraFlow family of battery-powered dispensers provide precision dispensing in a wide range of adhesive and sealant applications. The ElectraFlow Dual Ultra is ideal for dispensing two-component adhesives in a 1:1 ratio, while ElectraFlow Plus provides an advanced tool for operations that require one-component cartridges.
Both products feature powerful cordless technology from the latest Bosch Professional 18V lithium-ion range of batteries and chargers, including the new high performance ProCORE 18V version. As a result, the systems offer extended runtime and service life as well as convenience for users on-site thanks to battery compatibility with a wide selection of existing Bosch power tools.
ElectraFlow Plus also features a trigger lock that prevents accidental material discharge and a variable speed trigger to carefully adjust and control the volume of adhesive or sealant being dispensed. ElectraFlow DualUltra meanwhile has a practical cartridge locator (patent pending) to locate and retain the cartridges in their correct position during operation.
Request More Information
Fill out the form below to request more information about
Sulzer to Launch New COX Dispensers at WOC 2020