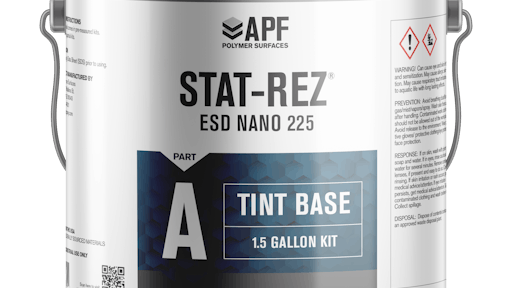 ICP Building Solutions Group (BSG) has launched its newest product from APF Polymer Surfaces, Stat-Rez ESD Nano, which offers innovative solutions to control static and improve safety. Stat-Rez Static Control Coatings protect areas requiring static dissipative or conductive flooring. These coatings prevent electrostatic damage, limit the ability of personnel to build up an electric charge and quickly remove a charge from people or equipment.
Infused with ICP's Nanowise Technology, single-wall carbon nanotubes utilized in Stat-Rez ESD Nano allow for performance features previously unobtainable in traditional antimony tin oxide ESD systems. These nanotubes, made of billions of carbon atoms, create elongated tubes. This effect produces an intertwined network within the coating, eliminating room for hot spots while providing unmatched strength. This network also prevents settling within the coating, which greatly extends shelf life and allows for a wider variety of installed thicknesses.
Stat-Rez ESD Nano debuted at World of Concrete in Las Vegas Feb. 4–7. 
Request More Information
Fill out the form below to request more information about
Stat-Rez ESD Nano from APF Polymer Surfaces Prevents Electrostatic Damage