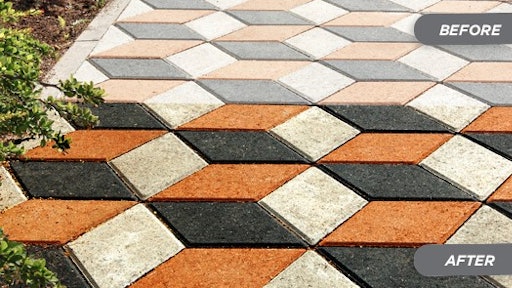 ICP Building Solutions Group
ICP Building Solutions Group's STAIN-PROOF Paver Enhancing Sealer delivers color enhancement and long-lasting protection for a variety of concrete pavers, cement tiles, terrazzo floors, and concrete surfaces.
Paver Enhancing Sealer offers both rich color enhancement and water and liquid protection through a combination of silicone technology. The result is a long-lasting, penetrating oil and water repellent solution that enhances the natural color of a variety of man-made surfaces.
"Pavers are a great way to add personality to any yard or home, and they need the right maintenance treatment to stay looking their best throughout their lifetime," said Scott Higginbotham, Director of Sales, STAIN-PROOF. "With our new Paver Enhancing Sealer, we're offering a cost-effective method to enhance and protect driveways, cladding, floors, patios, pathways, pool decks, concrete countertops, and more."
Additional Features
A fully penetrating, patented formulation that impregnates far into the pores of target surfaces, forming a deeper water and oil repellent barrier.
Creates no sheen or shine.
Specifically designed for man-made surfaces such as concrete pavers, cement tiles, brick, and other cement-based hardscapes. 
Simplified application and reapplication—pavers can be freshened up with a single coat after a few years.
Does not affect slip rate per ANSI 137.1 test.
Paver Enhancing Sealer joins the rest of the STAIN-PROOF family of impregnating sealers, enhancers, and specialty cleaners for a complete solution to all of your care and maintenance needs.
Request More Information
Fill out the form below to request more information about
Enhance the Natural Color with STAIN-PROOF Paver Enhancing Sealer