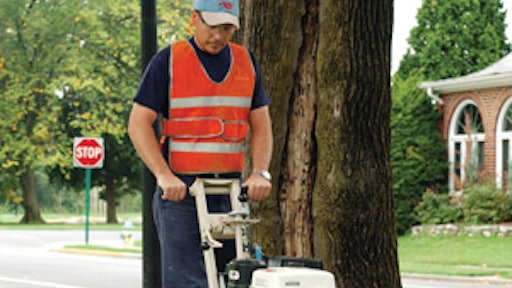 When concrete has to be resurfaced, the first steps in the process are often the most critical. For long-lasting repairs, the underlying concrete must be prepared properly to enable overlays or coatings to bond securely.
There are several tools and pieces of equipment that can prepare a concrete floor for a new finish or surface. Some of these machines and accessories overlap in function and can even be used in combination with each other. Many times the machine called for will be determined by the new material to be put on the prepared concrete.
Here's an overview of the different types of concrete resurfacing equipment available.
Grinders. There are two types of grinders: planetary and rotary. Planetary grinders typically use diamond-, ceramic- or silica-based abrasives to abrade surfaces such as concrete, stone, terrazzo and wood. They are used for many different applications like profiling concrete in preparation for a coating such as an epoxy or urethane.
"These grinders provide a very uniform surface free from gouging which makes them very easy to use without damaging the surface," says Travis McCutchen with Kut-Rite Mfg. "They're a perfect choice for rental.
"For example," he explains. "Concrete garage floors are being coated with epoxies at a rate of $4 per square foot. This is an awesome DIY project if the homeowner can rent a grinder that is easy to operate and will not damage the surface."
Polishing concrete is another popular application that is easily achieved with a light weight planetary grinder. John Abrahamson, president of HTC Inc., cautions that concrete polishing should be left to the professionals, however. "It takes a lot of training to properly polish a concrete floor," he explains. "A home-owner can't learn the skills in a quick lesson at the rental store."
On the other hand, re-sealing wood floors is a project that most homeowners would consider. The same grinder used on concrete with different abrasives can do the job. Lightweight planetary grinders are also ideal for removing lippage from wood decks, cleaning old and worn wood decks and general cleaning of concrete floors.
Like lightweight planetary grinders, rotary grinders typically use diamond-, ceramic- or silica-based abrasives to abrade surfaces such as concrete, stone, terrazzo. They are often used for creating a more aggressive profile or removing material. Some machines are equipped with a VFD (variable frequency drive) are can be used for high speed polishing.
"The rotary machines are heavier and operate at much higher rpm," says McCutchen. "Polishing concrete, stone and terrazzo with a high speed tool is a different approach that's much faster and provides a superior finish."
The 10- and 20-inch rotary machines are ideal for residential and light commercial surface preparation applications. They also perform well removing materials such as carpet glue, mastics and epoxies.
Scabblers use compressed air to hammer piston-mounted bits into the concrete surface. They tend to roughen the concrete surface more than grinding or scarifying. Some machines, like EDCO's Chip-Dek scabbler, can remove up to 1/4 inch of concrete in a single pass. The actual production rate depends on the strength of the concrete. A typical removal rate for a machine with a 12-inch working width is 200 to 250 square feet per hour at a 1/8-inch depth.
Scarifiers. Scarifying machines apply a cutting wheel to the concrete surface, leaving a clean, textured or roughed finish. Scarifiers are also referred to as planers, milling machines, rotary cutters or simply surface preparation machines.
These machines usually have various styles of interchangeable cutter assemblies that can be used for cleaning, grinding and light or heavy milling. Production rates range from 350 to 1,500 square feet per hour (depending on machine size and horsepower) for a 1/8-inch removal depth of 3,500-psi concrete.
What's the difference?
"The primary differences between these machines are the achieved profile and result," says McCutchen. "Scarifiers and grinders are surface preparation tools and a scabbler is more of a demolition tool that impacts the surface with force."
For customers, machine choice is based completely on the desired outcome of the floor, says McCutchen. "For example, if a floor has an existing epoxy coating and the outcome is polished concrete, we would choose a grinder with carbide scarifier attachments to remove the epoxy and minimize any damage to the concrete substrate. Conversely, using the same epoxy-coated floor as an example, and change the desired outcome to a decorative overlay. In this case, we would choose a scarifier to quickly remove the epoxy and leave an aggressive profile for the ¼-inch overlay to bond."
Because correct machine choice is crucial to your customer's desired outcome, having a well-trained knowledgeable staff is paramount.
"The best way for a rental company to optimize the rentals on concrete surface preparation is to have a knowledgeable rental and sales staff that understands the potential applications in your market and can recommend the correct piece of surface prep equipment," says Chuck Hommey with EDCO Inc. "You should also include detailed product literature along with in-store/showroom signage, displays and demonstrations."
For rental businesses, machine choice is made on different criteria. Selecting the right machine for your inventory should be based on "performance, versatility, reputation and price," says John Edwards with Smith Manufacturing Co.
"A multi-purpose machine that serves most or all of your customers surface preparation requirements is a good choice," he says.
So who uses these machines? Many different types of contractors - from flooring to industrial to decorative concrete to janitorial, says Abrahamson. "For rental, the number one application is floor prep," he says. "These machines are ideal for a guy with a problem concrete slab, where he needs to prep the concrete or remove it."
Consumable opportunities
There are many avenues for up-selling consumables with surface prep machines. Dust extractors or vacuum systems, which remove harmful concrete and masonry airborne dust particles from the environment as well as shorten cleanups, are a great add-on. These work with grinders, scarifiers, scabblers and even concrete saws.
Grinders require diamond abrasives and pad drivers. Scarifiers need different cutter teeth, spacers, shafts and drums. These items can be rented separately or with the machine.
"Rental companies should always rent out an extra set of wear components with the machine," says Edwards. "Customers should also be educated on how to replace normal wear items."
There are also other consumables that can be included for safety reasons. These include safety glasses, dust masks, gloves, water hoses and ear protection.
Companies in this article