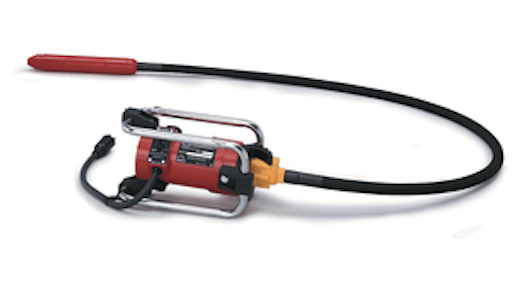 Flex-shaft concrete vibrators
Powered by 115-volt grounded aluminum electric motors on a four-cycle Honda gasoline engine
All Allen Flex-Shaft vibrator heads, shafts and power units are interchangeable
Allen Engineering Corporation
ICF Vibrator
Houston Vibrator now offers the ICF Vibrator, designed especially for consolidation of concrete in insulated concrete forms. The hand-held external vibration tool consists of a single-phase 115 volt electric vibrator mounted on an aluminum board with handles.
Houston Vibrator, Ltd.
Wallbrator
The Wallbrator from LiteForm Technologies is an ICF wall vibrator that attaches to any 1/2-in. electric or cordless drill. Combining a high speed and low impact vibration, the wallbrator
ensures good consolidation of concrete with one pass. Sizing in at just under 3 lbs. and a
length of 7 in., this tool is lighter weight and more compact than other traditional external
vibrators. The grip design offers installers a comfortable non-slip feel when operating under
any weather condition.
LiteForm Technologies
BP50a Backpack Concrete Vibrator
The BP50a backpack concrete vibrator now has CE Mark approval certifying it has met EU consumer safety requirements. The vibrator features a totally enclosed rotary throttle that prevents wet concrete from entering and clogging the throttle mechanism.
Will run steel and rubber vibrator heads up to 2 1/2 in.
Vibrator heads develop 12,000 vpm and never drop below 10,000 vpm
Standard Quick Disconnect "QD" system, Honda gasoline engines and "speed-up" transmission
Kill switch conveniently located on the handle
Oztec Industries Inc.
Portable Concrete Vibrators
The lightweight, portable concrete vibrators have adjustable frequency for forms, hoppers and bins. These air-piston UH, UHVM and VGVM concrete construction vibrators deliver linear vibration with either impact or air-cushioned pistons for reduced noise levels. The UH and UHVM are available in 1 1/4- or 2-in. diameter piston versions. Both have adjustable high frequency vibration and are equipped with identical alloy steel stud mounting heads allowing the products to be used interchangeably. The VGVM's frequency and amplitude are controlled by adjusting the air supply.
Cleveland Vibrator Company
Vibra-Beam Countertop System
State-of-the-art, lightweight countertop vibration system
Can be attached to any standard saw horse creating a high quality vibration table.
Achieve a tight, dense and void-free finish in the shop or on the job
Portable, lightweight and small
Available in either 115-volt power or pneumatic air
Vibco, Inc.
Multivibe Gas-powered Vibrators
Low-friction, gas-powered vibrators offer 9,000-vpm frequencies with amplitudes from .04 to .14 in.
Suitable for slabs, stem walls and foundations
Casing lengths up to 24 ft.
Head diameters from 1 to 2 1/2 in.
Approximately 20 lbs. lighter than a backpack
Hummer Standard, Hummer Fishing Pole and Power Rod models available
Jlin Corp.
Flex-Shaft Vibrators
Multiquip's flex-shaft concrete vibrators are designed to work in medium to high slump concrete applications such as small slabs, driveways, stem walls and footings. The eight models in the series provide centrifugal forces up to 19,000 rpm. The user can choose a power source (electric motor or gasoline engine), eight options of shaft lengths, and 11 head sizes. Large vibration isolated handles protect the motor and operator.
Multiquip Inc.
Rubber Heads for Concrete Vibrators
A rubber head is now available for Stone Construction's concrete vibrator line. It is a heavy-duty urethane rubber-coated 1 7/8-in. head specially designed for epoxy-coated rebar applications. The rubber head will not damage the coating on rebar and other forms. The perforated design of the coating provides better vibration and consolidation and cools the oil bath inside the head. With the addition of the rubber head, Stone now offers eight vibrator heads and 11 flexshafts.
Stone Construction Equip. Inc.
Electric Flex Shaft Vibrators
Aluminum ribbed cast housing
Heavy-duty vibration isolators and a double bar frame
Protected air inlet prevents concrete clogging
7/8- or 1 3/16-in. diameters
2-, 5-, 7-, 10-, 14- or 21-ft. lengths
Interchangeable between Honda Back Pack and Electric Vibrator Head
Six sizes ranging from 3/4- to 2 3/8-in.
Minnich Mfg. Inc.
High Cycle Vibrators
Wacker Neuson's introduces two new series of high-frequency internal vibrators: IRFU and IRSE-FU. Both come with a patented Bodyguard system that shuts off the unit within 3 milliseconds of a fault current. The new high frequency, motor-in-head vibrators feature an integrated inverter that allows the unit to plug directly into a standard 115V outlet. The IRFU systems offers head diameters from 1.2 t0 2.6 inches while the IRSE-FU models rand from 1.2- to 2.3-in. head diameters.
Wacker Neuson Corporation
Sure Speed Concrete Vibrator
The Sure Speed concrete vibrator features an energy-efficient Sure Speed electronic motor that produces uniform and repeatable vibration, ensuring fewer concrete defects and lower overall job cost. The unit allows users to use any combination of shaft length and head size with one motor by automatically adjusting its speed, regardless of the load placed on the head. A "soft start design" improves brush life by eliminating over speeding when the head is out of mix. The Square Head design is reported to provide for 22% more displacement than regular round heads.
Wyco Tool Co. / Div. of Racine Federated
Model BVR850 Cordless Concrete Vibrator
Makita's 8-ft. 18-volt LXT Lithium-Ion Cordless Vibrator (Model BVR850) has the same features as the 4-ft. Model BVR450 but has an overall length of 105 1/2 in. and weighs 11.7 lbs. The vibrator has a 1-in. diameter, an 8 11/16-in. vibrator length and 13,000 no load vpm.
Makita USA, Inc.
12V & 24V Truck Vibrators
These 12V and 24V truck vibrators help ensure complete emptying of bulk materials from dump beds.
Can help prevent unnecessary vehicle damage from sudden stops and starts commonly used to help break loose a stubborn load
Built with shielded, oversized, permanently-lubricated ball bearings
Sealed against dirt, dust and water intrusion
High-speed, low-amperage electric motors offer light weight and a compact size
Cougar Vibration, A division of Martin Engineering
Companies in this article