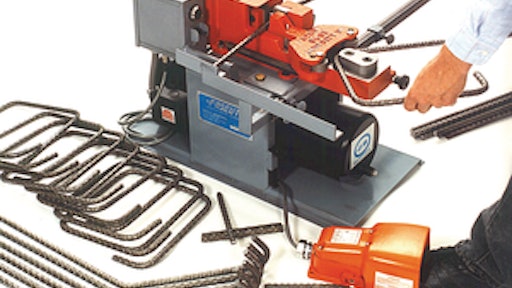 FS-600 Portable Rebar Cutter/Bender
Will both cut and bend up to 3/4-in. (#6) grade 60 rebar
180-lb. machine
Plugs into standard 110 volts
Quickly cut rebar to length or accurately fabricate stirrups, hooks and 3-D bends at the jobsite or shop
Fascut Industries Inc.
Rebar Cutter Blades
Rebar Blades offers replacement cutting blades for all makes and models of rebar cutters. Blades are in stock and ready to ship the same day they are ordered. And if blades for your model are not currently available they can be made and then stocked for you.
Rebar Blades LLC
Rebar Cutter S32
Production Capacity: Maximum Diameter is 36 mm in normal steel
Cut single bars up to 36 mm
Up to four 12 mm bars can be cut at a time
Cut speed of 40 cuts per minute
Fully closed body made of special steel
Motor:3-hp, 2.2kW, 2880 rpm, 3-phase, 50 Hz, 4.8 amp, 380 to 440 V. Model- Avadhut – Frame 90 Motor Rating – Continuous Insulation Class – F Class Enclosure Type – TEFC Duty Rating – S1
Swastik Entech Pvt. Ltd.
DF 16 Rebar Tier
The DF 16 rebar tier is a simple, mechanical unit that allows an operator to tie up to 1,000 knots per hour.
Weighs less than 5 lbs. and allows operator to work in a comfortable upright position
One-hand operation with no special training or experience required
Loops at each end of the tie wire automatically interlock and are twisted when the device is withdrawn
Creates a tighter knot and each tie is secured without cutting
Wacker Neuson Corporation
RB397 Rebar Tying Tool
Can tie rebar up to #5 x #6
2,000 ties per charge with a 14.4v lithium-ion battery
Brushless motor
Trigger lock
Torque adjustment dial
Automatic shut-off when not in use
Reversible belt hook
Kit includes carrying case, charger and battery pack
Max USA Corp
MetalliScanner MT 6
Capable of finding metal up to 6 in. deep in concrete
Differentiates between ferrous and non-ferrous metal targets
Indicates target depth in inches and centimeters
Position accuracy to within ± 1/2 in.
Zircon Corporation
Aztec Straddle Chair
Fits rebar #3 to #11
Covers height ranges from 3 to 7 3/4 in.
Staple down feature and two sizes per chair
Product applications include side form spacer, tilt-up, precast and D.O.T. projects
Dayton Superior
Rebar Safety Cap
Protect employees and equipment from exposed rebar, pipe and anchor bolts
High visibility orange color
Made from colored polypropylene LLPE Blend
Fit #3-#8 rebar
Polylok, Inc.
Rebar Benders and Cutters
Powered by 10,000 psi hydraulic pumps
Operate with a single hand
Bend or straighten rebar up to 135°
All models rotate 360°
Bending and cutting capacities of #6, 3/4" or #8, 1" 60-grade rebar
EZE Bend, Inc.
Twister Rotary Tying Tool
The Twister Rotary Tying Tool is designed to cut, twist and tie rebar in place. The tool cuts excess wire on closing. No batteries or electricity are required. With the Twister Rotary Tying Tool the operator controls the tightness of the tie.
Gensco Equipment Company
Quick Rebar Clamp Valet
Forged steel pieces that when used with a piece of standard #4 or #6 rebar create a strong, temporary clamp to reduce the need for lumber in concrete forming
Replace wood stakes used for batter boards, footings and edge board in concrete construction
Design is based off of a traditional Roman clamp that relies on pressure created by angling metal pieces in a binding action, rather than nails and lumber or other connecting methods, to form a clamp
M.B. Tools, Inc.
Straight Shank Rebar Cutters
Bosch's straight shank rebar cutters, for use with hammer drills and rotary drills, are designed to work in rotation mode and feature a unique flute geometry that employs a steep spiral design to quickly remove debris. A relief hole is incorporated into the cutting surface to dissipate heat and facilitate slug removal. Bot the body design and shank are tapered to reduce weight for smoother drilling and to reduce vibration. Bits are available in 12-in. lengths with drilling diameters from 3/8 to 1.5 in. The line also includes 18-in. lengths for 1/2-, 5/8- and 3/4-in. diameters as well as 6- and 12-in. extensions.
Bosch Power Tools & Accessories
TECO-LK
Cut through soft steel and non-ferrous up to Rockwell C15 (7/16 in.)
Cut through medium hard metals up to Rockwell C31 (3/8 in.)
Tool head can be switched to Huskie's RBH-4 to bend rebar
Huskie Industrial Tools
E-Zbar
Positive reinforcing steel positioning device used to control concrete coverage and steel location in concrete walls designed with two mats of reinforcing
Manufactured to project specifications regarding minimum coverage, steel size, orientation of bars and wall thickness
Plasmafab LLC
Concretor's Nippers
Use to twist and cut wire in one operation
Cutting edges with additional hardness, approximately 61 HRC
High-grade special tool steel is forged and oil-hardened
With or without plastic-coated handles
Knipex Tools LP
The Cutting Edge Saw
Cuts rebar, all-thread rod, coil rod, EMT conduit, pipe and more
Cuts the material flush with the surface, while a flush-cutting blade guard reduces blade exposure
Three-position, removable side handle and a rotating trigger handle provide the operator with multiple cutting positions
4.375-in. tungsten carbide tipped blade with a .860-in. depth of cut
Electric and battery-powered options available
Benner-Nawman, Inc.
Column Slider
Smoothly guides rebar columns or cages into confined spaces
Three sizes available providing 1.5-, 3-, or 3.5-in. spacing/coverage
All sizes 15.5 in. end-to-end length
Bevelled ends prevent jamming of column or cage during installation
Easily fastens onto rebar with wire ties
Plastic polycarbonate construction withstands high shock loads
Product applications include foundation piling, columns and bridge work
Better Air Mfg.