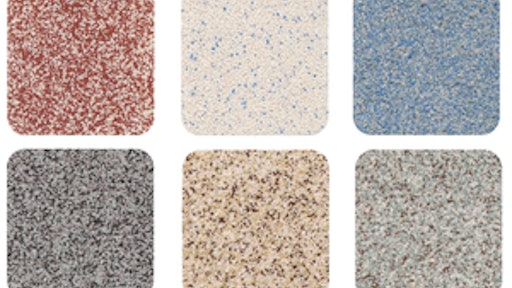 EnergyEdge Systems
EnergyEdge has joined Certainteed's line of foundation products
Form, insulate and protect slab edges
Replace 2X forming material and stay in place
Flexible and easy to install
Complete the building envelope at grade
Compatible with multiple placement techniques and building systems
CertainTeed
Pickup Pack
Highway Products has introduced its latest 2010 Pickup Pack for equipment management in pavement contractor's trucks. The Pack includes a gull wing saddle box, two lockable low side boxes, a flat/dome center hatch, a Headache Rack, and a removable ladder rack. When closed, the hatch locks the tailgate, making the bed area secure and weather resistant Optional Roller Coster cargo tray holds up to 2,000 lbs. cargo and slides out fast and easy.
Highway Products, Inc.
Power Side Discharge Bucket
The power side discharge bucket for skid steers and compact track loaders can be used to collect and discharge material, or can spread materials such as stone, mulch or aggregate.
Can be operated with either a left or right discharge position
Adjustable discharge gates
60-, 72- or 84-in. sizes
Can also be used to spread materials, including stone, mulch or aggregate
CASE CONSTRUCTION EQUIPMENT
EAP
EAP is a nanotechnology, multi-capability stain and acid protection system designed specifically for specialty concrete, engineered cements and natural stone used for floors, countertops, furniture, bathtubs and shower stalls, and building facades. EAP is as stain resistant as an epoxy, three times harder than most urethanes, heat resistant up to 450°F and bonds to concrete like an acrylic. EAP is environmentally friendly, food safe and VOC compliant under 100g/L. It is both deeply penetrating and film forming to protect substrates from acid etching and virtually all types of stains on porous materials, indoors or outdoors. EAP is available in gloss, matte and non-slip.
Its quick cure/turnaround time lets the floor return to use in as little as 8 hours.
Surface519
5700-C-Max
The 5700-C with optional "Max Package" outfits the machine with larger crawlers, all crawler steering and a repositionable right post.
Pours large variable barriers up to 8 ft. high, paves to 12 ft. wide and handles other large applications
Crawlers are 1-ft. longer, heavier and now include four rollers for increased stability
Low-speed crawler torque hubs
Other options include dual side pouring capability and a manifold for additional vibrator circuits
Power Curbers Inc.
Fastfoot MP System
The Fastfoot MP System is designed for monopouring the footing and the ICF wall at the same time. With the MP System, the strength and light weight of the ICF block forms the footing while the MP Supports hold the ICF block in position so the bottom of the ICF block is at the exact height of the concrete footing. Fastfoot MP does not require labor to pound and strip stakes and does not create a cold joint between the footing and wall.
Fab-Form
4836B Bridge Deck Finisher
The Model 4836B bridge deck finisher features 25-hp engines that power the 36-in.-deep mainframe and the dual-roller finishing carriage.
Manual crank legs
Dual 8-in.-diameter by 48-in.-long finishing rollers
5-in. hydraulic carriage lift
Hydraulic-controlled roller tamper
Single drag pan with burlap drag
Allen Engineering Corporation
Tracinator
The Tracinator is a one-tire revolution dirt removal, compact and portable wheel wash system. The Tracinator is designed to flush itself clear of debris by attaching a 20in. hose from a water truck or fire hydrant and placing the clean-out valve in the open position. It can be used independently or in conjunction with any of the Neptune Automated Wheel Wash and Disinfecting Systems. The Tracinator can be configured with a set of hinged ramps or installed in-ground, flush with the existing road.
Innovative Equipment Solutions (IES)
Liquid Wrench Lubricants
Liquid Wrench offers six lubricant, penetrant and specialty products, including the reformulated Penetrating Oil and Chain Lube.
Penetrating Oil quickly loosens corroded bolts, nuts and parts without a strong odor, and can be used to free up locks, clamps, joints and more
Chain Lube with anti-sling formula features anti-wear additives and synthetic moly to hold to wire cables, as well as O-ring and standard chains even in extreme pressure/temperature situations
Radiator Specialty Company
Model R 502 FR 1010 Watt Two-Speed Mixer
The model R 502 FR 1010-watt two-speed mixer from Flex North America offers full wave electronic control with soft start, temperature monitoring, overload protection and continuous speed control trigger for a controlled run-up to the optimum mixing speed. 1st speed for use with RS 1 mixer paddle for low-viscosity materials, 2nd speed for use with RS 0 mixer paddle has a counter-flow effect for mixing highly fluid materials. An ergonomic handle has an anti-slip coating. Fatigue-free arm posture and upright body posture while using allows comfortable operation.
Flex North America Inc.
Color-Safe Surface T-28
Color-Safe Surface (T-28) is an acrylic-based resin system for area markings and anti-skid surfacing. The system is capable of full cure in a wide range of temperatures without requiring external heat sources. It is available in a variety of colors and aggregate sizes.
Transpo Industries, Inc.
Rebar Adapter Plate
The Rebar Adapter Plate for the Lil' Bubba Curb Machines allow you to extrude concrete curb over rebar set on 2-in. chairs. The adapter plate bolts between the curb mold profile and the machine.
The Concrete Edge Company
Sakrete Concrete Dissolver
Sakrete's Concrete Dissolver is an environmentally friendly concrete dissolver that removes dried concrete, mortar or stucco from most surfaces without harsh chemicals. Concrete Dissolver is 100% biodegradable, emits no harsh fumes and is non-corrosive. It is available in a 23-oz. spray bottle and a 5-gal. container.
Bonsal American
Color Packs
H&C color packets for its resurfacer texture system products are available in 30 colors that work with any type of vertical or horizontal, new or old concrete surface. The color packs are mixed into Resurfacer Instant or Heavy Traffic water and applied as normal. H&C color packs provide instant color and effects without the need to stain.
H&C Concrete
Worm Drive Circular Saw
DeWalt's Worm Drive Circular Saw (DWS535) features DeWalt's Toughcord cord retention and protection system. The magnesium shoe and rugged control levers and handles offer increased durability on the jobsite. A true worm drive mechanism provides longer life and higher torque. The saw also features a 53-degree bevel capacity with DeWalt's patented bevel detent system. The saw has an extra wide saw hook and a top-access spindle lock. Dual ports in the shoe work with DeWalt's DWS5100 Dual Port Rip Guide for rip cuts up to a 14.5-in. capacity.
DEWALT Industrial Tool Co.
Aline-Set Gauge Block
Aline-Set gauge block from Simmons Innovations is a new tool for straightening, plumbing and leveling walls, floors, beams, posts and concrete forms. The system offers a true plain, and multiple offsets are available from 1/4 to 1 1/2 in. Made of impact-resistant polycarbonate resin, Aline-Set is reusable.
Simmons Innovations
Start-Smart
Start-Smart is a keypad ignition system designed for construction equipment, forklifts, cranes and personnel carriers. Start-Smart replaces the ignition key with a 3.5-in. by 3-in. sealed and potted keypad and electronics. It is available with code or RFID card enabling. It is also available in an anti-theft version which includes a wireless relay hidden in the ignition, starter or fuel pump circuit. Start-Smart is available in a manually programmed version or with USB connection for programming users in/out from a PC database.
Keytroller, LLC
Safety-Glow Strips
AGT Safety-Glow Strips from Ambient Glow Technology are urethane glow strips specifically designed to be embedded in concrete. They can be utilized in either cast-in-place or precast applications and are designed to exceed the NYC Local Law 26 - photoluminescence for marking of egress passages - and the similar state law in California. Used on interior or exterior applications, AGT Safety Glow Strips will glow for over 10 hours with only exposure to 10 minutes of sunlight, the company says.
Ambient Glow Technology - AGT
Speed-X Hammer Carbide
The Speed-X Hammer Carbide drills precise holes with its centric carbide tip, innovative inclined side cutters, shortened head design and enlarged dust-clearing channels. Vacuum optimized brazing and heat treatment of the precision carbide tip provides resistance to impact and thermal stresses. Speed-X alerts users when the carbide tip is worn. It is available in SDS-Max and splined versions in a variety of popular sizes.
Bosch Power Tools
75D Excavator
The new 75D mid-sized hydraulic excavator features a conventional boom and reduced tail swing. Designed for light residential, site development, underground and landscaping duties, the 75D weighs 17,637 lbs. and has a 15-ft. 1-in. dig depth. The unit also has a 54-net-hp diesel EPA Interim Tier IV certified engine/hydraulic management system.
John Deere Construction and Forestry Division
Stone Finish
Stone Finish is a ready-mixed floor coating system that provides a durable wear surface with the look and feel of natural stone. Formulated for durability and abrasion resistance, Stone Finish consists of aggregate in pure acrylic binder and can be spray or trowel applied. The seamless vapor formulation is VOC compliant. Stone Finish is low maintenance, features freeze/thaw resistance and can be used on both interior and exterior projects. Stone Finish is available in 30 colors.
Drytek Flooring Solutions
Spectra Precision 5.2XL Point and CrossLine Laser
The Spectra Precision 5.2XL Point and CrossLine Laser is an automatic self-leveling laser tool for a variety of construction applications. The laser combines a 5 beam laser pointer and a horizontal and vertical crossline laser. With the addition of the Spectra Precision HR250 Handheld Receiver the 5.2XL can be used for short-range exterior general leveling and alignment. The rugged protective rubber over-molding is designed to withstand drops of up to 3 ft. and is water and dust resistant as well.
Trimble Navigation Limited
1501 Articulated Wheel Dumper
Wacker Neuson's 1501 articulated wheel dumper features a compact size and swivel tipping bucket allowing it to reach and drop material in precise and confined areas. The 1501 has 3,307 lbs. of payload capacity and 1.05-cu.-yd. bucket capacity. Powered by a Yanmar 3-cylinder, 22.8-hp diesel engine, the unit also features a hydraulic twin-lock all wheel drive system.
Wacker Neuson Corporation
M-Crete
PolyMax M-Crete Flooring withstands extreme temperature changes and thermal shock. Available in a trowel smooth finish or with a slip resistant profile. The system features chemical resistance and is USDA accepted for federally inspected facilities and features quick installation. M-Crete also has virtually no odor and is available in decorative and slip resistant.
PolyMax
Rapid RH 4.0
The Rapid RH 4.0 combines Wagner Electronics' Smart Sensor and a redesigned Easy Reader with Touch-n-Sense technology for easy-to-use, fast and accurate RH testing. The Touch-n-Sense technology, Easy Reader and Smart Sensor allow the unit to turn on, take a reading and hold the data display for 5 minutes before powering off. The Rapid RH 4.0 has no re-calibration or re-certification issues.
Wagner Electronic Products, Inc.
Trowel-Top
Concrete Solutions' Trowel-Top is a polymer-modified micro-topping designed for troweling or squeegeeing over concrete and other surfaces. Trowel-Top can be integrally colored, stained or dyed and is used where a smooth finish is desired.
Concrete Solutions
Flat/Panel Clamp
The thin rubber coated jaws of the Flat/Plate Clamp allow it to be used in tight locations on virtually any material. A Web sling instead of a chain reduces weight, twist and injuries. The Spring tension jaw makes placement easy without resetting the clamp because it fell out of position. The clamp weighs only 13 lbs. and has a 1,760-lb. capacity.
EZ Grout Corp.
Companies in this article