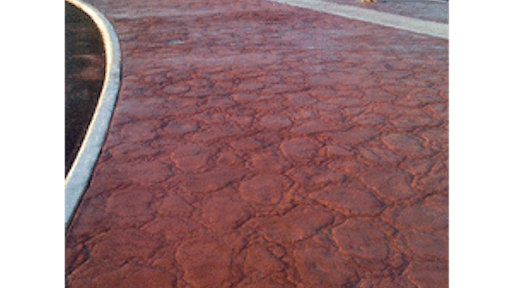 B01 Liquid-Gel Pigment
Thixotropic gel specially formulated for integral coloring of concrete and mortar
Water-based, solvent-free and environment friendly
Designed to disperse throughout any concrete or mortar mix
Highly resistant to sunlight and UV radiation, alkali and weather conditions
Use in cast-in place concrete, precast, tilt-up, floors, countertops, retaining walls and more
Construcolor USA, Ltd.
Concrete Moisture Meter
RH BluePeg sensor monitors moisture concentrations in center of slab
Slips into sleeve embedded in concrete
Takes readings until the moisture in the concrete has reached its final value
Sensor can be reused
Permissible moisture readings vary between 65% to 97%
Lignomat USA Ltd.
Duro-Polish Plus
Synthetic polymer floor polish
Protects hardened concrete floors from harsh food products
Imparts an immediate, high-gloss finish that requires no buffing
Aids safety with additional slip resistance (ASTM D-2047)
Nox-Crete Product Group
EDGEKutter 7120
Designed for polishing and preparing the edges of concrete, stone and wood surfaces
Rocker Pivot suspension maintains flat and even contact between the abrasive wheel and the surface
Spring-loaded Tension Throttle offers precise control of the grinder head
KR7 EDGEKutter dust shroud enables virtually dust-free operation with adequate vacuum system
Kut-Rite Manufacturing
FastFloor by Rhino Industrial
Two-component, hybrid polyurea coating system specifically formulated for commercial and industrial flooring
Rapid curing allows a return-to-service time of one day; light foot traffic in 2-4 hours
Apply with a hand-roller, brush or squeegee
Two formulations include FastFloor HB (high build) for industrial floors and FastFloor DF (decorative floors) which utilizes paint chips, colored quartz and other decorative flakes to create a unique floor
Zero VOCs and environmentally friendly
Excellent UV resistance
Rhino Linings
Hiperfloor
A method for mechanically grinding, treating and polishing concrete floors
Can transform new or old concrete floors into abrasion-resistant, dense, smooth and visually appealing surfaces
Reduces the need for epoxy or thin film coatings
Husqvarna Construction Products
Lythic Densifier
Lythic Solutions recently launched its Lythic Densifier, a colloidal silica-based densifier for the polished concrete industry. It can be spray applied in 15 minutes and eliminates scrubbing in, scrubbing off and disposal of the caustic gel created by silicates. Lythic Densifier is shipped as a concentrate and contains zero volatile organic compounds (VOC). Lythic Protector, a conditioner containing colloidal silica and polymers, and Lythic Cleaner, a cleansing formula that imparts additional silica into the concrete surface every time it is cleaned, are also available.
Lythic Solutions, Inc.
PERMINATOR
W.R. Meadows Perminator is an underslab vapor barrier that can withstand normal construction jobsite conditions and traffic. The Perminator is available in 10 and 15 mil thicknesses and comes in 200-ft. long rolls.
W.R. Meadows Inc.
Pulse-Bac PB-2150
CDCLarues new Pulse-Bac PB-2150 is a portable vacuum with an electronic sensor that detects when the collection tank is full. The vacuum also can collect and discard dust and debris simultaneously. The Pulse-Bac Technology stops the filters from becoming caked with dust and debris and prvents clogging during operation by internally flushing the filters. The vacuums conical-shaped filters can collect dust particles as small as .1 micron in size, produces 450 cfm with 70-in. of lift and weighs 200 lbs.
CDCLarue Industries Inc.
Screed Rail
Achieves higher floor levelness than hand straight edging
Increases floor flatness
Tightly controls elevation to design grade
Exceeds FL 20 specs
The Allen Face Companies
Stego Wrap Vapor Barrier
Stegos Wrap Vapor Barrier is a 15-mil geo-membrane for moisture and radon gas resistance. It is made of a combination of prime virgin resins and additives and can be used in contact with and directly below a concrete slab. Stegos vapor barrier has an almost zero Water Vapor Transmission Rate and prevents moisture, water vapor, soil gases and alkaline salts from entering the building envelope.
Stego Industries, LLC
TRUE-SCREED CLU
High-strength, portland cement-based floor underlayment
Compressive strengths up to 6,000 psi
Formulated for use over concrete subfloors in commercial and institutional buildings
Quick drying time
Meets and exceeds ASTM F710
Hacker Industries Inc