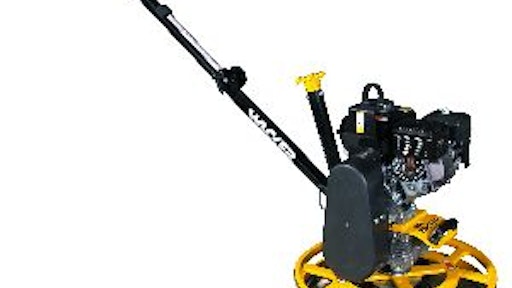 CT 24-4A Trowel
24-in. edging trowel for power finishing concrete along walls or other edges
Dynamically balanced design, low vibration and folding handle
160-lb. operating weight
Speed range up to 140 rpm and pitch range up to 15°
4-hp Honda engine

Wacker Corp.
Silver Beauty Power Screed
Features an enclosed eccentric and an always straight equilateral triangle bar that will cut concrete to grade
Handles bars from 3 to 12 ft.
Weighs 23 lbs.
Unrestricted throttle control
CF-484 Trowel
The 48-in. trowel features fine-tuned pitch control or optional ProPitch for fast, smooth blade adjustment
Four combination or finish blades
Extra-strong cast iron spider
Available with an 11-hp Honda, 11-hp Robin or 13-hp Honda engine
Dyna-Clutch system stops blade rotation without shutting off the engine

Stone Construction Equip. Inc.
Speed Screed SOLO
All models approved for the new series of four-stroke Honda engines
Redesigned Series 2000 double-handle model has a reduced weight (nearly 10 lbs. less) for easier screeding and transport, plus features reduced handle vibration
Series 1000 one-handle model updated to provide more comfortable and maneuverable operation
Designed for one-person operation

Metal Forms Corp.
Whiteman Hydrostatic Trowels
Models equipped with 60- (STX Series) or 44-hp (HTX Series) Yanmar Turbo Diesel engines
60- and 48-in. blades and non-overlapping rotors with dual joystick controls
Cool-running design
State-of-the-art hydraulics eliminate gearboxes, clutches and belts
Ergonomically adjustable seats, proportional hydraulic steering, automatic shut-down and retardant spray system for uniform coverage of the slab surface
Multivibe Hummer Screed Combo
Two-in-one tool can be used for vibrating walls then adapted to screeding concrete in seconds with no tools
High-profile screed bars go up to 24 ft. long and require only one power unit
Engine is elevated off of the screed bar for longer engine life
2 x 4 or 2 x 8 vibrator head
Easy attachment with lever screws
MSP 425 Riding Trowel
The Mechanical Super Pro 425 rider is a redesigned model with more torque and an improved weight to horsepower ratio
Manual steering and pitch control
34-hp liquid-cooled Vanguard gas engine
Torque converter clutch system and electric powered spray system
Two 46-in.-diameter, five-blade, non-overlapping rotors with speeds up to 170 rpm
Lightening Strike Roller Screed
Screed tubing lengths from 2 to 20 ft.; more than 20 combinations to fit your pour
Screed areas 4 to 40 ft.
Electric or gas motor
Can be used on pervious and exposed aggregate mixes
Can screed driveways, approaches, basements, circular pours, crowned concrete, sloped concrete, semi approaches and more
KG Screed
Single-roller screed suitable for use on parking lots, driveways, streets and sidewalks
Works well with wooden or steel forms
Paves up to 16-ft. widths
Totally self-contained and all mechanical
4-hp Honda engine

Terramite Corp.
Torpedo Groover
Available in 36-, 24- and 56-in. lengths
Machine tooled, high grade aluminum
Cuts straight control joint 11/2 in. deep
TR Trowel Series
Available in 36- and 48-in. models
Lifting bracket for easy lifting on and off the slab
Case iron base for strength and longevity
Heavy-duty Viton seals in the gearbox can withstand high temperatures
Adjustable arms
Blade arms with a universal bolt pattern
Companies in this article