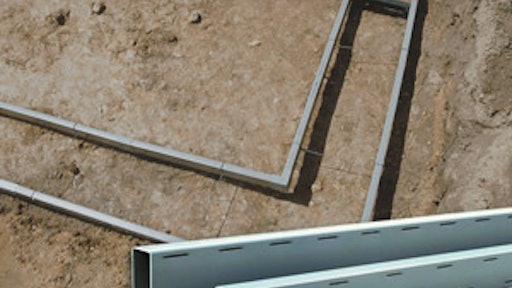 Form-A-Drain
Patented combination concrete footing form system, foundation drainage system and radon reduction system for residential basement applications
Vinyl lineal sections are used to form the footing, then remain permanently in place after the concrete is poured
Forms a complete loop around the home's foundation to serve as a drainage and radon reduction system

CertainTeed Corp.
Pourform-HDO
High-density concrete-forming overlaid plywood
Ideal for high-rise and other large-scale projects
Produces a consistently smooth, glossy concrete surface and minimizing finishing
Standard sizes include 4' x 8'/9'/ or 10', 1/2", 5/8", 11/16" 3/4" thick
Should give from 15 to 25 reuses

Ainsworth Engineered
Big Expander
Expands on the spot
Eliminates need to purchase additional filler panels to form box bays, corners, fireplaces, or complex foundation elevations
Compatible with all face-sheet connections
Attaches with a pin and wedge or bolt
Designed for the custom-home market

B.E.P. Forming Systems
Classic Panel Aluminum Forms
125 Smooth features side, top and bottom-rail extrusions; attached pins; pressed-in hardened bushings; and one- or three-hole riveted spring tension bushings
The new 94 Smooth panel features all the characteristics of the 125 Smooth, but in a lighter-weight product
The Textured and VIP Brick forming panels give the appearance of brick surface marks

Durand Forms, Inc.
Arxx ICF
Offer energy savings, sound resistance and ease of installation

Reinforced with steel rebar
Four-hour fire rating, far surpassing wood frame construction
Energy savings of up to 50 percent compared to traditional construction methods

Arxx Walls & Foundations
EZ-Footings
Reusable aluminum system that is fully adjustable in height and length
Lightweight and rigid
Two-sided form - no dominant top, bottom, left or right
Unique tie system, leaving the top of footings unencumbered for finishing
Ez-Tilt-Up and Ez-Flatwork also available

Concrete Forms Service, Inc.
Split Block Forms
Gives you a deep block design providing a realistic finished look
Made from heavy-duty extruded aluminum
Widths 1 in to 36 in.
Heights up to 108 in.
Compatible to pouring block on one side and smooth on the other

Wall-Ties & Forms, Inc.
Form Board
Approximately one-third the weight of solid-sawn lumber
Composed of LVL, a cross-banded laminated veneer lumber core that eliminates knots, twisting and warping
Coated with UV-stabilized polyethylene that prevents cracking, resists moisture and guarantees high reuse
Available in 16-ft. lengths in sizes ranging from 1" x 4" to 2" x 12"

EcoForm
Stake-free Aluminum Footing Form System
Four main components: forms, locking cross bracket, grade bracket and outside corner bracket
Eliminates need for lumber, stakes, nails or ties
Grade is set down inside the forms
Panelization software program available for easy job layout
Use the adjustable Slip-Form option to fill in remaining gaps after "building to the stakes"; useful when using robotic layout systems

Fine Line Footing Forms, Inc.
Z-Forms
Hybrid cast-in-place concrete forming system
Multiple configurations using reusable fiber-reinforced polymer composite forms (Z-Panels) and stay-in-place panel forms made of insulation and wallboard material (Z-Boards)
For use in single-family, multiunit residential and commercial applications

Long Home Co. Ltd.
Frami Forms System
Lightweight clamp system with a logical grid for fast, economical forming of foundations and small areas
Available in 3-, 6- and 9-ft.-high panels with widths ranging from 6 in. to 3 ft.
Only three lightweight Frami clamps are needed for each 9-ft. vertical joint, each requiring just a single hammer blow to join and align the panels

Doka Formwork Technology
Sonotube Commercial
Alternative to steel and fiberglass forms
Can withstand full liquid head pressures of up to 20 ft. and 72 hours or more of rainfall
Designed for buildings, parking garages,
Standard sizes from 6 to 60 in. in diameter, and in lengths of 12 or 20 ft.

Sonoco
Arch-Crete Forms
Simplifies the process of attaining vertical textured concrete surfaces
Lightweight and easily maintained
Last for more than 1,500 pours
Average weight of 57 lbs.

Architectural Concrete Creations
IntegraSpec ICF System
Stay-in-place expanded polystyrene form units suited for commercial, industrial, institutional and residential construction
Patented interlocking system eliminates concrete blowouts
Now available with 5-in. web that, when combined with 2.5 in. of insulation on both sides, matches the standard 10-in. concrete masonry unit

IntegraSpec