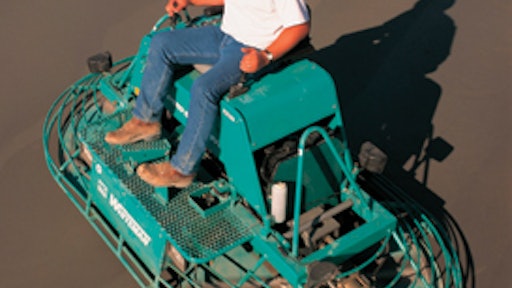 Trowels are a necessary part of the business for most concrete contractors, but knowing what to look for when buying a power trowel and when to make the move from a walk-behind to a ride-on takes careful planning.
"Walk-behind power trowels are typically used on jobs smaller than 5,000 sq. ft., particularly those where the contractor is working in a space-restricted area," says Jonathan Cuppett of Multiquip. "Walk-behind trowels range from 24 to 48 in. in diameter making them well suited to flattening concrete through doors and around pipes, columns and other obstacles.
"For the larger jobs — greater than 5,000 sq. ft. — it's much more efficient to use a ride-on trowel," he continues. "These models are more powerful, travel faster and feature greater path widths, enabling contractors to reduce the number of workers they have on the job while finishing the job in less time and ultimately improving the bottom line."
Ride-on trowels
Ride-on trowels have dual counter-rotating rotors ("helicopters") with typically four or five blades on each rotor. They are classified as either an overlapping blade set or nonoverlapping blade set. They can be powered by either gas or diesel engines.
Ride-on trowels are typically used on large slab surfaces (areas over 5,000 sq. ft.). "Ride-on trowels can be as much as four or five times faster than a walk-behind trowel," says Michael Orzechowski, PE, engineering manager with Equipment Development Co. (EDCO) and vice chairman of the Association of Equipment Manufacturers/Trowel Machine Manufacturers Bureau. "They usually have more contact pressure on each blade and have more horsepower turning the rotors; thus they can create a tighter packed skin on the concrete slab over the lighter walk-behind models."
Ride-ons are offered in both hydraulic and mechanical models. "Hydraulic models eliminate many common wear items such as gearboxes, clutches and belts," says Cuppett. "Mechanical ride-on trowels, in addition to being less expensive, typically deliver more torque to the trowel blades."
Walk-behind trowels
Walk-behind trowels have a single rotor ("helicopter") with sometimes three, but usually four, blades on the rotor. They are typically powered with either electric motors or gasoline engines and range in size from 24 to 48 in. in diameter.
"Walk-behinds are much more affordable, portable and can be used in tighter and smaller spaces, such as residential floors, basements and small commercial jobs," says Orzechowski. "Portability is important in getting the trowel to and from the jobsite, as well as on and off the slab."
On some jobsites, site access might limit the contractor to using multiple walk-behind trowels instead of a single ride-on unit. It's really not uncommon, however, to see both types of trowels used on the same job, says Tim Lickel, concrete product manager with Wacker Corp.
"Walk-behinds can get into tight spaces while the ride-ons work in the wide open spaces," he explains. "A ride-on trowel is designed to edge along a wall line, but when it comes to finishing around obstructions, such as floor electrical and plumbing stubs, a walk-behind is good to have on hand."
Important questions
Several factors should weigh in the decision of choosing a power trowel for a particular job, Cuppett says.
"Operators should know the size of the slab, how many laborers are available and how quickly the job needs to be completed," he says.
There are several questions that need to be asked when purchasing a power trowel for your inventory:
Which machine is suited for the weather conditions in the geographical area it will be used? Factors such as wind and temperature can impact the drying time of the bleed water in the slab, which can influence the selection of the trowel (weight and horsepower), says Orzechowski.
What type of accessories do you want the machine to have?
Is the trowel going to be used inside? If so, an electric walk-behind will be needed.
What is the access to the typical jobsite? Doorway widths, slab surface area, etc.
What does the manufacturer offer as far as customer and product support, warranty, and product and service training?
Orzechowski says sometimes less is more. "Choosing a trowel should not be based on just the purchase price and the bells and whistles," he says, "but rather the decision should take into consideration safety features, and the other costs associated with equipment, such as repair and maintenance costs. Sometimes the simplest trowel with minimum features can be the best one. It requires less training, has fewer things to break and is less complicated to repair and maintain."
Lisa Cleaver is the managing editor of Rental Product News and Asphalt Contractor magazines, sister publications of Concrete Contractor.
Ingersoll Rand Rapid Screed
The Ingersoll Rand RS-15 Rapid Screed has adjustable, offset handlebars for ease of operation and balanced maneuverability.
Weight of 1.5 hp, four-cycle Honda engine is carried by the screed board, minimizing operator fatigue and vibration
Enclosed bearing and power transfer systems, coupled with no-lube shaft and bearings is virtually maintenance free
LR Tools Power Pole Finisher
The Power Pole Finisher from LR-Tools Inc. is a 24-lb. concrete finishing trowel that has the ability to start finishing on wet concrete.
Extension poles allow finisher to stand outside the formed area
Works on flatwork, decorative concrete, and stamping
7-lb, 25cc four-cycle engine meets EPA and California standards
Lindley VibraStrike II
The VibraStrike II power screed features a four-stroke engine.
One-piece design of the two-in-one float eliminates more than 60 nuts, bolts, studs, washers, tensioning rods and brackets for improved overall functionality
Unique geometric shape of the float allows use as both a float and curl edge when screeding from the top of forms
Allen vibratory truss screeds
Allen Engineering manufactures 12 models of vibratory truss screeds.
Lightweight auminum for industrial, commercial and residential pours
Heavy-duty steel for high-tolerance concrete floors
Super heavy-duty paving style for large paving projects
Crown Screed King
Crown Construction Equipment introduces the next generation Screed King.
75 percent less vibration to operator's hands
No tools required to remove the Mag-Flo board
Better concrete consolidation
Improved board integrity
Simplified handle bar adjustment
Wacker power trowels
The CT 36-8A-V, CT 36-9-V and CT 48-13A-V offer a variable transmission system that provides a 20- to 200-rpm speed range for low speed, high-torque floating through high-speed burnishing.
Two 36-in.-diameter models with 8-hp Honda or 9-hp Wacker engines, and one 48-in. model with a 13-hp Honda engine
Dynamically balanced design
Feature a Gyroscopic safety sensor, gearbox brake and engine limiter
Pro-Shift pitch control with 0- to 30-degree pitch control range
Spin Screed
The Spin Screed power roller screed is powered by a heavy-duty right angle electric drill.
4-in. diameter pipe up to 20 ft. long spins opposite the direction being advanced, evening out high and low spots
Works quickly on sidewalks, bike paths and driveways
Easy to store, load and move
Terex power trowels
Terex Light Construction offers the Bartell HS90 overlapping, high-speed finishing trowel and the Bartell LP95 non-overlapping, lightweight panning trowel.
35-hp air-cooled Briggs & Stratton V-Twin engines
Drivetrain comes with continuously variable transmission primary reduction, stock "Powergrip" secondary reduction and heavy-duty worm gear final reduction
HS90 has dual five blade trowels and offers a 240-rpm maximum operating speed
LP95 has dual four blade trowels and achieves speeds up to 180 rpm
EDCO power trowels
EDCO power trowels are available in 24- to 46-in. models.
Twist pitch control knob adjusts blade angle
Multiple guard rings for safety and stability
Gearbox features Timken bearings and double-lip seals
Heavy-duty welded steel construction
Quick-change blades
Centrifugal clutch drive belt system
Companies in this article