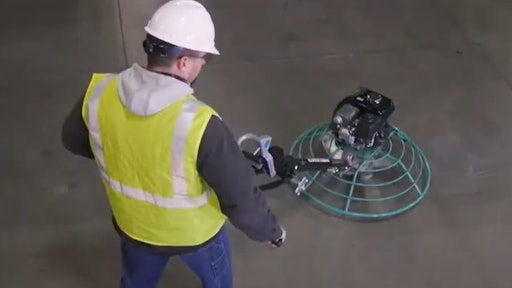 Multiquip
Power trowels are designed to flatten concrete, which is achieved by processes known as floating and finishing. This usually happens in two steps.
First the power trowels are used to 'float' the wet concrete. Floating removes the humps and fills the valleys while at the same time compacting the concrete (bringing the cement-rich 'cream' to the top in preparation for the finishing step).
The second step is to 'finish' the slab, which creates a smooth hard skin on the concrete slab by burnishing the top surface. In the second pass, often called 'crossover floating,' the contractor operates the trowel in a direction perpendicular to the first pass. This further levels the concrete slab and produces a hard, smooth and dense surface. Trowels also close and seal pores in a slab.
Trowels are used by concrete and general contractors in various residential, commercial and industrial applications, covering everything from basements and parking lots to grocery store and warehouse floors.
According to Jonathan Cuppett with Multiquip, many contractors start out small with walk-behind trowels but as their client base builds, so do the jobs, both in number and size, requiring the move to larger ride-on trowels.
"Walk-behind power trowels are typically used on jobs smaller than 5,000 square feet, particularly those where the contractor is working in a space-restricted area," says Cuppett. "Walk-behind trowels range from 24 to 48 inches in diameter, making them well suited to flattening concrete through doors and around pipes, columns and other obstacles.
"For the larger jobs — greater than 5,000 square feet — it's much more efficient to use a ride-on trowel," he continues. "These models are more powerful, travel faster and feature greater path widths, enabling contractors to reduce the number of workers they have on the job while finishing the job in less time and ultimately improving the bottom line."
Ride-on trowels
Ride-on trowels have dual counter-rotating rotors ("helicopters") with typically four or five blades on each rotor. They are classified as either an overlapping blade set or non-overlapping blade set. They can be powered by either gas or diesel engines.
As mentioned, ride-on trowels are typically used on large slab surfaces (areas over 5,000 square feet). "Ride-on trowels can be as much as four or five times faster than a walk-behind trowel," says Michael Orzechowski, PE, engineering manager with Equipment Development Co. (EDCO) and vice chairman of the Association of Equipment Manufacturers/Trowel Machine Manufacturers Bureau. "They usually have more contact pressure on each blade and have more horsepower turning the rotors, thus they can create a tighter packed skin on the concrete slab over the lighter walk-behind models."
Ride-ons are offered in both hydraulic and mechanical models. "Hydraulic models eliminate many common wear items such as gearboxes, clutches and belts," says Cuppett. "Mechanical ride-on trowels, in addition to being less expensive, typically deliver more torque to the trowel blades."
Walk-behind trowels
Walk-behind trowels have a single rotor ("helicopter") with sometimes three, but usually four, blades on the rotor. They are typically powered with either electric motors or gasoline engines and range in size from 24 to 48 inches in diameter.
"Walk-behinds are much more affordable, portable and can be used in tighter and smaller spaces, such as residential floors, basements and small commercial jobs," says Orzechowski. "Portability is important in getting the trowel to and from the jobsite, as well as on and off the slab."
On some jobsites, site access might limit the contractor to using multiple walk-behind trowels instead of a single ride-on unit. It's really not uncommon, however, to see both types of trowels used on the same job, says Tim Lickel, concrete product manager with Wacker Corp.
"Walk-behinds can get into tight spaces while the ride-ons work in the wide open spaces," he explains. "A ride-on trowel is designed to edge along a wall line, but when it comes to finishing around obstructions, such as floor electrical and plumbing stubs, a walk-behind is good to have on hand."
Selection strategy
When it comes to selecting a concrete power trowel for your rental inventory, life cycle costs, serviceability, safety and factory support are all key. Having the right type and amount of trowels available is another consideration.
"Contractors want a selection of trowels to be able to rent a unit that best fits the needs of the jobsite conditions they're faced with," says Orzechowski. "A lot of small contractors own a trowel but still need to periodically rent one with different features to meet the needs of the job."
The reasons contractors rent vary. For example, the size of the job might require more than one walk-behind unit; they might not have great access to the jobsite, so they'll need a walk-behind instead of a ride-on; or they need an electric trowel (with no exhaust emissions) for some indoor refurbishing work.
Rental businesses do most of their business in walk-behind trowels, says Cuppett. "A rental business should look for units that offer features most appealing to a wide variety of general and concrete contractors," he says. "For example, rental businesses should carry a range of models with various ring diameters and engine options."
Safety features on the units are always important in the rental industry. "Make sure the trowel meets or exceeds industry safety standards," says Lickel. "This is important for rental businesses because you might not know the level of experience the customer has with the machine."
Important questions
According to sources, there are several questions that need to be asked when purchasing a power trowel for your inventory:
Who are my customers and what do they need? For example, professional contractors might prefer a four-blade walk-behind while a DIYer might prefer a three-blade walk-behind.
Which machine is going to be the most rental friendly (as far as construction quality, maintenance needs, simple operation, repair costs, and quick turn-around between rentals)?
Which machine is suited for the weather conditions in the geographical area it will be used? Factors such as wind and temperature can impact the drying time of the bleed water in the slab, which can influence the selection of the trowel (weight and horsepower), says Orzechowski.
What type of accessories do my customers prefer?
Is the trowel going to be used inside? If so, an electric walk-behind will be needed.
What is the access to the typical jobsites from my customers? Doorway widths, slab surface area, etc.
What does the manufacturer offer as far as customer and product support, warranty, and product and service training?
Orzechowski says sometimes less is more. "Choosing a trowel should not be based on just the purchase price and the bells and whistles," he says, "but rather the decision should take into consideration safety features, your rental customers true needs and the other costs associated with equipment, such as repair and maintenance costs. Sometimes the simplest trowel with minimum features can be the best one for the rental market. It requires less training, has less things to break and is less complicated to repair and maintain."
MBW MK8-75H Riding Trowel
320-lb., 13-hp MK8-75H LOWRIDER trowel features twin 30-in. rotors and an edger system for finishing nearly flush to walls
Can be equipped with finish or combo blades and float pans
Synchronized steering
Able to pass through a 32-in. doorway
Three rollers on the front guard ring enable finishing within approximately 1/4 in. of a wall
Can be transported in the bed of a typical pickup truck
EDCO Power Trowels
24- to 46-in. models available
Twist pitch control knob adjusts blade angle
Multiple guard rings for safety and stability
Gearbox features Timken bearings and double-lip seals
Heavy-duty welded steel construction
Quick-change blades
Centrifugal clutch drive belt system
Stone CF484 Trowel
48-in. CF484 trowel features fine-tuned pitch control or optional ProPitch for fast, smooth blade adjustment
Four combination or finished blades
Extra-strong cast-iron spider
Available with an 11-hp Honda, 11-hp Robin or 13-hp Honda engine
Dyna-Clutch system stops blade rotation without shutting off the engine
Wacker Variable-Speed Trowels
Variable transmission system provides a 20- to 200-rpm speed range for low speed, high-torque floating through high-speed burnishing
Two 36-in.-diameter models with 8-hp Honda or 9-hp Wacker engines, and one 48-in. model with a 13-hp Honda engine
Dynamically balanced design
Feature a Gyroscopic safety sensor, gearbox brake and engine limiter
Pro-Shift pitch control with zero- to 30-degree pitch control range
Dynapac BG70 Ride-on Trowel
Non-overlapping, ride-on double trowel
Can be equipped with blades or pans
70-in. working width
20-hp Honda GX620 engine
Provides a 70- to 150-rpm blade rotation speed
Additional features include a retardant spray tank, adjustable seat (forward and back), two lifting eyes and centralized, sturdy control box under the seat
Allen 500B Riding Trowel
Hydraulic power steering
56-hp diesel engine that turns two five-bladed spiders
Spans a full 10 ft.
Patented counter rotational rotors and the new XHD gear box
Arrow-Master F-Series Power Trowels
Direct-drive gear case and a lower center of gravity for consistent, reliable power with less wobble and side torque
30-, 36- and 46-in. diameters
Fully enclosed spider assembly to protect the blade-arm and pitch-control components
Electric deadman switch
Heavy-duty gear case standard
Range of engines and horsepower ratings
Multiquip Power Trowels
Whiteman Series BA-4-8H and JA-4-5H include height-adjustable 2-in. diameter tubular steel handle for improved operator comfort and workability
Each has four blades
Unique throttle control design allows selection of operating speed with a twist of the wrist
Centrifugal shutdown switch protected by steel housing
Patented QuickPitch handle option
Belle PRO 900 & 1200 Power Trowels
For continuous use on large floors
Advanced drive belt technology
Accurate screw-adjusted pitch control
Engine cut-out, stops the trowel safely
Minimum effort required to hold the 'dead man' safety lever
Complete with a set of blades for immediate on-site working
Terex Power Trowels
Bartell HS90 overlapping, high-speed finishing trowel and the Bartell LP95 non-overlapping, lightweight panning trowel
35-hp air-cooled Briggs & Stratton V-Twin engines
HS90 has dual five blade trowels and offers a 240-rpm maximum operating speed
LP95 has dual four blade trowels and achieves speeds up to 180 rpm
Stow Trowels
Four 4-blade models with 36- or 46-in.-diameter guard rings
5.5- to 11-hp Honda engines
SCT36H55 and SCT36H80 weigh 166 and 188 lbs. respectively and can finish 7 sq. ft. of concrete per revolution
SCT46H80 and SCT46H110 weigh 211 and 224 lbs. and can finish 11.5 sq. ft. of concrete per revolution
Standard handle with star wheel for precise adjustment or optional handle with Quick-Adjust
Ingersoll Rand WT Series Trowels
Screw pitch control adjusts blade angle
Quick-release safety lever
Four-cycle Honda engines
Centrifugal clutch
Three guard rings for extra machine stability
Options include a 36-in. float pan, quick-change combo, finish or float blades and a two-wheel trowel dolly