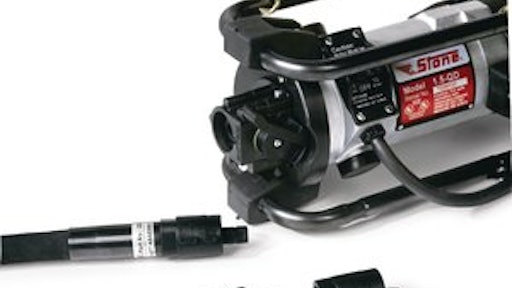 BP-50 Backpack Concrete Vibrator
Totally enclosed rotary throttle allowing operator to control engine while preventing wet concrete from entering and clogging throttle mechanism
Kill switch located on handle
Patent pending rotary throttle designed and engineered to eliminate operators variable setting of engine speed ensuring unit will consistently produce proper vibrations per minute
Comes standard with Quick Disconnect "QD" system and Honda gasoline engines
Vibrator heads develop 12,000 vpm and never drop below 10,000 vpm even in heaviest low slump concrete loads
Handles heads up to 2 1/2 in.
Oztec Industries Inc.
Electric Flex Shaft Vibrators
Aluminum ribbed cast housing
Heavy-duty vibration isolators
Double bar frame
Protected air inlet to prevent concrete clogging
7/8- or 1 3/16-in. diameters
2-, 5-, 7-, 10-, 14- or 21-ft. lengths
Interchangeable between Honda Back Pack and Electric Vibrator Head
Six sizes ranging from 3/4- to 2 3/8-in.
Minnich Mfg. Inc.
Flex-Shaft Vibrators
Multiquips flex-shaft concrete vibrators are designed to work in medium to high slump concrete appliactions such as small slabs, driveways, stem walls and footings. The eight models in the series provide centrifugal forces up to 19,000 rpm. The user can choose a power source (electric motor or gasoline engine), eight options of shaft lengths, and 11 head sizes. Large vibration isolated handles protect the motor and operator.
Multiquip Inc.
Ingersoll Rand Concrete Vibrators
Extensive variety of vibratory heads, flexible shafts and power sources available
Optimal frequencies to relieve air and voids in concrete mix
Protective cast-aluminum housing and rugged wrap-around, shock-absorbing frams
Easy access to all serviceable parts
Doosan Infracore Portable Power
Multivibe Gas-powered Vibrators
Low-friction, gas-powered vibrators offer 9,000-vpm frequencies with amplitudes from .04 to .14 in.
Suitable for slabs, stem walls and foundations
Casing lengths up to 24 ft.
Head diameters from 1 to 2 1/2 in.
Approximately 20 lbs. lighter than a backpack
Hummer Standard, Hummer Fishing Pole and Power Rod models available
Jlin Corp
Power Vibe and Power Vibe Pro Series
The Power Vibe and Power Vibe Pro Series of lightweight, gasoline-powered concrete vibrators are user friendly for slabs, stem walls and foundations, and deliver optimal consolidation of concrete.
Powered by four-cycle, 35cc engines
Power Vibe available with flexible shaft lengths from 2 to 10 ft. and head sizes from 1- to 2-in. diameter
Power Vibe Pro comes with a 2-ft. flexible shaft length with rigid-shaft extension and a 2-in.-diameter head size
Low-friction vibrator heads allow for extended run time outside of concrete without burning up
Allen Engineering Corporation
Rubber Heads for Concrete Vibrators
A rubber head is now available for Stone Constructions concrete vibrator line. It is a heavy-dut urethane rubber-coated 1 7/8-in. head specially designed for epoxy-coated rebar applications. The rubber head will not damage the coating on rebar and other forms. The perforated design of the coating provides better vibration and consolidation and cools the oil bath inside the head. With the addition of the rubber head, Stone now offers eight vibrator heads and 11 flexshafts.
Stone Construction Equip. Inc.