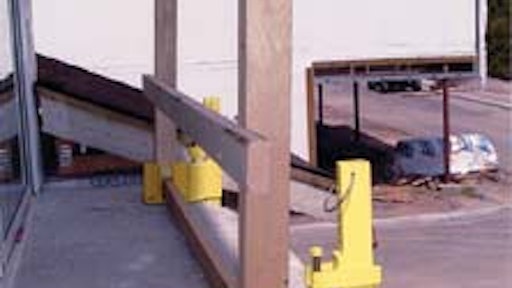 Safety Maker guardrails
The SurShield guardrail system clamps onto the edge of a concrete slab, eliminating drilling.
Designed for slab structures up to 11 in. thick
Device is tightened in place with an integral tension bolt
Certified to exceed all applicable OSHA regulations
VersiShield guardrail clamp also available for installation of OSHA-compliant rails on open edge concrete preformed stairs
Rousseau Batter Board
The Rousseau Batter Board System is used to ensure square corners and straight walls.
Improves productivity and accuracy by replacing the time-consuming nail insertion and removal method with an efficient, reusable, adjustable slide-and-tube system
Fabricated from powder-coated steel
Forfam Shute Shutter
The Shute Shutter is a fully automatic concrete truck chute closure device designed to stop spills and damage claims.
Totally seals the chute
Will contain a chute full of concrete if it should accidentally exit the drum
Prevents concrete theft from mixer trucks
CAPP Device
The Concrete Anchor Placement and Protection (CAPP) Device from Building Construction Solutions is a system engineered to place anchor bolts in wet concrete.
Sets bolts at uniform heights
Allows laborers of any skill to set bolts with accuracy
Reusable
UltraCure
UltraCure from McTech Group is a disposable, lightweight, single-use wet curing blanket available in three varieties.
Original UltraCure, a clear vapor barrier for indoor use, with a seven-day wet cure period
UltraCure SUN, a reflective vapor barrier for outdoor use, with a seven-day wet cure period
UltraCure MAX, a reflective vapor barrier for outdoor use, with a 14-day wet cure period
Terex Super Quiet generators
The Super Quiet Power Generator line includes 13 models with prime power outputs from 20 to 406 kVA (16 to 325 kW).
Simultaneously deliver single- and three-phase outputs
Control panel includes a main breaker, two GFCI duplex receptacles and two or three Tempower Twistlock receptacles
Run time at 75 percent load ranges up to 78 hours on a single tank
68-dBA sound level at 23 ft.
Standard Hamilton Dump-Pro
Standard Hamilton's Dump-Pro enables a user to go from pickup to dump truck in minutes with the Quick Change-Out option.
Polyethylene dump body
Drive system does not require hydraulics
WarnWorks winch provides lifting and dumping power
60-degree dump angle
3,000-lb. payload capacity
Weighs less than 400 lbs. and fits most pickups
Kaeser M14 compressor
The Kaeser M14 is a rotary screw compressor powered by an 18-hp industrial gasoline engine.
Lightweight wheel-mounted package with hinged handlebar
Vibration isolator pads absorb shock and ensure quiet operation
Safety Flag Co. safety vests
These Class I, Class II and Class III ANSI-compliant safety vests are available in fluorescent orange material with yellow reflective striping or fluorescent lime material with silver reflective striping.
Sizes from small/medium to 5XL with Velcro or zipper closures
Best Trailer tandem tilt bed
The TB82x16T tandem tilt bed trailer can be rated up to 16,000-lb. GVWR with a 13,000-lb. capacity and 12-degree load angle empty.
Dampening cylinder for tilt-mode cushioning
7K torsion axles
Sealed beam lighting
Adjustable hitch
Miller Falcon self-retracting lifelines
Miller Falcon self-retracting lifelines have high impact-resistant, nylon housing with stainless steel and aluminum internal components.
Available in 20-, 30-, 50- and 65-ft. models in both galvanized wire and stainless steel wire rope
Meets OSHA, ANSI, CSA and CE requirements
King-Hughes 515DG50
King-Hughes produces the 515DG50 hog ring and ringer tool designed for the installation of steel mesh.
Rings are galvanized to eliminate premature rusting
Made of high-strength 15-gauge wire
Lightweight tool allows easy operation
Eliminates overlapping of mesh panels
PNA HydraCure S16
The HydraCure S16 from PNA Construction Technologies is a durable, single-use curing cover that will not stain concrete.
Inorganic fiber enables water to wick evenly across the slab
White-pigmented cover reflects heat and direct sunlight to provide 100 percent humidity below the cover
Logo Work Gloves
Logo Work Gloves offers a variety of quality gloves imprinted with your company logo.
Constructed with leather
Line includes economical B grade glove, reinforced palm and thumb gloves, fleece-lined winter gloves, welding gloves and top-grain leather driving glove
Enviro-System Chute Bag
Enviro-System's Chute Bag solves the problem of disposing of concrete waste.
Small, compact and easy to open
Holds up to 3 cu. ft.
Lined or unlined
Small enough to move by hand
H.D. Hudson sprayer
The Spray Thick Curing Compound Sprayer from H.D. Hudson has been redesigned with several new features.
Specifically designed for spraying thicker, solvent-based cures and sealers, as well as lighter release agents or other materials
Field-proven to spray up to 35 percent solids
Galvanized steel with baked-on Endurall epoxy
Topcon GPT-8203M
The GPT-8203M is designed to expedite layout of formwork, structural components, anchor bolts and other construction elements that require accurate positioning.
On-board software and a servo-drive work together to automate point stakeout
Reflectorless measurements up to 1,200 meters
Can be upgraded to a full robotic unit
Gatorback mortarboard
The Gatorback mortarboard is manufactured with impact-resistant, UV-treated material to keep mortar at optimum workability and consistency.
Eliminates time wasted on retempering of wooden mortarboards
Weighs 5.5 lbs.
Ground Heaters insulation blanket
The Red Wave insulation blanket is designed for use with hydronic ground thawing and concrete curing applications.
Thin polymer/aluminum laminate is reflective to direct heat downward and conductive to transmit heat laterally
Lateral heat distribution reduces frost islands that can be left between hoses of hydronic heating equipment during thawing
Each 6- by 125-ft. blanket weighs 55 lbs.
Con X portable compressor
The X AIR SC70 portable rotary screw compressor can operate a 60- or 90-lb. class breaker.
Delivers 70 cfm at 100 psi
18-hp Honda V-twin engine with manual and electric start
Automatic speed control
Detachable 5.5-gal. fuel tank
Weighs 298 lbs.
Doesn't require towing
B & G sprayer
B & G Equipment Company offers the Model 603 Concrete Professional Sprayer.
Heavy-density polyethylene tank resists breaking, leaking and corrosion
Braided, reinforced chemical-resistant hose
Wide-mouth funnel top for easy filling and pouring
Shut-off valve with Lock On/Lock Off features
Leica Geosystems self-leveling lasers
The Rugby 300 single-grade and Rugby 400 dual-grade automatic self-leveling construction lasers are fully compatible with Leica Geosystems machine control systems.
Rugby 300 provides -5 to +25 percent grade control in a single axis
Rugby 400 provides -5 to +25 percent in either axis and -5 to +15 percent in both axes
Rugby 400 also offers optional hand-held remote control
Terra-Lume
Terra-Lume from LaneLight Systems is custom-fit lighting for concrete driveways and paths.
Can be installed on fresh concrete with flush-mount track or attached to existing concrete
Designed to work even if run over by heavy vehicles
Track can be easily cut to follow curves on paths or driveways
Lights come in a variety of colors and shades
Mi-T-M generators
The 12,000- and 13,000-watt series features Honda OHV or Subaru OHV engines offering low oil shutdown and electric start.
Reinforced 1.25-in. powder-coated steel tube frame with integrated center-balanced lifting hook
120V/240V alternator
Also feature an easy access control panel, 11.5-gal. fuel tank, idle control, voltmeter, hour meter and four pneumatic tires
Honda Inverter generators
The i-Pro and i-Deluxe generators are available in 5,000- and 6,500-watt models featuring a clean, stable sine wave for sensitive electronics.
33 percent reduction in size and weight
EcoThrottle load-dependent throttle system for reduced noise and emissions with up to 30 percent increase in fuel economy
120/240 dual voltage with a selector switch
Sokkia Auto Level C310
The Sokkia C310 construction grade, automatic level features 26X magnification.
Includes high-visibility fitted SE35 carrying case with shoulder strap, plumb bob, tool kit, lens cap and rain cover
Also available in kit with 8-ft. rod and aluminum tripod
ProFlex kneeling pads
Ergodyne offers 1-in. thick ProFlex kneeling pads for knee protection.
Available in three sizes: 14 by 21 in., 16 by 28 in. and 18 by 36 in.
Thick, closed-cell foam rubber that will not compression set
Resistant to petroleum products and other liquids
I-Met MetGuard
The Weinbrenner Thorogood I-Met MetGuard provides an internal metatarsal guard completely integrated with the steel toe cap of work footwear.
Permanently locked in place with no attachments, tape or rivets needed
Flexes with the foot to maintain all-day comfort