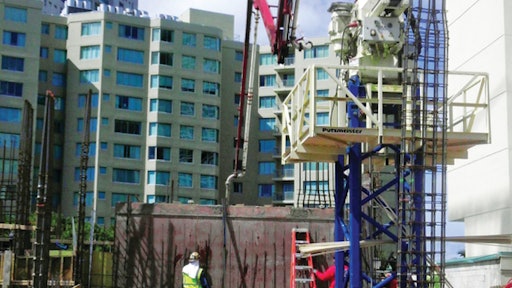 Construction of the 24-story Holomua condominium project was originally planned for 2009, but was shelved amid Hawaii's real estate slump. Then, in April 2011, the developer re-launched unit sales at reduced prices and all 176 condos quickly sold out. As a result, construction swiftly began in September 2011 to build the 220-ft.-tall tower, encompassing a seven-story parking garage, 16 stories of living space and a one-story roof.
Honolulu, Hawaii-based Nordic PCL Construction, Inc. selected Ohana Concrete Pumping, Inc. (Ohana) of Pearl City to provide a complete concrete placing systems approach. The demanding project would require meeting a highly aggressive schedule and tackling very challenging jobsite conditions to place 13,000 cu. yds. of concrete in total.
Growing From the Ground Up
At ground level, a Thom-Katt TK 50 trailer-mounted pump placed 70 cu. yds. of shotcrete to reinforce the outer walls around the foundation's perimeter. Then, in late November, three truck-mounted Putzmeister concrete boom pumps from Ohana's fleet pumped a large concrete mat for the structure's 15,000-sq.-ft. foundation, a major undertaking due to difficult logistics.
"Congestion was the biggest nightmare, as the jobsite is on a half-acre of land near the busy downtown area, and it's located next to a heavily traveled main thoroughfare while boxed in on three sides," says Joe Frederick, Ohana operations manager.
Two concrete boom pumps were set up in extremely tight spots. A 47Z- and 61-Meter were located next to the street, strategically positioned to minimize obstruction to traffic flow. The 61-Meter extended its 183-ft. 9-in. horizontal boom to access the mat's 150' x 100' area, while the 47Z extended its 138-ft. 1-in. boom horizontally to assist.
"[The 61-Meter's] extremely long boom easily reached the farthest point of the pour so we didn't need extra delivery line, which saved time and labor," says Lawrence Calpito, Nordic PCL project superintendent. "Plus, we monitored the pour and calculated the unit was pumping high volumes up to 185 cu. yds. an hour that helped with a quicker completion."
Ohana also squeezed a 36Z-Meter pump down a narrow alley and fully deployed its compact outriggers in a tight spot. The unit reached 104 ft. horizontally to cover a specific section of the pour. Even though only one ready mix truck at a time could access the pump, it still averaged 80 cu. yds. an hour output.
The non-stop pour started just before midnight on a Friday and finished 12 hours later. Upon completion, more than 300 truckloads of concrete were delivered by 38 mixers, and 3,000 cu. yds. of concrete was pumped up to a 9-ft. thickness.
Setting Up for the Climb
The hydraulic climbing configuration used on the Holomua project is completely self-sufficient to raise the placing boom and tower assembly from one level to the next. Two lift cylinders in a sequential process utilize the boom's hydraulics to simultaneously lift the boom and tower for positioning at the next level. A crane is not required to perform any part of this operation.
"With hydraulic climbing, our crews can independently perform the entire concrete placing process, which is quick and easy with minimal manpower required," says Willy Frederick, Ohana's president. "Since we don't need a crane to climb, we eliminate countless hours of expensive crane time. Plus we don't interrupt other construction tasks that require the crane, which keeps the project moving along."
For installation of the system, Putzmeister service technician Alan Woods came to Hawaii and assisted with setup. "We took a truck-mounted boom pump from Ohana's fleet and detached the boom from its truck, separating it the traditional way," he notes. "For this particular application, it works effectively because the boom and tower will remain connected in one location during the entire climb to the top."
Before the mat pour, anchors were positioned to set up a 50-ft. freestanding tower. This configuration would be used until after concrete completion of the fourth floor when the transition to hydraulic climbing would begin. Once the pin tower was erected, the placing boom, while connected to its electric-driven hydraulic pedestal, was attached to the tower. With its Multi-Z boom articulation, the boom can be manipulated around walls, columns, and other obstacles, while its long reach can access all areas of the pour without using extra delivery line.
As the placing boom rises with the tower, its truck-mounted pump cell remains on the ground pumping concrete. Because the .16H pump cell can pump up to 210 cu. yds. an hour, it has no difficulty pumping the high rise at outputs averaging 90 cu. yds. cubic yards an hour, with output dictated by the ability of ready mix trucks to access the jobsite.
On the site, the truck-mounted pump cell is located in a tight corner. Ready mix trucks back up and discharge a 5,000-psi concrete mix into the hopper, which in turn delivers the concrete through 120 ft. of 5-in. pipeline on the ground before traveling up the pipeline inside the tower to the placing boom. Eventually the pipeline will reach a 220-ft. height to the top floor.
The project is on schedule to finish concrete placement by early fall 2012, with occupancy planned in spring 2013.