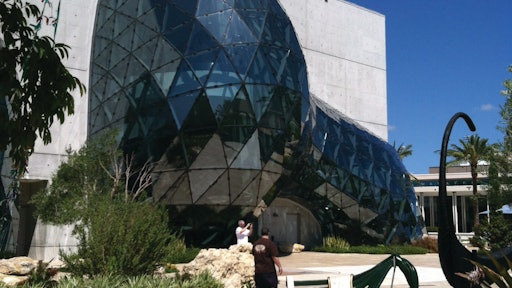 The new Salvador Dalí Museum in St. Petersburg, Fla., features the largest collection outside Europe of the works of the artist Salvador Dalí. Located in the center of the St. Petersburg waterfront, the building was recently placed on the notable "Florida Architecture of the Last 100 Years" and the "20 Most Beautiful Museums in the World" lists by the American Institute of Architects. It is rated by the Michelin Guide as the highest ranked museum in the American South.
Salvador Dalí Museum Director Hank Hine pointed out, "The new museum is a distinguished architectural achievement with innovative design and technology, a combination, as in Dalí's art, of the classical and the fantastic. It's like no other building you've seen."
Click here to watch a video about the construction the the Dali Museum
Standing up to a hurricane
Designed by the architectural and engineering team of HOK and Walter P. Moore and constructed by the Beck Group, the Dalí Museum was built on the downtown waterfront with a large glass entryway and skylight. Substantially larger (66,450 square feet) and more storm-secure than the previous museum, the new building is also only 200 feet away from Tampa Bay and 5 feet above sea level. Seasonal hurricanes can bring wind and storm surges up to 25 feet high. Built to withstand a Category 5 hurricane, the structure will resist a 165 mph storm (far above the local 123-mph requirement). This provides much-needed safety for the Dalí collection from storm surges and wind damage.
Making it waterproof
The proximity of the building to ocean water necessitated a comprehensive waterproofing strategy. "This new $35 million concrete building is in an exposed location; we worked with the design team to address any potential water and corrosion issues," explains Christopher Chen, director of The Penetron Group. "Penetron Admix was the solution that virtually eliminates any concrete permeability."
To keep the museum dry in all non-hurricane flood events, 4 feet of fill was added to the site to raise the building pad. A one-way, cast-in-place concrete slab and beam system was selected for the base structural system. Unfinished and exposed cast-in-place walls were used in lieu of architectural precast. Using exposed concrete as the load-bearing structure and the architectural finish created several challenges. Penetron Admix was used in the wall concrete mix to eliminate water infiltration through the unpainted walls during Florida's rainy season and any seawater incursion from Tampa Bay during storms.
Yann Weymouth, design director and senior VP at W.P. Moore, adds, "Concrete is an honest, natural material that one can use precast or poured in place. Recent technical advances in waterproofing will surely be used in many of our new projects."
Companies in this article