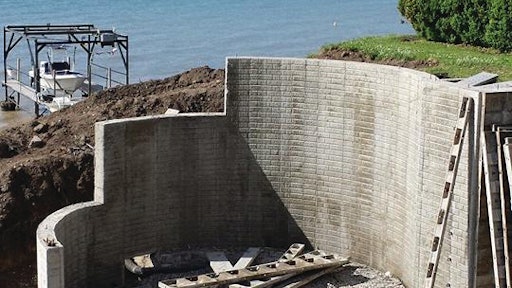 Solid Foundations, a family owned and operated company in Bellevue, Ohio, has specialized in residential poured walls since the company was founded in 1990 by its current president, Valerie Gore, and her husband, Daniel Gore.
But everything changed in 2010 when Daniel passed away after a four year battle with cancer. Valerie was forced to make tough decisions regarding both her family and her business. Despite these challenges, Solid Foundations has grown by 70 percent and continues to flourish.
Expanding the foundation
With the help of her son and Production Manager, Dawson Gore, Valerie managed to diversify the company's product by breaking into the agricultural concrete sector and taking on projects that were completely new to them.
Recently, Solid Foundations performed its largest agricultural pour, to date. The month long project required the team to use 750 yards of concrete to pour circular grain bin walls.
"Taking on the project I really wasn't sure how I was going to do it," Dawson says. "The biggest challenge was figuring out how I was going to make a circle out of squares."
Having started in the family business at a very young age, Dawson had no problem trusting the ability of his younger employees to complete this pour. "It was me and four other guys and the average age was 20 years old. I'm only 24 years old," Dawson said. "Age doesn't mean anything; it's all about effort and knowing what you're doing."
For this pour, Dawson's team used a 3,000 psi footing mix, 4,000 psi mix for the walls and over 32 miles of rebar to create what is called a Sukup grain bin.
The team built the formwork using four foot forms in order to pour the three foot grain bin walls. They needed to find a center point to act as a radius and, making sure to situate the outside panel exactly at that point, they used an inside panel one inch smaller to ensure they could move it around to form the circle.
Initially, the team struggled to overcome the challenges of creating the circular shape of the grain bins and was forced to adapt to the project's specific needs. With some simple math, they realized they needed to put in a four foot form, set a four foot radius wall and then troll in one foot to reach the required height and thickness. "But the tricky part was that we had to have the three foot wall at the right elevation," says Dawson. "What I did was leave the outside form on so my tie was still embedded in the concrete. For the slab, I used a pivot screed and rode the screed on the outside of the form."
This project left very little room for error, creating a very rigid working environment and another obstacle for the team to overcome. "When we did the trench footers, we had to have the footings with a tolerance of no more than a ¼-inch out (an 1/8-inch high and an 1/8-inch low). If we wanted a flat pad, we had to be precise. Not only that, on the inside, when I poured the three foot wall, I had to be really precise because I didn't want there to be a wavy line when I pulled off the form," notes Dawson.
After successfully completing projects such as this, Dawson believes there is potential for Solid Foundations to thrive in the agricultural sector. "In Ohio, agriculture is a really big part of the concrete industry and locally it has always been a big deal. Over the past five years I've started farming, so I was able to see potential opportunities by going to the local co-ops. I instantly knew, being a business person, there was work there. Agriculture work here is just as powerful as residential work," Dawson says.
Solid Foundations has also been working to expand its residential market by performing larger pours. "Recently we took on a residential pour that was the largest pour we've ever done. The total size was 300 yards between the footings and the walls," Dawson says. "The biggest challenge was in large part, due to it being spread out. There was a detached garage and half of the house pivoted on a 45-degree angle."
Due to the massive size of the pour, Solid Foundation's residential concrete team was forced to complete the project in separate pours over the course of multiple days. "Usually, we like to form everything and pour it at once so we can square it up with each other, but in this case, we had to adapt," Dawson notes.
Rebuilding the business
Solid Foundations would not have been able to adapt and diversify if it hadn't been for the strength and planning of Valerie and Daniel.
The two had created a financial succession plan that proved invaluable to Valerie in her struggle to continue the business after Daniel's death. Valerie emphasizes the importance of such pre-planning for the protection of both the business and the owners. "You never know what can happen and the succession plan needs to reflect the wishes of both parties. My husband knew I would be OK and mentally capable of handling all of the responsibility. You can't have anything stopping the flow of the business," Valerie says.
Though the couple's forward thinking put Valerie in a good position, she faced many other challenges as she became the sole leader of the company. "Basically, when I started to take over the company, it was at the rock bottom of the economy. Nothing really looked bright," says Valerie. "I had to earn respect. I had respect from the core group that was here because they knew me, but we were bringing in a lot of new guys. I had to build the company back up with people."
Both Valerie and Dawson emphasize the importance of hiring good, hard working employees. "The biggest thing I've learned is to value your employees. I tell people all the time that I would have nice equipment just sitting in the shed if I didn't have the right guys to run it," says Dawson.
As a member of the Concrete Foundation Association (CFA), the company utilizes the training and conference opportunities provided by the organization to better educate their employees and create a safe and fully operational working environment. "Rather than buying better, newer equipment, we invest in teaching and training our employees," says Dawson.
Forming business relationships was another way Valerie was able to increase her company's market potential. "I hit the road in sales and drove all over. I spent a lot of time building relationships. It seemed like during the recession that wasn't a priority, there was more focus on pricing, but it's going back to relationships again. Everywhere I could go to find work, I went, and I started meeting with people," Valerie says.
Plans for the future
Though Solid Foundations has achieved success over the past four years, Valerie and Dawson still search for means of bettering their company in the future. They plan to continue diversifying their product and increasing their knowledge of the concrete industry. "What I'd really like to get into is gang forms. We did a project at a Menards in Toledo where the foundation was two miles long with six-foot high walls and we used these gang forms. The contractor said it sped up production tremendously. Being a poured wall business, if someone comes to me and wants a poured wall that big, I want a way of doing it," Dawson explains.
Another hope for the future is to develop the Gore name in the industry by utilizing the talents of all members of the family. "My younger brother has recently been coming here to work and he told me he wants to get more involved. He's the complete opposite of me; he's more of a numbers person. And that's what I need in this company," says Dawson. "If my brother really wants to get involved that would be a relief to me because I could take care of all the field work and he could take care of the accounting."
Secret to success
The Gores assert the reason Solid Foundations has become so successful is the company's emphasis on providing a high-quality product.
Their motto "Whatever It Takes" demonstrates the drive for excellence that brought Solid Foundations to such achievement and growth. "As we're growing in quantity, I always tell my employees, you have to keep the quality. You got to kill them with quality and they will be back," says Dawson.
"Bottom line, people need to pay attention to doing things right. You have to meet your customers' expectations. Ask, how can I satisfy everyone's needs?" Valerie concludes.