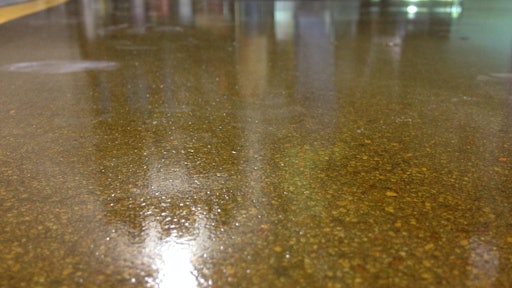 Turner Concrete Professionals, located in Atlanta, Ga, specializes in concrete surface restoration for general contractors, developers, architects, property managers and end-users throughout the eastern, southern and midwestern regions of the U.S. The company provides a multitude of services ranging from cleaning and repairs to resurfacing, sealing, densifying and coating.
After a decade of rugged use, company president Ken Turner decided to resurface the badly worn 4,000 square foot concrete floor in his own facility. It was Turner's plan not only to rejuvenate the floor, but also to turn it into a warehouse showroom for his customers, as well as for a large property management company that also occupied the building. Turner's plan included finishing the floor with the most recent advancement in concrete coatings, DiamaPro UV Systems. "We saw the resurfacing of our own warehouse floor as a convenient means of familiarizing ourselves with this new product," said Turner. "What better way to evaluate it than to try it out on our floor?" The company got in touch with Niagara Machine, Inc., exclusive distributor of DiamaPro UV, and the resurfacing project was underway.
The DiamaPro UV System is a single component, aliphatic urethane that is ultraviolet light-cured. It requires no mixing, and is not dependent on ambient temperature to obtain full cure. Photoinitiators in DiamaPro UV are stimulated under exposure to ultraviolet light and react with acrylates in the coating to provide an instantaneous cure. During the chemical process, double-bonded acrylate molecules in the coating cross-link to form dense polymer chains that yield an extremely hard and chemically resistant surface. The result is a coating with excellent adhesion that is highly resistant to weathering, abrasion, and chemical corrosion.
The single greatest benefit of DiamaPro UV is the curing times required for conventional epoxies and urethanes are eliminated. With ultraviolet light-cured coatings, a concrete floor is immediately ready for use. UV coatings give managers the option to prep and coat entire floors, or portions of floors, as required, without significant downtime or service interruption. It can even be done overnight, yielding a ready to use floor when doors open the next day.
"We've surveyed customers across the nation in industrial, food service, retail and health care applications, and they all mention downtime as the single biggest drawback to resurfacing their concrete floors," says Scott Thome, coating specialist at Niagara Machine. "Conventional epoxies and urethanes can require 48 to 72 hours to completely cure. DiamaPro eliminates that lost time. The floor is ready for normal traffic the moment the UV-light passes over the surface."
UV coatings are also an inherently safe surface for employees and customers. The statice coefficient of friction (SCOF) for DiamaPro UV meets the National Floor Safety Institute's certifications, ensuring a safe surface to walk on. And DiamaPro is environmentally friendly. UV curing involves 99 percent solids in a fluid state. It has an extremely low VOC level of 4.8 and is virtually odor-free. Since minimal volatile organic compounds (VOC) or hazardous substances are released during the process, there are no regulatory compliance issues. And DiamaPro has an unlimited pot life, so the formula can be readily stored for future use.
The advantages of UV coatings aren't limited to curing time and safety. One of the most important benefits of UV coatings is they result in a smooth, sanitary floor surface. "For applications such as food service, health care, pharmaceutical and retail operations, a sanitary surface is imperative," says Thome, "and DiamaPro results in a smooth floor that minimizes the entrapment of soil, dust and foreign particles." Thome also stresses that DiamaPro UV coatings are easy to clean and maintain, and resistant to the harsh chemicals often found in concrete floor cleaning agents. "The irony of concrete floor maintenance is that often the cleaning agent itself causes a coating to break down," he notes. "Our studies have shown that DiamaPro UV is highly resistant to chemical corrosion. Regular cleaning doesn't break it down."
UV coatings require no special preparation or application procedures. Floors are prepped using the same process as traditional coatings: filling cracks and pop-outs, removing stains and soil, and evenly grinding the floor to achieve a flat service. Diligent floor preparation enhances the effectiveness of any final coating, and UV products are no exception. Diamond grinding with a three-headed minimum planetary grinder is the preferred method for UV coatings since it results in an exceptionally flat surface. The UV coating is then applied with a squeegee, rolled out with a standard floor roller, and lightly back rolled with a wide roller. Curing is done using a portable machine emitting UV light.
The existing concrete floor at the Turner Concrete Professionals headquarters had been coated and stripped numerous times by previous tenants. The first step in the prepping process was to remove previous coatings and repair spalls, pop-outs, and bolt holes from old shelving. The Turner crew used Metzger/McGuire Rapid Refloor and Pit Grout to repair scratches, gouges, pitting and other defects in the floor. Metzger/McGuire RS 88 was used to fill and protect joints. Grinding and dust collection was done with three Lavina 30G-X grinders paired with Ermator S-36 HEPA dust extractors. The Lavina grinders are propane powered and utilized a belt-driven planetary movement. The new X series boast a new stacked chain driven planetary system. An additional axis allows the entire base to float over the surface in any direction. The Ermator S-36 dust collectors feature three vacuum motors providing 350 CFM and 110 inches of waterlift. Jet Pulse filter cleaning enables filters to be purged during operation, and drop-down dust collection bags ensure easy, dust-free handling and disposal.
In addition to resurfacing, Turner's plan called for the application of a company logo and corporate colors. The crew used Ameripolish SureLock Dyes in Slate and Patriot Blue to recreate the logo and decorative design. To ensure a safe, non-slip footing in the dock area, an anti-slip aggregate was incorporated into the second layer of the UV coating. The DiamaPro UV coating was then applied and instantly cured with a portable Hammerhead ultraviolet light leased from Niagara Machine.
Niagara Machine technicians provided onsite instruction and certification for Turner Concrete employees, a step-by-step, hands-on service that qualifies them to apply DiamaPro UV coatings for their own customers. "We like what we see," said Ken Turner. "I think it says a lot that we chose DiamaPro for our own floor, and I'm looking forward to showing my customers the final results of this new coating technology."
Ed. Note: Wade Christensen is the Vice President of Niagara Machine. For more information visit www.niagaramachine.com.


Companies in this article