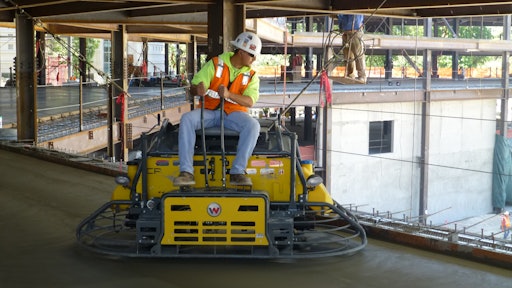 After working together for years to build a new arena, the City of Sacramento, Calif. and their professional basketball team, the Sacramento Kings will soon have a 17,000 seat, multi-use facility in the heart of downtown. One of the many local contractors on the Sacramento Entertainment & Sports Center (ESC) project, Urata & Sons Concrete, Inc. of Ranch Cordova, Calif. is handling the majority of the concrete work.
The scope of concrete work for this major urban project includes floor slabs, interstitial stone fill and superstructure concrete walls. To alleviate congestion while working in the busy center of Sacramento, all of Urata's major concrete pours and base rock installation takes places at night.
According to Ricky Ruiz, place and finishing superintendent for Urata & Sons, during the course of the ESC project, the contractor will oversee approximately 70 concrete pours. Working at night for long hours is tiring and contractors need equipment that not only performs reliably to get the job done, but is designed and built to keep the operator comfortable during long periods of operation.
Knowing that operator comfort as well as performance is important, Paul Hanson, territory manager at RGW Equipment Sales in Livermore, Calif., recommended to Ruiz that they use a Wacker Neuson CRT 48-35V ride-on trowel. "We thought this 48-inch gasoline powered trowel would be a great fit for the Kings Arena project and Urata's needs," says Hanson. "The unit is lighter weight for easy placement on the elevated decks, plus it is built for comfortable operation," he adds.
With each deck pour, roughly 15,000 to 30,000 square feet of concrete needs to be finished, according to Ruiz. "We have used the Wacker Neuson unit for all aspects of the surface finishing process; panning, combo and finishing blades. We are running the trowel on and off at least 10 hours for each pour and we haven't had any problems. It's been very reliable," Ruiz says.
The CRT 48-35V is an 8-foot, ride-on trowel powered by a 35-hp air-cooled Briggs & Stratton Vanguard engine. The mechanical steer unit has a patented torsion assist steering system making it easy to operate and reduces operator fatigue. A rigid heavy-duty frame leads to more responsive steering and excellent feedback from the concrete conditions.
These features did not go unnoticed by Ruiz and his team. "The mechanical steer is easy to operate," said Ruiz. "It runs smoother and the controls are easy to handle. It's more controllable compared to the big hydraulic units and that makes it easier to maneuver around obstacles," Ruiz adds.

Ruiz also likes the open design of the unit. He says it makes it easier to clean, change the blades and transport the machine. He says, "We will be using this unit on all the pours, which should be through the end of the year and we're very happy with it."
Construction began on the ESC in October 2014 and is scheduled for completion in October 2016. While the arena will be used mainly for Sacramento Kings basketball games, it can be expanded to 19,000 seats for other sports and music events.