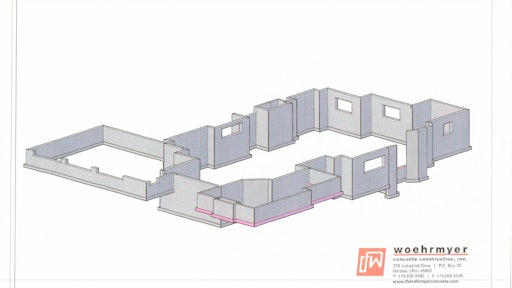 For 36 years, R.F. Woehrmyer Concrete Construction, Inc., has always made strides to be a leader in the foundation/poured walls segment of the concrete industry. The company has a history of investing in technology and is the first and only CFA Certified Foundation Contractor in Ohio.
Nestled in rural west central Minster, Ohio, the company was founded in 1979 by Ron and Barbara Woehrmyer largely due to Ron's interest in concrete along with a fascination of aluminum forms. "Ron felt he could make an impact by doing work he liked to do," Barbara says. "He was attracted to the physical aspect of the work and he liked the concept of the aluminum forms. You have to remember, at that time, the use of aluminum forms was a rather new concept."
When the recession hit in 1984, the couple were fearful they may not be able to make the business work. However, as the small community started to get to know their name and the quality of their work, they proved to be a reliable, familiar name in the foundation/poured wall segment of residential construction.
By 1986, the contractor purchased a second set of Precise eight foot forms to keep up with approximately 225 residential and commercial foundations completed annually.
Doug Berning has been the company's field supervisor and key lead man since 1984. And according to Barbara, has been one of the driving forces behind the company's ability to embrace new technology. With the arrival of several manufacturing plants in the area, Berning says, it had a big impact on the local economy which created a ripple effect on the demand to build more residential subdivisions in Minster.
"In 1993 we bought a set of Precise nine foot forms to add to our inventory," Berning says. "With the increased demand for residential foundations, we decided it was time to purchase a Sterling truck with an Effer boom crane to assist in moving form panels easily and safely. One of the key philosophies at R.F. Woehrmyer Concrete Construction, Inc. is to consider any type of technology that will help make the job easier on the crews. If there is a piece of equipment that achieves that goal, it will be worth the investment."
Total station units maximize efficiency
The use of technology not only makes the company work safely and efficiently, but it also allows the contractor to provide better services and finished products. On every job, the crew utilizes one of two Trimble Total Station units. The first unit was purchased in March 2006. The Woehrmyer's were so impressed with the unit's functionality, a second unit was purchased three months later.
"The fact we could lay out a job with one man and get the layout done within an hour or two made us that much more efficient," Berning recalls. "Prior to using the total station units, it would take two to three guys and three to four hours to layout a job. The more complex the job, the more time we saved in manpower. And let's face it, the total station unit doesn't get sick and doesn't take days off. As long as we have someone to operate it, that technology is there every day."
Efficiency and saving labor isn't the only benefit. The unit allows precision to 1/32 of an inch within being square. Berning says it is used for nearly every aspect of planning a foundation. "We use it to layout a foundation before we dig. We use it to layout the footers and again before setting the forms."
While two units meet the contractor's needs now, the company is considering upgrading both to the latest features available.
AutoCAD provides visualization
The reach of technology goes beyond the field as well. Within the front offices, the Woehrmyer's use Oakridge Solutions AutoCAD program to quote jobs and draw 3D visual concepts for not only the crews assigned to the project but also to the customer.
"The 3D visuals make the crew more confident before stepping out onto the jobsite," Berning says. "When there is a more complicated job, we have found to receive fewer questions from the field. From a customer point of view, the 3D visuals sell our company and our product. It has really made us that much more productive and efficient."
The 3D visuals allow the contractor to present a more professional drawing in color. Customers can take the plain drawing from an architect and visualize what the final product will look like.
Pump creates recurring revenue stream
In another case of, "How can we make it easier on labor?" philosophy, the Woehrmyer's decided it may be time to purchase a concrete pump.
"Buying the concrete pump was on our 'to do' list since July 2008. We saw the need for one, and it was becoming better known to our customers that if we could easily get to the job or needed to work in close quarters, our customers were happy to see their property wasn't torn up," Barbara says.
Just recently, the Woehrmyer's purchased their first concrete pump, a Putzmeister BSF 36Z.16H to add to their arsenal of equipment.
"We're going to be able to place more concrete per hour with a lot less physical labor," Berning says. "We know it from a growing trend within the industry. We had been renting a pump for years and it finally made sense to purchase our own."
Not only has the concrete pump helped them on their projects, but Berning says, "We've been able to help out other contractors in the area too, we rent it to them if they need it."
Ohio's ONLY CFA Certified Foundation Contractor
The Concrete Foundations Association's (CFA) Foundation Company Certification Program is a program, which upon completion, allows contractor's to earn the designation to set themselves apart from their competitors and show customers they possess a high level of knowledge and experience in the concrete industry.
The certification process includes a requirement that an organization must have at least two employees certified as Foundation Technicians by passing the Certification Exam, but that's only the first step in company certification. The balance consists of supplying information about insurance coverage, operations, financial stability, identification of references, and other basic company knowledge. A private company has been retained to grade and compile the exams, verify company information, and oversee the operation of the program.
Last summer, Nick Woehrmyer and his brother Greg, felt it was time to get more involved in the industry, and specifically the CFA. Nick and Greg were aware of the CFA certification program and felt it was a good time to get certified technicians and have the company certified as well.
"The certification program brings more knowledge to your company," Nick Woehrmyer says. "Anytime you can upgrade your knowledge and the knowledge of the employees in your company you are a making a better company."
What's next?
During the 36 years in business, the company has flourished in peak periods of residential construction and survived three economic recessions. But after nearly four decades, the Woehrmyer's may be thinking about their retirement plans and leaving behind a business for the next generation.
"If you want to develop a good business you have to start looking at what will happen 10, 20, even 30 years from the day you open your doors," Barbara says. "I think the daily affairs of the business, the contractors we work with, the economy and new trends in business all lend themselves to the direction of the business and how it will transcend in the next generation."
Specifically, she is referring to the economic events of 2007/2008. In an effort to remain competitive and prosperous, the family expanded their services to waterproofing. This expansion prompted Ron and Barbara to look further into the future of the business.
"We said, OK, we have three sons, what do we see as their future? What are their roles", Barbara explained. The Woehrmyer's expanded again, offering concrete raising and leveling services, crack repair and flatwork services.
A succession plan
As Barbara notes, the boys continue to develop their own paths in the business. Nick's education is in entrepreneurship/business and it made sense for him to be in the front office. The couple's oldest son, Ron Jr., found his role in running the crews and managing the slab jacking, raising and leveling aspect of the business. Their youngest son, Greg is finding his role in the field as job supervisor and takes charge of running the company's commercial jobs.
Barbara says. "We've been fortunate for things to fall into place as having three sons was a concern. One of our biggest fears was whether the business would operate after Ron and I reached a point where we wanted to slow down and retire. We feel we have a good business and we wanted to develop roles where all of the boys could utilize their own strengths, get along, and make sure that everybody on the outside sees us as a solid, sound business."
When asked if Barbara has any advice for other contractors who are looking to put together a succession plan, she jokingly exclaims, "Have girls!"
All kidding aside however, Barbara says it's important to understand there is not a one size fits all option when transitioning to the next generation.
"We've met with lawyers, accountants, and many business owners, many of which have been in this same boat and will all give you a different answer. What worked? What didn't? It's a matter of having that conversation. If you have young people who want to go into a second or third generation business, it has to be heartfelt on their part," Barbara explains. "In order for it to work, you have to have the heart and desire for it along with a solid work ethic."
She adds, thinking about a succession plan early is important to implementing the plan.
"We started thinking about our plans about 15 years ago," Barbara says. "You can't walk away from something you've done for close to 40 years. Once it's in your blood, it becomes a part of you. You have to define your situation and understand what it is."
The pursuit of technology and the evolution yet to come is something that remains at the forefront of the Woehrmyer's business. While Barbara couldn't pinpoint what the next equipment purchase might be, she does acknowledge that whatever it is, it will be something that will include the latest technology to advance the business and provide the best possible service to their customers.