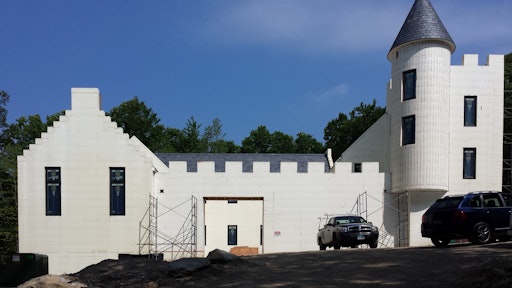 Robert Stock and his wife grew up liking castles so when they got married they decided to hold the ceremony in the 700 year old Balgonie Castle located near Fife, Scotland. Afterwards, when they bought property to build a home in Fairfield County, Connecticut, they began to think about owning and living in their own castle. That led them to a meeting with Leigh Overland, the owner of Leigh Overland Architect LLC located in Danbury, Connecticut to begin discussions about designing one and how to build it. "My wife had heard of Insulating Concrete Form (ICF) construction and Overland was familiar with the building system so we considered it along with timber frame, wood "stick build", and modular construction, eventually deciding on ICF," he says. The design included a circular three story turret which posed a challenge for ICF but one the sub-contractor, experienced in ICF construction was able to achieve. Overland says his challenge was to design a structure that fit with modern suburban life while respecting the client's castle style aesthetic preference. The design of their home isn't exactly like the design of the Balgonie Castle aside from some mutual architectural elements and the fact that both castles are built around courtyards. The design of this home includes features from many Scottish castles.
Stock says they were also attracted to the energy efficiency that ICF concrete buildings provide.
Designing the building
Though he was aware of ICF construction Overland says this was his first project using it, so his firm had to research and learn how to figure out and detail everything. He liked the idea of the increased amount of insulation in the building and the mass of the concrete, along with the other advantages of building with concrete and ICF. He also realized they would have to involve an engineer familiar with this type of construction. Overland typically specifies all aspects of a construction on his plans and specs and he thinks this results in better prices, end result and a happy client.
Some of the features of the approximately 8,000 square-foot home include:
11-inch thick walls adding depth and quality to the interior and exterior look
Asymmetrically placed dormers, slate roofs, step-shaped gables
A three story circular turret
Polished concrete radiant floor heating on the first floor (forced-air heating and wood floors on the second level)
Half-round zinc gutters from Germany
Euro-style chimney pots on top of chimneys
No trim around windows and doors
A Dryvit exterior finish placed directly over the exterior ICF block insulation with a simulated limestone finish.
A significant undeveloped space for future development
Overland used a generic ICF specification so that different ICF manufacturers could supply prices. His office also supplied general contractor bidders with the names of sub-contractors who were familiar with installing ICF products. BuildBlock Building Systems with headquarters in Oklahoma City, Oklahoma was the ICF product they decided to use.
Building the Structure
The owner and architect selected Tiefenthaler Construction, Norwalk, Connecticut, as their builder. Ross Tiefenthaler says his company is 40 years old but had little experience with ICF construction previous to this time so the selection of the concrete contractor was helpful to all the trades due to their ICF experience. The contractor was the ICF Supply Company located in West Hartford, Connecticut, both a supplier of BuildBlock products and an experienced installer. The owner, Jim Ryan, says he has been an ICF distributor and installer for over 16 years. His company also provides training and technical support to crews in the field.
Construction started in late November of 2013 and went through an especially cold, severe winter. Ryan and his crew placed concrete in the ICF forms at temperatures as low as 10 degrees without worrying about the concrete freezing—an advantage that ICF's have. "On one bad-weather day our Ready-mix Producer batched only seven loads of concrete and our job received one of them," says Tiefenthaler. He says it's easier to build ICF walls in the winter than with standard wood-frame construction methods.
After completing a multi-elevation footing for the house Ryan and his crew assembled the four-foot long, 16-inch tall, 11-inch wide blocks for all the walls on the first floor level of the house. The blocks interlock and workers placed #4 rebar horizontally in each course of blocks, vertical rebar being placed after the blocks were all in place for wall. Next, staging was assembled on the inside of the walls so that workers could pump concrete into the walls from the top. But the staging also braces the walls to keep them plumb during concrete placement. Plumb is typically rechecked after placement and adjusted if necessary. The 3,500 psi concrete was pumped into all the entire first floor walls at one time.
The 12 foot diameter turret was the most challenging and intricate part of the ICF work. Ryan said they used over 1,000 pre-cut, pie-shaped pieces for the turret. Because it starts approximately eight-feet above ground the engineering was more complicated too.
The first floor of the house is concrete and has floor radiant heating and the second floor is wood with forced air heating.
All the exterior walls and the load-bearing walls inside the home are concrete but the rest of the inside walls are wood frame, making future remodeling easier to accomplish.
Working with Other Trades
Tiefenthaler says he was grateful for Ryan's expertise and his willingness to consult with the other trades, as they weren't familiar with this type of construction. Plumbing and electrical were tunneled into the expanded foam on the inside of the walls. At first they tried to form channels in the foam with an electric heat melting tool but it proved too slow so they used an electric chain saw mounted on a guide-bar to speed up the process.
The Value of Living in Concrete Houses
The Stocks have lived in their new home for two years now. They knew some of advantages of living in a concrete house such as energy efficiency but decided to have a Home Energy Rating System (HERS) test performed to determine what the energy efficiency of their home really was. The U.S. Department of Energy states that an average home for resale has a score of 130 on the HERS Index while an average new home has a rating of 100. Stock says their HERS score was 46, meaning that his house is 65 percent more efficient than the average house for resale. He adds that the floor radiant heating system supplies most of the heat for their home (upstairs and downstairs) and so much heat is retained that it can be difficult to cool it down in the evening, in the winter when the HVAC system is off, especially if the oven has been running, adding that they frequently have to open their kitchen windows for a little bit to cool the room down—the second floor forced-air system doesn't run much at all.
Ryan built the ICF walls for the home during a particularly severe Connecticut winter. He wasn't worried about his concrete freezing in the ICF forms but just to be sure a testing lab company was hired to perform 30-day tests with a Windsor Probe Test on the concrete and learned that his specified 3,500 psi mix averaged nearly 4000 psi in 28 days. This supports his belief that building with ICF can be safe during the winter months.
In the past there's been a significant difference in cost between building homes with structural concrete versus standard wood frame construction methods but the cost difference between the two systems is similar now. ICF walls provide the structural wall, insulation, and include the expanded foam surface for exterior finishes like stucco or Dryvit, making them less costly to install. Overland says the two systems are nearly equal in cost but far from equal in performance and quality. Also, he says building codes have changed in his area, requiring continuous insulation for commercial buildings and he thinks this will become the standard for residential home construction as well.
Overland recommends ICF construction to all his clients now and says there is increasing demand. In addition to energy efficiency he says clients like the fire and storm resistant security of living in concrete homes. "Wellness certifications" are also beginning to be required by his clients, especially younger people and that's easier to obtain with ICF construction too.