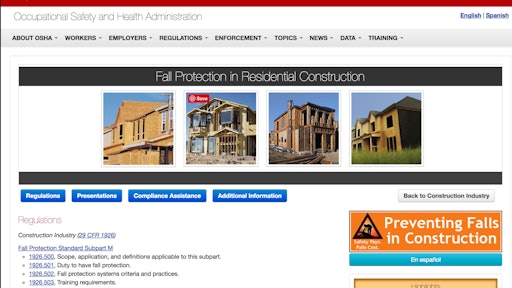 Question: Yesterday, an OSHA inspector witnessed two of our crew members standing atop the formwork, while finishing a pour. The first worker was floating the wall and the second worker was installing anchor bolts. Both of these are standard procedures for us and the workers are trained and confident working from those levels. The inspector requested a meeting with an executive from the company, which was postponed to the next day because none were available within a four-hour window.
Today, when I met with the inspector, he suggested our company may be in violation of OSHA's fall protection regulation for residential construction. I informed the inspector that our company utilizes an Alternative Fall Protection Plan, and this plan has proven to be safe and effective over the course of many years. He requested a copy of the plan, which he will submit to his superiors for review and wants to interview our workers for their knowledge of the plan. I'm concerned that our plan, effective as it is, may not meet the OSHA requirements.
Answer: Unfortunately, today this remains a common position found throughout the concrete foundation industry. Your situation exists due to a combination of factors including:
Lack of thorough understanding of OSHA for the nature of your business
Decades of experience in the industry where alternate fall protection was approved by OSHA for residential construction
Limited technological development of fall protection methods for the specific task of residential concrete foundation construction
Reality that the work you continue to do hasn't changed beyond slight increases in average working height, still most commonly eight to 10 feet
Today, contractors spend just as much time training and protecting their workforce through knowledge and experience as they have always provided. Protection of the workforce remains a top priority for the residential foundation company. What has been missed, however, are the changes in regulation that now require documentation of the decisions you make for fall protection systems and solutions and evidence of such application to each unique project or condition. In other words, OSHA wants to see the work you have done to take every aspect of fall protection safety into account and understand the solutions you implement fully for compliance with the complete set of regulations.
OSHA regulates in 29 CFR 1926.501 that an employer must provide fall protection. The title of this part of the Safety and Health Regulations for Construction is Duty to have fall protection. As an employer, it is your responsibility to know what constitutes the available fall protection systems and methods that are feasible for your job sites and develop a plan for implementing them. This regulations states that any worker on a walking or working surface 6 feet or more above the ground plane with an unprotected edge shall be protected by a guardrail, safety net or personal fall arrest system. Further in this section, however, residential construction is specifically addressed:
1926.501(b)(13) – "Residential construction." Each employee engaged in residential construction activities 6 feet (1.8 m) or more above lower levels shall be protected by guardrail systems, safety net system, or personal fall arrest system unless another provision in paragraph (b) of this section provides for an alternative fall protection measure. Exception: When the employer can demonstrate that it is infeasible or creates a greater hazard to use these systems, the employer shall develop and implement a fall protection plan which meets the requirements of paragraph (k) of 1926.502.
Note: There is a presumption that it is feasible and will not create a greater hazard to implement at least one of the above-listed fall protection systems. Accordingly, the employer has the burden of establishing that it is appropriate to implement a fall protection plan which complies with 1926.502(k) for a particular workplace situation, in lieu of implementing any of those systems.
Since there is currently no commercially available guardrail, safety net or personal fall arrest system that has been engineered to work with removable concrete forms, utilization of these systems is technologically infeasible and forces poured wall contractors to utilize other measures to protect their workforce.  However, these contractors may or may not be OSHA compliant, depending on whether they've strictly complied with the prescriptive requirements of 1926.502(k). Employers must take caution in using the terms infeasible and greater hazard. These are the key terms that must be accounted for in your research to justify the implementation of a fall protection plan. It is the employer that bares the full burden of establishing the appropriateness of implementing such a plan rather than one of the three noted systems.
Your argument for the use of an Alternate Fall Protection Plan is based on the documented history of OSHA regulation. This stems from the establishment of OSHA STD 3.1, titled "Interim Fall Protection Compliance Guidelines for Residential Construction", in 1995. Here, OSHA set the acceptance of an "alternate fall protection plan" as described in subpart M in lieu of compliance using fall protection systems without any burden of responsibility for proving infeasibility or greater hazard. In 1998, STD 3.1 was replaced by STD 3-0.1A that augmented this position with specific requirements that must be addressed by the alternate fall protection, including monitoring and training. OSHA rescinded this position in 2010 under the presumption that commercially available systems had advanced in the industry to sufficiently support fall protection system implementation for all residential construction. While this may seem as though it ignores the conditions of the residential foundation contractor, what it does is maintains responsibility for each employer to actively assess their project variables against their company policies and training for fall protection.
Many contractors claim that instead of using fall protection they use an "alternate fall protection plan". It is important to note that under the current direction, an alternate fall protection plan is a form of fall protection, but one that requires the use of knowledge to demonstrate both technological infeasibility and greater hazard to the worker for each procedure. The detail of 1926.502 (k) involves research and documentation for implementing several methods to provide protection from falls. Your plan must discuss the extent of consideration for the use of "scaffolds, ladders, or vehicle mounted work platforms" to "provide a safer working surface and thereby reduce the hazard of falling."
When these methods of providing alternative working surfaces are exhausted through the demonstration of technological infeasibility and/or greater hazard, the employer then classifies work surfaces as controlled access zones in conformance with 1926.502(g) and implement safety monitoring systems in conformance with 1926.502 (h).
1926.502(k) "Fall protection plan" is an option for only three types of work; leading edge, precast and residential construction. As you analyze the work you are doing, both leading edge and residential construction are applicable and each implies looking at your plan from different perspectives. The person that develops the plan must be a "qualified person". According to OSHA, this is defined as one who, by possession of a recognized degree, certificate, or professional standing, or who by extensive knowledge, training and experience, has successfully demonstrated his ability to solve or resolve problems relating to the subject matter, the work, or the project. In other words, you can be professionally trained and educated or be an experienced industry person that has immersed oneself in the details of this regulation.
From this point, the rest of the fall protection plan can be developed. There are many aspects of developing such a plan that you will need to consider. These include introduction, acceptance, training, certification, infeasibility for fall protection systems, use of a combination of methods, identification of a competent person for each project site, adaptability of the plan to specific site conditions or project details and much more. In the end, OSHA expects you to not only own the responsibility for keeping your residential foundation crews safe, they want you to be able to demonstrate and prove to them that you have control of the situation and your employees understand the plans they are following. This is the method by which they can then understand that your company is actively implementing effective fall protection safety.
The Concrete Foundations Association makes available a Fall Protection Plan Development Kit to its members covering all aspects of the regulations found throughout 1926.501 and 1926.502 as well as the history of the industry impact from these OSHA regulations.
Want to know more?   Contact CFA Executive Director, Jim Baty at 866-232-9255 or by email at jbaty@cfawalls.org. The Concrete Foundations Association mission is to support the cast-in-place contractor as the voice and recognized authority for the residential concrete industry.
References:
1. Standards – 29 CFR, parts 1926.501, 1926.502 published by the Occupational Safety & Health Administration, United States Department of Labor, 200 Constitution Avenue, NW, Room Number N3626, Washington, D.C. 20210 | Phone 1-800-321-6742 | www.osha.gov
2. Standards – STD 3.1, STD3.01A expired published by the Occupational Safety & Health Administration, United States Department of Labor, 200 Constitution Avenue, NW, Room Number N3626, Washington, D.C. 20210 | Phone 1-800-321-6742 | www.osha.gov