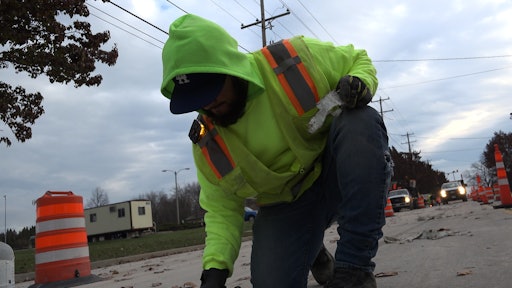 Guardian Angel
Avery Darsey works for Texas-based Dixon Concrete Contractor. They focus mostly on the concrete preparation i.e., the tearing out of old concrete, form building, laying steel as well as the pour and finish. "Sometimes we're there before the sun's up and we might be there till dark," he says.
While working near the traffic, cleaning, and finishing up the day, he wanted to let people know in advance that something, let alone himself, was there. Self-proclaimed "big" on safety, Darsey explains that he's always thinking about how things can be done more safely. This attention brought him to the Guardian Angel device.
"We were doing this job, probably a couple of months ago, and had semis flying past us," says Darsey. As the first one at the site, he arrived before the sun came up to set up. He actually owns a few models of the personal lighting device. He wears one on his person and places others in random spots as extra precautions to whichever angle traffic might be coming from. According to the National Institute for Occupational Safety and Health (NIOSH), "collision incidents are attributed in part to limited visibility around the equipment." (Construction Equipment Visibility | NIOSH | CDC)
If a reflective surface could be "reactive", consider the Guardian Angel proactive. The light itself emits a powerfully bright light capable of being seen up to (and maybe beyond) five miles – plenty of distance to indicate the location of something, be that an employee or a safety barre or cone. The manufacturer uses LED technology to maximize the brightness pulsing through the device in the smallest package available.
Models differ in the color and flashing pattern. Saying they have a few is an understatement, though a version for roadside construction is available. Each device is powered by a rechargeable battery, but a single charge lasts Darsey a couple of days – who runs it all day long.
Aside from the traffic safety aspect, the front-facing light, and rear-facing "location" pattern might assist in night operations; its high-powered magnetic mount allows attachment to nearly an unlimited list of options. Illuminate the shadowed areas large-area lighting isn't reaching, mark off locations of the trailers, trucks, or danger zones for safety.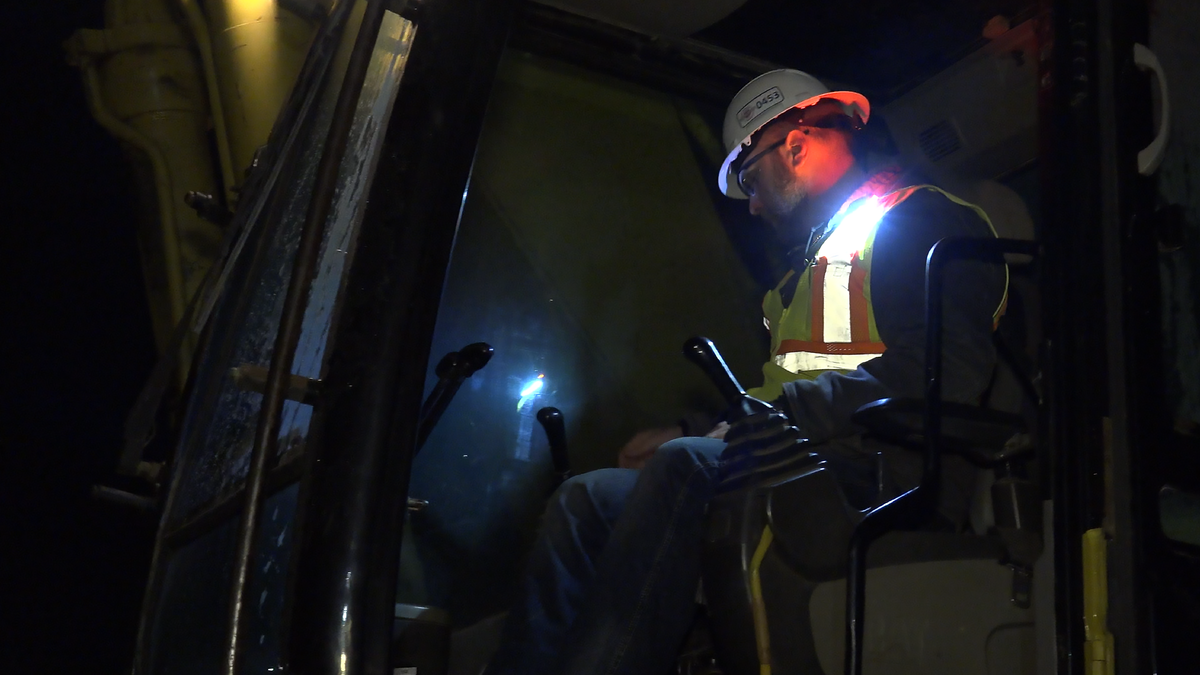 Guardian Angel

Durability
The Guardian Angel product has been available for a number of years, but since its original launch, they've gone through a few changes. Notably, its durability. "Everything that we build, we try to build with the highest level of quality in mind, you know, and this, this goes back from just the very first generation devices that we created," says Chadwick Keller, Guardian Angel president, and CEO. "But at the same time, we always try to find improvements that we can make to our devices."
The current generation of the Guardian Angel uses a stronger material than the original. The company posted a series of toughness tests online. These tests attempted to recreate real-life examples to an extreme level. For example, they ran it over with a truck, threw it down a street, threw it – point-blank – onto a large rock, dropped it from a drone at 500 ft., froze it – while running – in a block of ice, even popped it onto a grill.
"We basically just beat ... this thing as much as we can. At the end of all the tests, the device is still working, still operating," says Keller.
Where the device's initial mounting is on the shoulder, with the emitting light just outside the wearer's vision, additional accessory kits for other uses are available. For example, a bracket for inside a truck's windshield, onto a hardhat as well as atop a safety cone.
Developed to fit any cone you have – whether it be years old and scuffed-up or brand-new straight out of the box, the design of the mount should allow it to fit. As Keller describes it, there's a sort of tentacle system that pushes out from the inside of the cone topped with a cap. The same high-strength magnet holds the light in place.
In the end, it's the work being done proactively that adds just one more factor in helping keep people safer. It's the reason why law enforcement, fire trucks, ambulances, tow trucks, utility, etc. all feature a lightbar.
"Its primary function is for me to be safe. I read every single review that we receive, I watch every single customer testimonial video. even though they're different people, and they work in different industries, they all share the common bond of almost all been hit by a car, have been hit by a car, or know of someone that was hit by a car. Even though they all come from different walks of life, they all say the same thing, 'I am always worried about being out in the road, always worried about getting hit by a car. And this device greatly protects me greatly improves my peace of mind.'"
Companies in this article