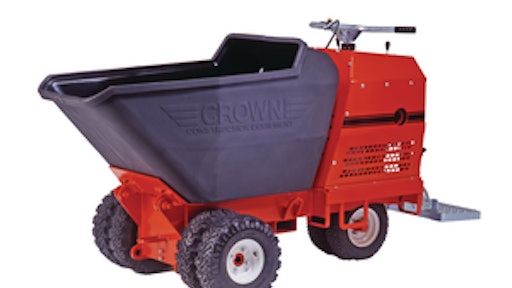 CB16P Buggy
The CB16P power buggy features the 16-cu.-ft.-capacity Cross Link Polymer Bucket, which is designed to minimize splash, plus offers a high UV protection rating.
13-hp Honda engine
Bucket hinge design provides greater reach and allows the bucket to sit lower in the frame for easier loading and a lower center of gravity
Extra-capacity 6-gal. fuel tank
Riding platform locks in upright position for walk-behind applications
6-in. minimum dump height
Crown Construction Equipment
MAX Dumper
The MAX Dumper is an 800-lb.-capacity, four-wheel-drive powered wheelbarrow driven by a Honda GXV 160cc commercial grade, four-stroke, 5.5-hp gas engine.
Suitable for concrete transport and can be equipped with accessories such as a flatbed, snow plow or power lift
Features include four 10-in. tires and disc brakes
Measures 36 in. high, 28 in. wide and 64 in. long
Niche Product Sales
Portable Concrete Conveyor
This portable concrete conveyor is designed to attach to any front-end wheel loader with a 2.5-cu.-yd. capacity and larger that is equipped to accept attachments.
Operated from inside the cab of the machine using the hydraulic controls and the power of the wheel loader
Shown to place up to 300 cu. yds. of concrete per hour to the road grade using dump trucks hauling 11 cu. yds. per load
Can be detached from loader when no longer needed
E2 Systems, LLC
Hydraulic Power Buggies
These power buggies have simultaneous dump and hydrostatic drive capability allowing for feathering of load in forward and reverse. The operator's platform and control system allow for comfortable and convenient operation of the unit. The PB-16 and PB-21 have excellent traction and control with heavy-duty welded chassis.
Terex Aerial Work Platforms
Line Dragon
Powered by 12-hp gasoline engines, the Line Dragon will run over rebar grid, radiant heat lines, nelson studs, floor decking or other prepared surfaces. The Line Dragon weighs about 1,000 lbs. The placer drags the end of the delivery line and places concrete while the dragger is hooked 20
ft. back carrying excess line and keeping it out of the pouring area. The machine moves forward, backward, left, right or oblique. The placing boom swings 360° and the machine is remote-controlled for operation from a safe distance.
Line Dragon, LLC
SC45 Concrete Buggy
At 29 in. wide, the SC45 Concrete Buggy with rubber tracks can carry concrete through garden gates and confined spaces.
Rubber track undercarriage enables operation over steep slopes and through wet and slippery jobsites, uneven ground or loose sand and gravel
90° dump angle
1,000-lb. payload capacity
Canycom Sales North America
Hi-T500 Track Dumper
The Hi-T500 Tracked Hauler is built on a 28-in., two-speed, hydrostatic, self-propelled, tracked platform powered by a 9 1/2-hp Kubota diesel engine that runs at a low 86 dB.
Narrow width provides the ability to fit through a standard doorway
Minimum 1,100-lb. load capacity or a half yard of concrete, with optional side extensions to accommodate more material
Bucket has a tip height of over 8 ft., and can completely flip over for dumping material on the ground
Optional power take-off
Access Construction Equipment / Miniveyor USA
Groutzilla System
The PTO-driven Groutzilla placement system easily places grout and masonry mortar in blocks, walls, forms and foundations.
Handles 20 cu. ft. of material, including most slump
Replaceable steel hopper swivels on heavy-duty roller bearings
Self-wiping Talet auger system with reinforced, composite polymer flighting that prevents binding due to various aggregate sizes
Positive hydraulically controlled shutoff valve
Heavy-duty fork pockets
Stone Construction Equip. Inc.
Mayco LS Series Concrete Pumps
The LS series concrete pumps feature a Digital Control Panel (DCP), a digital readout that provides diagnostics in English or Spanish.
LS300 can handle 3/4- up to 1 1/2-in. aggregate and 1/2-in. minus aggregates with variable volume outputs from 0 to 30 cu. yds. per hour
LS400 and LS500 powered by a 79-hp Deutz turbo diesel engine and can handle low cement/sand mixes of 1/2-in. minus aggregate and up to 1 1/2-in. aggregate with outputs from 0 to 40 cu. yds.
LS600 features a 99-hp Deutz diesel engine and can handle low cement/sand mixes up to 1 1/2-in. aggregate with outputs from 0 to 60 cu. yds.
Options include a wireless radio remote control and air or electric vibrators for the hopper screen
Multiquip Inc.
B-16 and B-21 Concrete Bombers

The B-16 and B-21 Concrete Bombers are updated concrete buggies for various construction and concrete applications.
Models sport a retrograde, military-inspired theme
Shipped standard with an aggressive "shark's teeth" design molded into the bucket
Design represents a bold cosmetic makeover of the overbuilt, heavy-duty Scoot Crete buggies
Miller Spreader Company
Steady End Hose
Dampens lateral deflections and excess vibrations
Reduces the risk of hose whipping
More controllable in event of a sudden surge of concrete
Available in 3- and 4-meter versions with both 100mm and 125mm internal diameters
Putzmeister America
S 55 SX
The S 55 SX concrete pump reaches 178 ft. and sets up with a 29-ft. 2-in. front outrigger spread to maximize boom reach.
RZ5 boom design offers 990° of total movement at its five folding points
Super X Outriggers
Vector Control system includes twin joysticks for proportional boom control, plus an LED display on the remote box displaying operational conditions
213 cu. yd. per hour with long slow-stroking action
Big Rock Valve promotes maximum filling efficiency of the material cylinders even with harsh mixes
Schwing America
EDGE Concrete Placing Bucket
The EDGE Concrete Placing Bucket is designed to carry and place concrete with a skid steer in places concrete trucks cannot go.
Available in 1/2- and 3/4-cu.-yd. capacities
30-in. chute extension available
Features include squared off corners and a backed-on powder coat finish
Hydraulically controlled dispensing door closes with a tight seal for accurate, multiple placements from the same load
CEAttachments Inc.