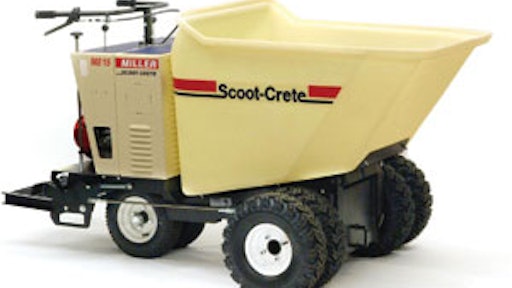 Miller Spreader MB16P
The MB16P power buggy offers strength and durability with its 2- by 9-in. solid-steel frame.
All six tires filled with SuperFlex gel to eliminate flats
Available with poly or steel bucket
Recoil or electric-start 13-hp Honda engine
LeeBoy LBC-24W
The LeeBoy LBC-24W concrete curber is designed to give contractors a highly maneuverable, compact curb and gutter machine.
Can smoothly pour a radius as tight as 24 in., eliminating most hand forming
Guided by a Top-Con System V electronic grade and steering control system for accurate placement
Ideal for slipform curb and gutter, alley ribbons and sidewalks up to 4 ft. wide
Powered by a 37.5-hp diesel engine
Toro Cement Bowl attachment
The cement bowl attachment for Dingo compact utility loaders allows users to easily haul, mix and pour up to 200 lbs. of dry cement.
Enables operator to pour footings without disturbing existing landscape
Permits access to areas previously accessible only by hand labor
Works in conjunction with high-torque or universal swivel auger power head
Powered by loader's auxiliary hydraulic system
Patz Handy Conveyor
The Patz Handy Conveyor moves sand, gravel, broken concrete, wood and more.
High capacity
Compact and portable
Crown CB16P Series buggy
The CB16P Series buggy is powered by a 13-hp Honda engine.
16-cu.-ft. capacity
Cross-link polymer bucket
Riding platform locks in upright position for walk-behind applications
6-in. minimum dump height
Miller Formless M-1000
The M-1000 features closed-loop, variable-displacement track, auger and trimmer drive systems.
103-hp John Deere diesel engine
Microprocessor controls for elevation and steering
Charging hopper with heavy-duty modular auger
Standard hydraulic track tensioning system, quick mule mount system and triple grouser track pads
Optional auxiliary grade sensor assembly, heavy-duty elevation pump upgrade, urethane or steel track pads and hydraulic side shift
Kenrich Products GP-3A
Kenrich Products offers the GP-3A grout pump, an air-powered version of the company's GP-2HD hand-operated model.
Uses an air cylinder and pneumatic logic to create the pumping action
Requires only 3 cfm of compressed air at 50 psi
Maximum output capacity is 5 gpm
Weighs only 27 lbs.
Stone FB1000
The FB1000 Mud Buggy can be configured as a stake bed, flat bed or an extended flat bed.
Standard polyethylene mortar tub can be converted in less than 15 minutes
Carries up to 10 cu. ft. with a load capacity of 2,500 lbs.
13-hp Honda engine
Lockable, fold-up operator platform
Extra-large, platform-mounted service brake
Dual-action dump pedal
Creative Equipment Design
The Curbcat concrete slip-form curb and gutter attachment turns your skid-steer loader into a slip-form paver ready to pour in minutes.
Automatic control of grade and steering using sensors and string line
Hydraulic vibrators and cylinders powered by skid-steer hydraulic system
Quick, easy hookup and disconnect
Molds changeable in minutes
Easily transported via pickup or trailer
Ingersoll Rand power buggy
The 16.5-cu.-ft. power buggy from Ingersoll Rand can be used for concrete spreading, demolition debris removal, spot pouring and more.
Available with either a steel or poly-type tank
6 in. of bucket clearance in fully dumped position
13-hp. Honda engine
Electric or recoil start
Optional foam-filled tires to increase stability
Cobra curber
The Cobra Asphalt/Concrete Curber from Salsco, Inc. has nine wheels for stability and a fully enclosed 13-hp Honda engine.
6-in. hard-faced steel auger
Mold housing transfers from side to side
Variety of standard molds available
Oversized hopper compatible with standard wheelbarrow