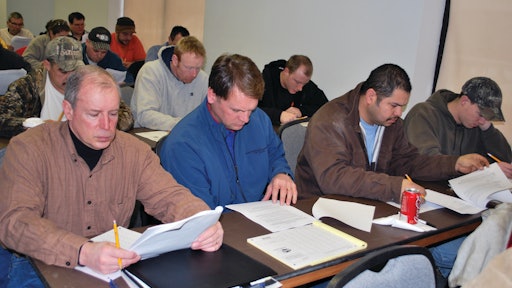 The American Concrete Institute (ACI) and Concrete Reinforcing Steel Institute (CRSI) introduced a new Adhesive Anchor Installer Certification program late in 2011. It is in response to the National Transportation Safety Board's (NTSB) recommendations from its investigation of the 2006 Central Artery/Tunnel Project in Boston, Mass., or the "Big Dig." Failure of a group of adhesive anchors caused a section of the tunnel's concrete ceiling to collapse, killing a motorist and injuring another.
After the Big Dig tunnel collapse, the NTSB recommended to ACI that it use its building codes, forums, educational materials and publications to educate the industry about proper installation of adhesive anchors under sustained tensile-load applications. In an effort to satisfy those requests, ACI and CRSI worked with the Concrete Anchor Manufacturers Association (CAMA) and leading manufacturers of adhesive anchors, including Hilti, ITW-Red Head, Powers Fasteners and Simpson Strong-Tie, to develop the certification program.
The Adhesive Anchor Installer Certification requirement is included in the new ACI 318 Building Code, part of the 2012 International Building Code. As jurisdictions adopt the 2012 IBC, which for the most part will take place over the next 6 to 18 months, contractors will be required to meet the necessary certification in regard to anchor installations.
When is a certified installer necessary?
Not all adhesive anchor installations require a certified installer. Certification is required for anchorages in sustained tension loading conditions and installation orientations from horizontal to vertically upward.
"The majority of adhesive anchors are installed in the vertical down direction, such as a floor. For those installations, certification is not required," says Chris La Vine, senior engineer with Simpson Strong-Tie. La Vine clarifies the installations where certification would be necessary, "Primarily anything installed overhead (vertical up) carries a sustained load. Another example would be where anchors are installed into a wall to fasten a ledger; those anchors may carry some sustained loads. These are the types of installations where installer certification is required."
Currently there are no certification requirements for mechanical anchor installations.
What contractors learn in the certification class
The Adhesive Anchor Installer Certification is offered through the ACI/CRSI program and its Sponsoring Groups (SGs). According to John Nehasil, ACI managing director of certification and chapters, as of May 2012, 15 SGs offer the program, four more are scheduled for orientation by the end of June and another 22 have signed up for future orientation.
The certification test consists of a 75-question written exam and a performance exam that requires students can read, comprehend and execute a generic Manufacturer's Printed Installation Instructions (MPII) for the installation of an adhesive anchor in the vertical down position and in an overhead position through a blind install. "If an examinee fails the written and passes the performance, he or she will need to retake the written portion only," Nehasil explains. "The performance exam is in two parts; if either of the two parts is failed, the examinee only needs to retake the part failed. Retesting and passing must take place within 1 year of the written exam or performance part passed."
As of May 2012, installers representing seven contractors have been certified through the program. Nehasil states, "Many Sponsoring Groups have been waiting to conduct the program until a workbook becomes available. The ACI Education Department, again in cooperation with industry experts, is completing this critical component for availability by the end of June 2012. ACI is also in the process of producing a video as a companion to the workbook, which is designed to illustrate the performance examination and provide visual clarity to installers participating in the certification program."
The preparatory class includes review of these best practices:
Reading MPII. Adhesive anchors are manufactured and sold by a handful of companies. The overall usage and installation methods are generally similar, but each Manufacturer's Printed Installation Instructions, or MPII, varies in the details. It is imperative that contractors follow those published details to ensure proper installation and performance of the adhesive anchor he or she is installing. "The installer needs to take their marching orders from the manufacturer's instructions that come with the product they are installing," says John Silva, director of codes and standards with Hilti North America. "It is very important that the installation procedures laid out in the instructions are followed so that the product's bond values can be achieved."  For training purposes, the ACI certification class uses a generic MPII, created by the Concrete Anchor Manufacturers Association (CAMA) and its member companies as a composite of actual MPIIs currently in use. The certification class emphasizes a contractor's ability to read and follow the directions in front of them.
Hole cleaning. One of the most important steps a contractor can take to ensure an adhesive anchor's rated bond strength is reached is properly cleaning the hole in which the anchor will be installed. "When you drill a hole in concrete, any fine dust or debris left over can affect the anchor bond, and if the dust is damp it could create a paste that could also affect bond," says Mark Ziegler, P.E., vice president of technical services at Powers Fasteners, Inc. Each manufacturer offers specific hole cleaning instructions in its MPII, for both wet hole cleaning and dry hole cleaning. The ACI adhesive anchor installation program reviews the various hole-cleaning techniques and emphasizes the importance of following the specific directions for the anchor he or she is installing.
Filling the hole. "One of the key things the ACI certification tests is technique," Ziegler says. "Especially in the overhead position using the specific manufacturer's equipment, anchor installation is very much a function of the installer. That's where the hands-on training really shines." The certification class reviews both piston plug systems and use of retaining caps with qualified two-part adhesive anchor products. Contractors will learn how to determine when the two-part product is properly mixed when dispensed through a mixing nozzle. It also emphasizes a bottom-up filling technique to ensure the entire hole is filled with adhesive following proper cleaning.
Extreme temperatures. Manufacturers recommend contractors store adhesive anchor products within certain temperature ranges to prevent the product from getting too hot or too cold for good shelf life. On the job, if ambient temperatures are hot the adhesive components will become more fluid. "From a safety standpoint for the installer, this is especially important in overhead installations because the materials tend to drip more readily," Silva says. "When you work with polymer materials you have to have proper protection – long sleeve shirts, hand protection and eye protection." Furthermore, when base materials are also very warm, the adhesive anchor tends to set up much quicker and working time decreases. On the other end of the temperature scale, the opposite happens. Adhesive anchors will react to the cold and become less fluid and harder to work with. Cold temperatures will also cause the material to set up more slowly, and in extreme cold the reaction process can come to a halt. As such, some products are not suitable for cold temperatures. Each manufacturer offers guidance for how to deal with extreme temperatures and any restrictions should be stated clearly in the MPII. "In cases where there is any doubt, we want the contractor to contact us and let us walk them through the installation," Silva adds.
Other topics are also covered in the training. Moisture, for instance, can affect adhesive anchor bonds, especially regarding saturated concrete. Contractors also need to take properly dispose of adhesive anchor product. And contractors will learn placement best practices for either threaded rod or rebar into the adhesive.
Manufacturer assistance
The adhesive anchor installer's first reference in questions about installation is the MPII. If further clarification is necessary, all the major manufacturers of adhesive anchors offer field training and contractor technical support. "Every leading manufacturer provides education and training access to the end-user," says Ellen Baum, direct sales manager for the Midwest with ITW Red Head. "In today's technology-driven world, it's even easier for contractors to get the information they need with manufacturer websites and videos."
It should be noted that manufacturer training alone does not satisfy the ACI 318 Appendix D Building Code requirements for certification of adhesive anchor installers.
Concrete contractors and general contractors need to be aware of the situations in which a Certified Adhesive Anchor Installer is needed on their jobs. As the 2012 IBC is adopted by more jurisdictions in the coming months, it will be necessary for these contractors to have qualified adhesive anchor installers that have obtained certification.