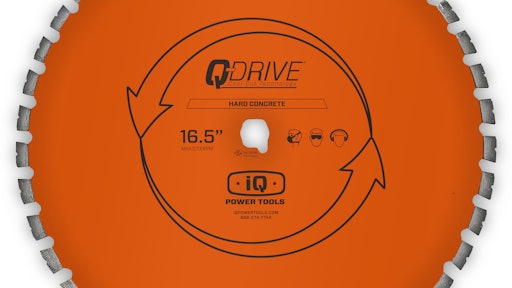 The Q-Drive 16.5" iQ Arrayed Diamond Blades incorporate the latest in diamond tool technology. Through years of experience and testing, iQ Power Tools has perfected its proprietary blades with the ideal ratio of high diamond to metal powder concentration. Optimized for strenuous work environments and designed with unparalleled durability, these new blades can cut materials from hard brick, hard concrete and stone products. 
The new blades include: 
Hard-Brick for hard brick and pavers
Hard Concrete for hard concrete and pavers
These new blades deliver faster and more consistent cutting speeds. When one row of diamonds begins to wear out, there is a second row right behind it, ready to begin cutting. 
iQ's "Cool Cut Technology" is a proprietary composition of diamond concentration, metal type and flange thickness that cuts cool while reducing vibration and movement. This technology, combined with the built-in vacuum on all iQ saws, keep the blade cool during cutting; further reducing the chance for warping and wandering. Most noticeably, the blade actually stays cool to the touch.
The vacuum system also removes the cutting debris, so the blade is not regrinding the same material, reducing friction and heat.
Request More Information
Fill out the form below to request more information about
iQ Power Tools Debuts 16.5" Arrayed Diamond Blades