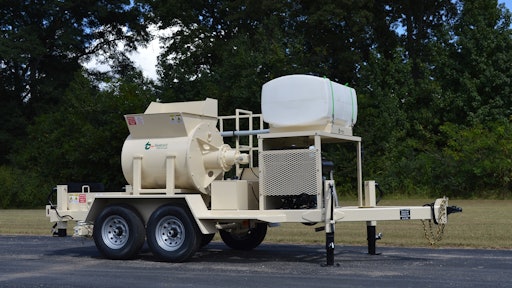 Blastcrete Equipment LLC, a longtime manufacturer of shotcrete and gunite mixers and pumps, has completed its transition to Tier 4 Final-compliant products for the full line of Blastcrete Equipment. This includes the RS180 Mixer-Pump and MX-10 Mixer-Pump.
The upgrade to Tier 4 Final compliant products allows contractors to stay ahead of changing emission standards.
"Our engineering team works to incorporate the latest technology, such as Tier 4 Final engines, to meet customers' specifications and industry regulations," says Tripp Farrell, Blastcrete Equipment LLC president. "Engineering and customizations are two product areas that we will always be adapting to keep customers ahead of the curve."
The Tier 4 Final RS180 Mixer-Pump is an economical option for gypsum flooring underlayment, grouting, cellular concrete and some wet shotcrete applications. Powered by a reliable 55-horsepower Yanmar water-cooled diesel engine, the pump offers variable speed from 0-18 cu. yd. per hour with long-distance and high-volume pumping capabilities. The adjustable pumping pressure adds durability and maximizes the longevity of wear components, extending the life of the machine.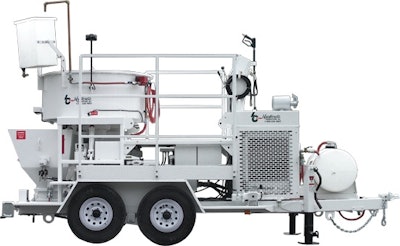 Blastcrete's MX-10 Mixer-Pump offers faster and greater ROI on demanding refractory wet shotcrete and pump cast applications in foundries, power generation, petrochemical, steel mills and cement manufacturing facilities. The closed-loop hydraulic circuit delivers greater speed and torque to quickly and effectively mix dense refractory materials in less than two minutes. The unit is powered by a Tier 4 Final 108-horsepower JCB water-cooled diesel engine.