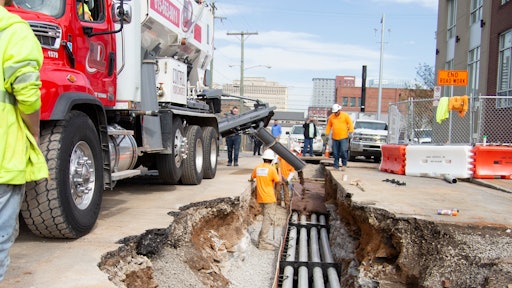 Cemen Tech is slated to unveil an all-new Utility Package for its volumetric concrete mixers at ICUEE 2019, held October 1 to 3 in Louisville, KY. Specially designed for utility contractors with a need for standard concrete, flowable fill or specialty mixes, the new Utility Package includes deluxe features and capabilities such as the ability to fill micro-trenches, pour multiple type of concrete or grout with the same unit, and record and store all production information from the field.  
Volumetric mixers offer utility contractors the concrete they need, when and where they need it. It allows the user to pour a sewer intake base, a thrust block, or flowable fill without wasting time or money. The VMMB-certified volumetric mixers are approved for city, municipal, and state projects to meet or exceed applicable DOT standards. 
Cemen Tech will be doing daily demonstrations in booth L281 backfilling over electrical conduit, capping a microtrench, pouring thrust blocks and building a complete storm sewer intake base, wall and top, and pouring flowable backfill.
Reception
The National Utility Contractors Association (NUCA) and Cemen Tech will co-host a reception Wednesday, October 2 at 4:30 – 6:00 p.m. in booth L281. All ICUEE 2019 attendees are welcome to stop by for refreshments and to meet NASCAR driver Joe "Front Row Joe" Nemechek, who is currently chasing the all-time NASCAR start record currently held by racing legend Richard Petty.
Joe Nemecheck will also be in the Cemen Tech booth Wednesday, October 2, from 12:00 pm to 6:00 pm signing collectible Hero Cards and hats.