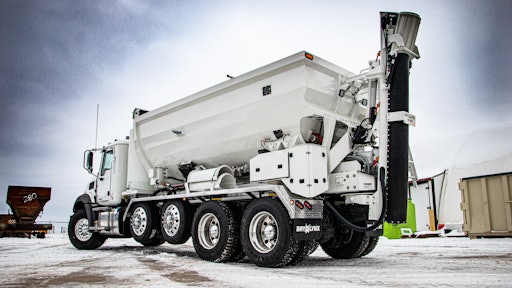 Bay-Lynx unveiled the all new Titan Volumetric Mixer at World of Concrete 2020. The Titan has a new design that maximizes Hardox 450 steel, a Swedish steel known for its flexible build that removes unnecessary weight and maximizes payloads. Lighter components mean fewer trips to the gas station, more money in your pocket and reduced environmental impact.
The Titan Volumetric Mixer is manufactured with the strongest and toughest steel in the world to withstand anything that operators can throw at it. Bay-Lynx claims the steel helps to double the service life of the mixer compared to standard steel mixers. Harder steel also provides better dent scratch resistance, avoiding rust and keeping your fleet in like-new condition longer.
The innovative BatchPro 3.0 Operator's Panel allows for a completely automated mixer set-up process, and helps operators communicate directly with dispatch via BatchPro Connect software.
Request More Information
Fill out the form below to request more information about
Bay-Lynx Titan Volumetric Mixer