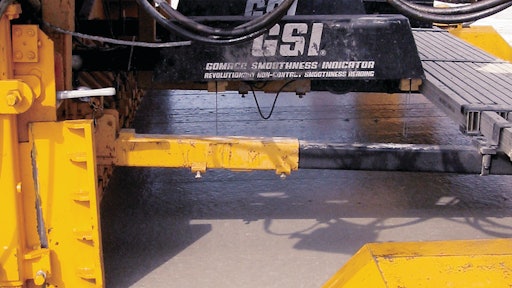 Gomaco has introduced new hardware and software for its paver-mounted GSI (Gomaco Smoothness Indicator) tool. It now includes a wider 7-in. diagonal touch-screen monitor and an adjustable mount for achieving the optimum viewing angle. A single CAN-based connection is all that is needed to the screen. WiFi, Bluetooth and USB connectivity are also added to provide wireless printing and downloading and uploading capabilities from a laptop. Software enhancements include easier setup and troubleshooting guides, as well as user-friendly screens for data visualization.
The GSI provides immediate smoothness readings, right out of the paver and displays these readings on the touch-screen monitor so they can be viewed instantly. It traces the slab and takes smoothness readings simultaneously from three different sensors on each trace. The GSI can trace up to eight wheel tracks, for a total of four lanes in a single pass.
The GSI is also available as a mobile unit, providing the same smoothness monitoring and quality assurance as the paver-mounted version. It also can be outfitted with GSITools, a software application that performs post processing of exported trace data.
Request More Information
Fill out the form below to request more information about
GSI System