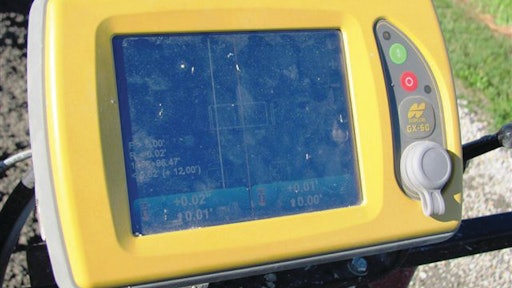 Streb Construction Co., Iowa City, Iowa, has been in the concrete paving business since 1965, and appreciates effective equipment.
Deciding to repair or replace its 1999 CMI SF3302 slipform concrete paver was particularly tough. The machine performed admirably, but the company wanted to take advantage of current technologies.
"We were happy with the performance of the CMI paver," states Steve Streb, vice president of Streb Construction. "We have had the machine for 12 years, logged a lot of hours on it, so it made a lot of sense to look at a new paver, but…"
Streb understands the accuracy advantage of GPS machine control and wanted to add it to his existing paver.
"The beauty of stringless is you don't have to work around it," Streb says. "String can be hit by the workers during construction or a truck can hit it or a truck gets too close and moves it, and that's what you end up paving to."
He adds, "Technology is superior since it eliminates the human error when setting stringline — which has meant eyeballing it to get the profile right. The human eye is only so good."
Streb sought help from Power Pavers; the local Topcon Positioning Systems dealer, Star Equipment; and Sun Source Hydraulics for upgrading the hydraulics. Streb also planned to add a Gomaco Smoothness Indicator (GSI) to the retrofitted machine. The GSI is a non-contact surface smoothness instrument that uses three different sensors, two sonic and one slope, to read the smoothness data and display it on a real-time, touch-screen graphic display.
Power Pavers spent less than two weeks upgrading the CMI SF3302 paver .
"Power Pavers was able to successfully retrofit Streb's machine [because] we were the original manufacturer of the SF3302 for CMI, giving us in-depth knowledge its systems," states Fred Hite, general manager, Power Pavers Inc. "Because the SF3302 has a similar hydraulic circuit as our SF-1700, and all of our newer machines are virtually 'plug and play' with most third-party 3D stringless systems, we were able to successfully install the SF-1700 control system and hydraulic components in parallel to the existing system on the SF3302."
With the machine's hydraulic systems upgraded, it can run Topcon's Millimeter GPS Paver System, which is a GPS-based system that combines with a laser reference to provide millimeter-accurate control for concrete pavers.
The operator can now make minute adjustments to paving thickness while paving. Streb sees this capability as a benefit to county engineers who conduct depth checks.
"If the county engineer says he wants to bump up the thickness of the pavement — even minimal amounts, say five hundredths or even a hundredth — the machine operator can literally tap a couple times on the Topcon GX50 operator control box and change it," says Streb.
The Topcon Laser Zone provides grade reference over the entire project, and is capable of  paving transitions through horizontal and vertical curves.
"We now have the first retrofit of a mainline concrete paver in the world running a Topcon Millimeter GPS Paver System," Streb comments. "This has eliminated stringlines and other linear references and has increased production."
If Streb has a job that does not require Millimeter GPS , it is easily switched off to rely on stringlines or other reference devices.