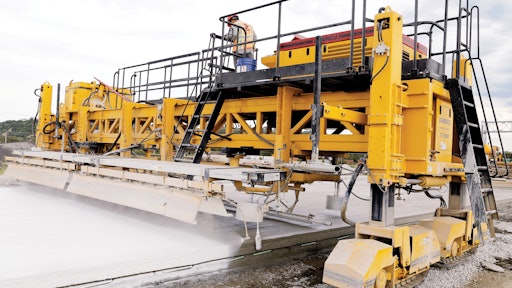 GOMACO's new T/C-5600 texture/cure machine, unveiled at 2013 World of Concrete, is a four-track machine capable of widths up to 56 ft. Ninety-degree track-turn capability allows easy width changes and easy transport. With a new walking end, frame sections can be added or removed by turning the machine's tracks 90 degrees and walking the end car and attached cure tank to the required width. Frame inserts are available in 4-ft., 8-ft., and 12-ft. lengths.
New Tracer Texture Control uses a sonic sensor to trace the slab with the transverse travel of the tining broom. Tining depth is controlled by hydraulic height adjustment on the broom carriage, eliminating rail adjustments and need for a power transition adjustor
GOMACO's G+ control system provides electronic-over-hydraulic steering and grade control
Operates on stringline for steering and grade control, or uses other control sensors, or three-dimensional stringless control
Transport width of 9.7 ft.
Request More Information
Fill out the form below to request more information about
T/C-5600 Texture/Cure Machine