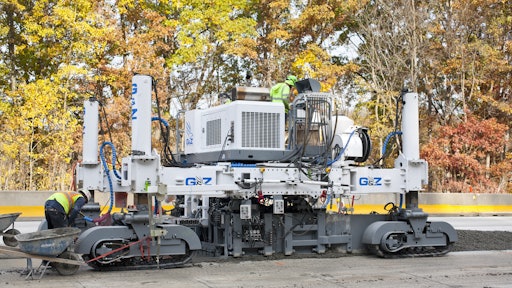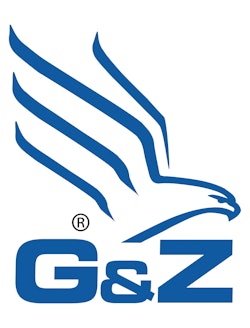 The new G&Z S400 entry-level single/dual-lane concrete paver showcased at World of Concrete 2016 offers the versatility to economically tackle a variety of applications, including city streets, ramps, shoulders, highways, airports, dual-lane, offset, zero- or minimum-clearance projects and barrier walls.
The S400 was displayed in standard slipform paving and barrier wall applications. The standard slipform paving configuration was displayed with the available TeleEnd, AccuSteer and SmartLeg features. AccuSteer and SmartLeg work together to move the track and swing leg on the fly, as well as semi-automatically reconfigure the paver into 90°, counter-rotate and transport modes. The available VariWidth and TeleEnd reduce paving kit and tractor width change time from days to a quick two hours, in most cases.
The barrier wall arrangement utilizes the universal bolting pattern around the tractor. The mold can be attached to the left and right side of the tractor, as well as the front and back of the center module. The offset/barrier mold attachment bracket is able to accommodate currently manufactured molds, giving contractors the ability to continue to use their existing  inventory.
Standard telescopic range of 6.5 to 17.5 ft. accommodates most single-lane applications without the need for bolt-on extensions
Optional extensions enable paving out to 24.5 ft. for single- and dual-lane slipform paving to increase machine utilization
Multi-purpose tractor frame with universal bolting pattern enables easy mounting of barrier molds, offset kit hangers and attachments
Compatible with most options and attachments available on the company's larger models, including paving kit, tie bar inserters, trailing finishing pan, final finisher, etc.
173-hp FPT Tier 4 Interim engine with Eco-Mode does not require a diesel particulate filter
Double telescopic tractor frame, access walkway and hose hinges allow for a nominal working range of 6 ft. 6 in. to 17 ft. 6 in., with up to 5 ft. 6 in. of telescopic ability per side
Optional bolt-in tractor frame extensions enable up to a 24-ft. 6-in. width
Request More Information
Fill out the form below to request more information about
Guntert & Zimmerman Breaks Into Single-lane Paving with S400 Slipform Paver