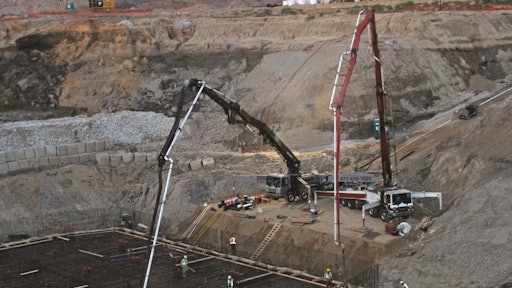 Construction of an iron ore collection pit in Reynolds, Indiana, required both ingenuity and the right equipment to continuously pump concrete for its difficult-to-access foundation—located in a 100-foot (30m) deep hole, 600 feet (183m) from the edge of an excavation. Overcoming the depth and distance, the unusual setup of four Putzmeister truck-mounted concrete boom pumps solved the concrete placing dilemma for owner Magnetation, LLC. 
Magnetation, Inc., a specialty iron ore mining company based in Grand Rapids, Minnesota, utilizes specialized magnetic separation technology to capture iron ore particles left over from abandoned mining operations that existed on the iron range dating back to the 1890s. After ore extraction, the company leaves behind ecologically functioning landforms.
To further expand their operations, Magnetation formed a joint venture with AK Steel Corporation of West Chester, Ohio, to build a $350 million Mag Pellet plant in Reynolds, Indiana. Once the plant is operational, iron ore concentrate will be transported from Magnetation's mineral recovery operations in Minnesota to the new Reynolds plant to produce iron ore pellets, a critical raw material in the steelmaking process. The pellets will then be sent to AK Steel's blast furnace operations in Ohio and Kentucky.
Up to the Challenge
Work on the large-scale project started in March 2013, with completion expected by fourth quarter 2014. This short time frame means crews at the one-square mile site are working under a fast track schedule to construct the plant, which includes numerous buildings and operations specific to a railway system and the production of iron ore pellets. Among these is a rotary rail dump pit where rail cars will be literally turned upside down to empty raw materials into a collection pit—a pit that began with 345,000 cubic yards (263,771m³) of dirt excavated to create it.
The pit was unusual and so was the approach in placing concrete for its 15,000 sq. ft. (1,393m²) foundation. Its demanding logistics would test Northwest Indiana-based Masterlink Concrete Pumping, LLC (Masterlink) to develop a master plan for setup of concrete boom pumps and delivery system that would reach the farthest point of the mat pour, in a deep hole, a distance the length of two football fields.
Masterlink had recently doubled its fleet size when acquiring the assets of Plymouth, Indiana-based Concrete Pumping of Michiana in April 2013. The business was started 10 years ago with three Putzmeister boom pumps, a 32Z-Meter and two 38Z-Meters. The business grew, and today, has two Indiana locations—Portage and Plymouth—along with a dozen machines that include Putzmeister boom pumps, Telebelt conveyors and a Thom-Katt trailer pump.
"Our ability to provide more concrete pumps, of different sizes, and all of them with the high quality Putzmeister name helped us earn a project of this large size," says George Slater, assistant general manager at Masterlink. "With the addition of equipment, we could handle this major job as well as service our regular customers."
A Strategic Setup
After strategic meetings to establish the most effective way to place concrete for the logistically challenging pour, a master plan was finalized.
"Because of the pour's complexity, we were at the job site to set up about six hours before the first load of concrete arrived," says Slater.
The setup included a Putzmeister 32Z- and 38Z-Meter truck-mounted boom pump situated near the edge of the excavation to handle the pumping. The pump's hoppers, one facing north, one south, allowed mixer trucks easy access and less congestion from two separate discharge locations. Once concrete was discharged into a boom pump hopper, it bypassed the boom and went directly into 400 feet (122m) of five-inch (125mm) delivery line.
A pair of delivery lines ran parallel to each other while traveling down a dirt ramp with a sharp 24 percent slope. Days prior, anchor points, consisting of holes filled with concrete and a hook, were located every 100 feet (30m) on the incline to securely hold the system in place.
Each delivery line connected to the boom pipe of a 47Z- or 52Z-Meter, which were set up on a specially created platform, a key component to the setup plan. The platform was formed near the bottom of the hole and compacted with dirt and gravel. To access it, the two boom pumps had to be winched down the extremely steep ramp via cable hooked to a bulldozer.
Although the two larger concrete pumps were needed for their long boom reaches up to 170 feet (52m), their compact outriggers allowed setup on the tight 50-by-80 foot (15m x 24m) platform, and also maintained a safe distance from its edge. Once setup, the units extended their booms to effectively access all areas of the 100-by-150 foot (30.5m x 46m) foundation without additional delivery hose, further realizing greater job site efficiency.
A rotating crew of 10 boom pump operators pumped 3,000 cubic yards (2,293m³) of concrete non-stop for 20 hours, placing the mix to a six-foot (1.8m) thickness. Although a 32Z-Meter was also on-site as backup, it was not needed as no technical issues were encountered.
Right on the Mix
For the mix design, concrete supplier Irving Materials, Inc. (IMI) suggested a small coarse aggregate because flow-ability of the concrete for such a long distance was critical to pumping without interruption. Mixer trucks were spaced to cycle in and out of the concrete plants and onto the job site methodically so there would be no breaks in the delivery of concrete. IMI supplied up to 250 cubic yards of concrete per hour (190m³/hr).
Challenges Abound
Slater says, "This pour is a great accomplishment to have on our company's resume, and it was definitely the most challenging we had ever done."
However, the challenges in placing concrete on the job were far from over. More than 87,000 cubic yards (66,500m³) of concrete still had to be pumped for numerous specialty contractors involved with the intricate project, which is under the direction of Magnetation as construction manager.
Various Indiana-based contractors are relying on Masterlink's concrete pumping services for speedy completion of the project. They include Midwest Constructors LLC, Indianapolis, who had the complex task of constructing the railcar dumper building, a 250-foot-long (76m) concrete conveyor tunnel rising at a steep 12.4 percent slope and a pellet load-out building. Meanwhile, Masterlink pumped a large volume of concrete for Bowen Engineering Corporation, Indianapolis, who was responsible for constructing a gigantic ore barn along with foundations for several of the site's major buildings. 
"It's a massive project for the area, and for our company," says Bryan Gramke, Northwest Indiana Regional Manager at Masterlink. "We established a great working relationship with the contractors on-site, and together we're working to meet the challenging concrete pumping demands and its ambitious completion date in just over a year."
Busy Pump, Busy Conveyor
With the construction of more than 35 structures, from major buildings to equipment pedestals, concrete is placed almost daily on the job. Therefore, with a project of this magnitude, a 47Z-Meter boom pump and a Telebelt TB 105 conveyor are dedicated to the project and remain on the job site.
The 47Z pumps concrete for footings, slabs, piers, walls, decks and flatwork, keeping busy as the various buildings emerge at different construction stages. This boom pump model was specifically chosen for its long 151' 7" (46.2m) vertical reach and Z-Fold boom's ability to maneuver into difficult-to-access areas, providing all-around versatility no matter how varied the demands of a pour.
If, however, a longer reach is needed, Masterlink dispatches its larger 52Z-Meter, which proves especially useful on expansive deck pours. The larger boom pump's 169' 7" (51.7m) reach, combined with its Multi-Z boom, allows it to maneuver each boom section exactly where needed for precise concrete placement.
A second conveyor, the TB 110, has also assisted with the high volume of aggregate placement for the project, with several thousand tons of materials to have been placed by these conveyors upon completion.
On Track
As the Reynolds location offers convenient access to major highways and railways, a rail service construction project is also underway at the job site, with rail lines that will connect the iron sources in Minnesota and blast furnaces in Ohio and Kentucky. Upon completion, the Reynolds Rail System will be a centralized transportation hub with an extensive infrastructure comprised of a six-layer loop and more than 64,000 feet (19,500m) of track. 
The Mag Pellet iron ore processing plant is expected to create more than 100 jobs for Hoosiers, produce three million metric tons per year and be the cleanest burning pellet plant in the world.